These People Changed The Feminism Conversation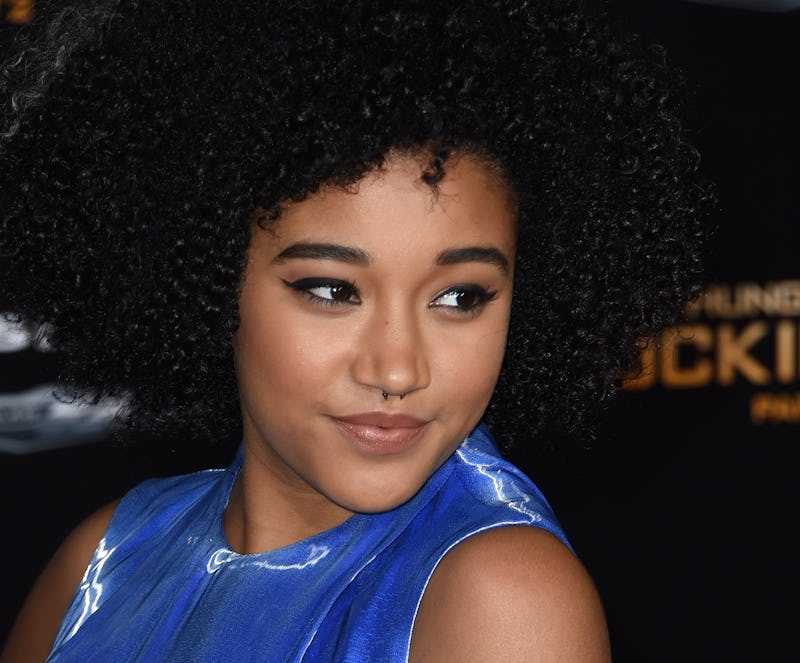 MARK RALSTON/Getty Images
In 2016, women weren't afraid to speak up about the issues that concern them — most notably, when it came to the issue of feminism. But this year, just declaring yourself a feminist wasn't enough, it was about pushing the conversation forward, and some celebrities changed the way we spoke about feminism in some major ways. Female celebrities — and a few males ones, too — got a chance to give their take on what feminism means to them and what it may mean to everyone else, the biggest trend being the need for inclusion.
Women weren't going to stay silent; instead they felt empowered to speak up about the issues that were important to all women. As Geena Davis told Vanity Fair earlier this month, for once, expressing dissatisfaction didn't feel like it was going to be detrimental to your career; it felt "perfectly normal and expected for big female stars to talk about these issues publicly and often and try various ways to address [the issues that matter to them]."
These issues included sexual assault, equal pay and, most importantly, the need for more discussion surrounding female issues. Issues that would actually include all kinds of women — not to mention men, too, as President Barack Obama made clear as our first Feminist in Chief. This year, feminism started evolve, and these 12 celebrities helped spark a change that will carry us into 2017 and beyond.
1. Amber Tamblyn
The actress, director, poet, and author spent 2016 speaking her mind in a series of op-eds for Glamour. She talked about how being pregnant with her first child has her thinking about how we raise strong little girls. She opened up about her own harrowing sexual assault experience on Instagram after audio of Donald Trump making offensive lewd comments about women went public.
"That part of my body, which the current Presidential Nominee of the United States Donald Trump recently described as something he'd like to grab a woman by, was bruised from my ex-boyfriend's violence for at least the next week," she wrote. "I had a hard time wearing jeans. I couldn't sleep without a pillow between my legs to create space."
Her honesty inspired others to speak about their own experience, but also encouraged people to express what they wanted to see in the future. A week after the election, Tamblyn — a Hillary Clinton supporter — articulated her sadness in a piece that urged women to figure out what to do next.
"Our country was founded as a result of our combined voices being heard. Voices that spoke up for other voices that could not be heard; the oppressed, marginalized and silenced," she wrote. "Today I stand with you. For as long as I have to and as much as we need to."
While Tamblyn wrote about the fact that misogyny is certainly not dead, she made it clear that keeping quiet isn't going to kill it. In 2017, action will be an important aspect of feminism, and Tamblyn is leading the charge.
2. Solange‌ ‌
There is power in loving the person you are, even if others don't. On A Seat At The Table, Solange makes this known on songs like "Don't Touch My Hair," where she explains her hair is not just a look, but the "feelings" she wears. Her hair represents her history. In an interview for her website Saint Heron, Solange said the song focuses on her relationship with her hair, which is "very deep and very complex" since she grew up with a mom who was a hair stylist. The track also discusses the relationship others have with her hair, how they see her a certain way because of it — specifically in a fashion world that is predominately white.
"I remember my mother came with me on a two-show run that I did, and all of the micro-aggressions of us traveling within those four days had me noting to her that, whenever I would wear my hair straighter, I would typically have an easier time traveling," Solange said. "So, the song is as much as what it feels like to have your whole identity challenged on a daily basis."
The singer will inform those who are confused, but she is not here to teach you how to be woke. It's why she never makes excuses for anyone who doesn't respect our differences. Like those who came before her, she fights for her right to feel whatever she pleases, specifically anger. On "Mad," she puts it plainly: "I got a lot to be mad about."
In solidarity with all the other intersectional women out there, Solange challenges anyone who thinks women's rights are only for specific kinds of women. There is more than enough room for all of us — Solange won't stand for anything less.
3. Kelly Oxford ‌
After leaked audio of Donald Trump's offensive lewd comments about women went public, author Kelly Oxford tweeted: "Women: Tweet me your first assaults. they aren't just stats. I'll go first." Then she did — "Old man on city bus grabs my 'p*ssy' and smiles at me, I'm 12." — and other women followed. So many, in fact, that the hashtag #notokay started trending.
"I want society as a whole to recognize how rampant sexual assault is," Oxford told Vice News after she went viral. (According to the New York Times, she was getting as many as 50 responses per minute.) To do that, she realized she needed to share her own personal story, to show solidarity with all those women who have been through the same thing but were afraid to say it.
The response to Oxford's tweet showed that women deal with sexual violence and assault on daily basis, but are asked to overlook it by a society that normalizes it. In less than 140-characters, Oxford started a movement of female solidarity and support that will continue full force into 2017.
4. Jennifer Aniston
After years of being tabloid fodder for her marriage, breakups, and lack of children, Jennifer Aniston decided enough is enough. In an essay for the Huffington Post, she called out those publications that wanted to make money off of her, stating,
"I am not pregnant, what I am is fed up. I'm fed up with the sport-like scrutiny and body shaming that occurs daily under the guise of 'journalism,' the 'First Amendment,' and 'celebrity news.'"
But, the essay wasn't just a public flogging of tabloid magazines who declare she's pregnant every other week. It was a chance for Aniston to let women know that they can fight back against those who tell them that their life choices are wrong.
"We are complete with or without a mate, with or without a child," she wrote. "We get to decide for ourselves what is beautiful when it comes to our bodies. That decision is ours and ours alone."
She's right: Women are not supposed to be one thing or another. They can be anything. Aniston is there for any women who, like her, choose to live life their own way. Clearly, once a Friend, always a friend.
5. Matt McGorry ‌
A real man isn't afraid to say he's a feminist or, in the case of McGorry, get a (temporary) uterus tattoo with his dad to show he's down with women's causes. This woke bae spent his 2016 being a intersectional feminist activist, #MenForChoice, even making a feminist T-shirt to benefit NARAL Pro Choice America as seen above.
McGorry was a man who took Emma Watson's #HeForShe message seriously, making it clear that equality was not just a women's issue, but a human issue — one that he was happy to get behind. Especially if it meant he could school Piers Morgan for going after Beyoncé. Clearly, McGorry is one of the good ones; here's to hoping there are way more of them in 2017.
6. Geena Davis
Geena Davis isn't the president of the United States, but she played one on TV over a decade ago. In real life, though, Davis has always been a leader, heading the Geena Davis Institute on Gender in Media, which has been finding ways to create strong female characters that women and young girls can look up to. "My message always has been that gender inequality in entertainment can be fixed overnight," she wrote in an essay for The Hollywood Reporter. "We can easily create worlds where women are half of the characters and do half of the interesting things."
She made it clear that the way to do this is to just do it. Write one interesting female character and then another and then another. Do a "gender pass" on films to make sure they are not all male. If they are, simply "add female characters or simply cast women in roles written for men." In her decade-long studies with her institute, Davis has found that just having these strong female characters on screen helps women offscreen know they can be who they want.
"Let's not create one more movie or TV show that trains kids to see girls as 'less than,'" David wrote, adding, "No more missed opportunities to show that boys and girls share the sandbox equally." The future is female, but, thanks to Davis, that future doesn't feel so far away.
7. Amandla Stenberg
Eighteen-year-old Amandla Stenberg spent this year — not mention, the years before — sending an important message. In an interview with Solange in the February 2016 issue of Teen Vogue she said:
I think that as a black girl you grow up internalizing all these messages that say you shouldn't accept your hair or your skin tone or your natural features, or that you shouldn't have a voice, or that you aren't smart. I feel like the only way to fight that is to just be yourself on the most genuine level and to connect with other black girls who are awakening and realizing that they've been trying to conform.
As Stenberg makes clear, inclusion is necessary for the feminist movement to truly work for the many instead of the few, but it shouldn't come at a cost to those non-white women who want equality. She was the non-conformist who could make that message a mainstream one.
8. Lady Gaga
Lady Gaga has always been a force to be reckoned with, but, in 2016, she ditched the pomp and circumstance to show us who she really is. She shared her pain to help others heal and found her voice in the process. She stood side-by-side with survivors of sexual assault at the Oscars to sing a song that helped them know they are not alone. Plus, Gaga revealed that she suffered from PTSD stemming from her own sexual assault.
And she didn't just express herself via the microphone; she used the pen too. In an essay for Harper's Bazaar, she urged women to rebel by removing their corsets, both literally and figuratively.
"Being a lady today means being a fighter. It means being a survivor," she wrote. "It means letting yourself be vulnerable and acknowledging your shame or that you're sad or you're angry. It takes great strength to do that."
It was a pep talk that called all women to action: to vote, to protest, to rebel. Together, Gaga knows we can make a difference, and she's ready to lead the charge by helping all females voices be heard.
9. Ashley Graham
Throughout this year, Ashley Graham's message was #beautybeyondsize, and she made that clear in everything she did. She made history for being the first "plus size" model on the cover Sports Illustrated and Vogue. She got her own Barbie, which, by her own request, had thighs that actually touched. In Cosmopolitan, Graham spoke out against Amy Schumer, who she felt embraced "the big girl in the industry" until she got called "plus size." Graham agreed that labels are unnecessary, but representation is important.
"Just because I'm not calling myself plus size doesn't mean I'm not representing a woman who is," she told the magazine. "I'm giving curvy women a seat at a table that we've never been invited to before ― a table with high-end fashion people who have never considered us beautiful."
The self-proclaimed "body diversity ambassador" used these last 12 months to fight for inclusion, to show beauty doesn't have a size, and that's so important. ‌
10. Amber Heard
In 2016, Amber Heard became a survivor. After accusing her ex husband Johnny Depp of physical abuse in divorce filings, Heard's private life was made public. A photo of her with a black eye that Heard claimed was caused by Depp was released. A disturbing video of Depp fighting with Heard that leads to him throwing a wine glass was leaked. (During their divorce hearing, Depp's lawyer released a statement saying "Johnny will not respond to any of the salacious false stories, gossip, misinformation and lies about his personal life.")
Her life became a tabloid story that had friends on both sides weighing in on what, by all accounts, was a tumultuous marriage. But Heard used this to become a strong supporter those who had faced abuse. In Porter magazine, she wrote an open letter about domestic violence, letting people know, "You may have suffered alone behind closed doors, but you are not alone." She knows that there's stigma that goes with speaking out, but she also knows there is power in numbers.
11. Gabrielle Union
Gabrielle Union made her voice heard in 2016. She asked questions and started discussion that urged her fellow celebrities to be vigilant of how they represent feminism. Union appeared in Birth Of A Nation as a slave who is raped, and, though she didn't have any lines, she used the role to speak out.
"I was going to then go on a press tour and be able to say all the things that I've wanted to say, that I've been saying for the past 25 years," she told Harper's Bazaar. "Whether that be testifying before Congress or state legislatures — to the biggest audience I was ever going to get to listen to me talk about sexual assault."
When it was revealed that the movie's director and star Nate Parker was accused of rape in 1999 — in October 2016, Parker told Good Morning America, "I was falsely accused. I was proven innocent, and I'm not going to apologize for that." — Union used this opportunity to share her feelings on it in an op-ed for the Los Angeles Times to explain why she didn't take the rape allegations lightly.
"I know these conversations are uncomfortable and difficult and painful. But they are necessary," she wrote. "Addressing misogyny, toxic masculinity, and rape culture is necessary. Addressing what should and should not be deemed consent is necessary."
12. President Obama
The Feminist in Chief. That's what POTUS declared himself in an essay for Glamour where he spoke about feminism and the need for everyone to have equality. "That's what 21st feminism is about," he wrote, "the idea that everybody is equal, we are all more free."
But, as much progress that has been made in the fight for women's rights, the president knows the battle hasn't been won. There's still a gender pay gap and damaging gender stereotypes that people hold true. "We need to keep changing the attitude that punishes women for their sexuality and rewards men for theirs," he wrote. To do this, he believes that men need to get involved, including the man who holds the highest office in the United States.
The president wanted all Americans to know that male involvement in women's rights would lead to children who don't subscribe to gender roles. As the father of two young women, Obama understood the importance of publicly announcing he's a feminist. "It's important that their dad is a feminist," he wrote, "because now that's what they expect of all men." And now we expect this of all presidents.
With a president-elect who has made excuses for his comments against women by dismissing them as "locker room banter," the conversation surrounding women's rights will be even more important in 2017. Expect these 12 people to continue to express themselves and to encourage others to do the same.