21 Bizarre Celebrity Halloween Costumes That You Need To See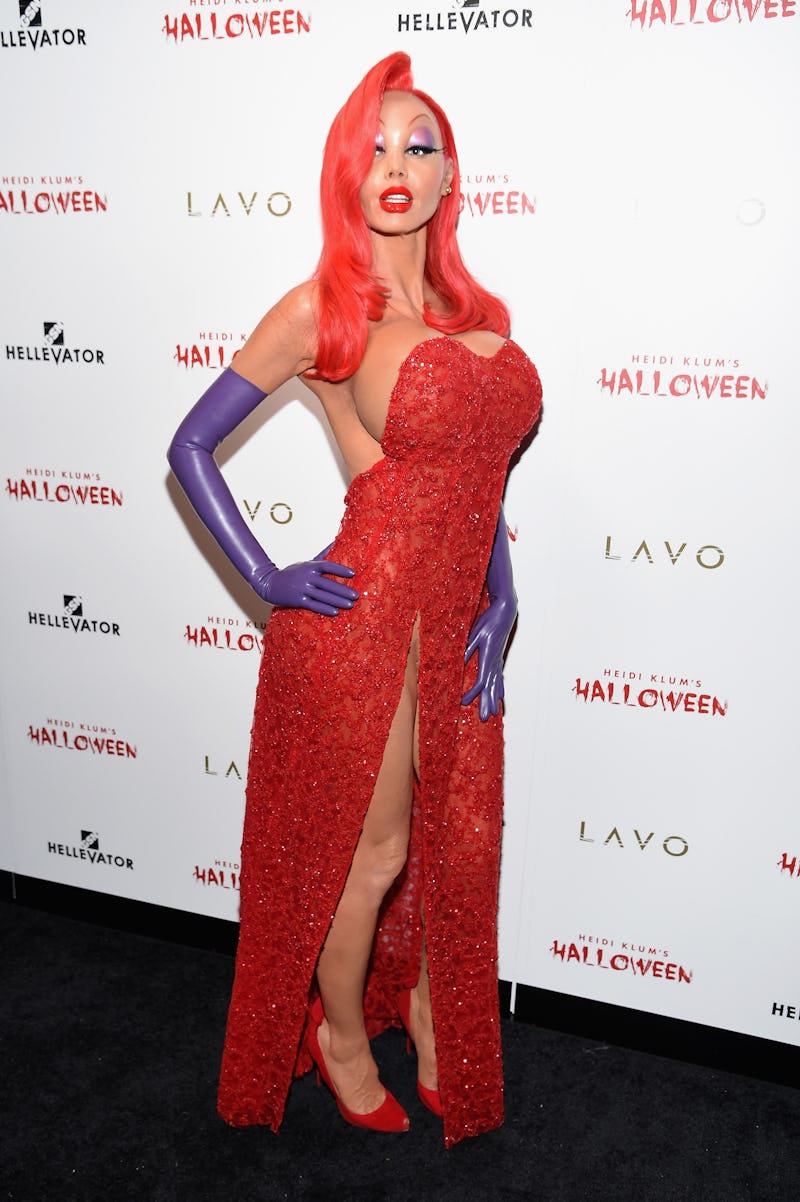 Nicholas Hunt/Getty Images Entertainment/Getty Images
For people who dress up for a living — aka actors, models, etc. — Halloween could just be any other day. But that's not the case for some celebrities who truly embrace the holiday. Rather than let Oct. 31 go unremarkably by, these weird celebrity Halloween costumes show that even famous personalities want to make the most out of being someone — or something — else for the day. And with their money and fame, celebrities have the power to come up with some truly ingenious and truly weird Halloween costumes for the spookiest day of the year.
Long before cosplay was a thing, Halloween was the only acceptable day for people of all ages to dress up in costume. But standard costume rules don't apply to celebrities. Whether it's to portray a character on-screen, perform on stage, or live up to the personal style they have created, the rich and famous are known to rock "costumes" fairly regularly. But Halloween is a time to let loose and experiment with being someone different for a day. And these celebrities have let their freak flags really fly on All Hallows' Eve in years past.
Although you may not have the means to dress up as elaborately as some of the following celebrities, let their innovation inspire you. And if you're behind on your own costume for this year's Halloween, let the celebs who seemed to lazily assemble theirs put you at ease. Because whether you have minutes or days to dedicate to dressing up, these celebrities prove Halloween is all about being weird.
1. Katy Perry As A Cheeto
Katy Perry has had many great costumes in the past, including Hillary Clinton in 2016. But her best — and strangest — costume was when she dressed as everyone's favorite snack: a Cheeto. The only downside was that life looked pretty lonely outside of the bag.
2. Diplo As A Vending Machine
Us Weekly pointed out that Perry's boyfriend at the time of the Cheeto costume, DJ and musician Diplo, dressed as a vending machine featuring the very snack that Perry embodied.
3. Tyra Banks As Richard Branson
The model turned TV host wrote in her Instagram post that the Virgin entrepreneur was her "business hero," and this is an example of weird gone awesomely good.
4. Heidi Klum & Seal As Apes
Heidi Klum hosts an annual Halloween party and puts her guests to shame with her outrageous costumes, but that doesn't mean Klum and her then-husband Seal completely transformed into apes in 2011 was comfortable to look at. (She also dressed as a human with no skin that year to round out the weirdness.)
5. Heidi Klum As Jessica Rabbit
Yet again, Klum's commitment to Halloween is impressive, but seeing Jessica Rabbit brought to life is a bizarre experience to behold.
6. Raven-Symoné As Cartman
Apparently, people dressing up as cartoons is particularly unsettling to me. But props to Raven-Symoné for doing an awesome impression of the South Park character on The View.
7. Marc Jacobs As A Female Bodybuilder
Designer Marc Jacobs put it all out there as a female bodybuilder.
8. Taylor Swift As A Pegacorn
Although Swift cleared out her social media accounts, the internet still has photos of her 2014 "pegacorn" costume — a pegasus combined with a unicorn. At least the idea was creative even if the costume was a bit lackluster.
9. Lucy Hale As A Jagicorn
The year before Swift, the Pretty Little Liars star was her own low-lkey unicorn hybrid as a "jagicorn" — a jaguar and a unicorn. Since I dressed up as a "rhinocorn" in 2009, I'd like to say that I started this trend.
10. Lucy Hale As The Twitter Bird
Hale obviously likes unconventional Halloween costumes, and she embodied an angelic-like Twitter bird in 2014. Thankfully, no internet trolls were featured.
11. Chris Colfer As Grumpy Cat
Glee star Chris Colfer transformed into the internet sensation Grumpy Cat while holding a very Wary Cat.
12. Ed Sheeran As The Gingerbread Man
While you think of gingerbread men more for Christmas than Halloween, Sheeran has a thing for the Gingerbread Man from Shrek since he has a tattoo of a gingerbread man, according to MTV, and named his own record label Gingerbread Man Records, according to Billboard.
13. Nathan Kress As A "Grown-Butt-Baby-Man"
The iCarly star is all grown up now, but that didn't stop him from being a "grown-butt-baby-man" in the words of his wife, London Kress. London dressed as the race car-loving Nathan, but my question is, did they know about Baby Driver before they chose these costumes or were they predicting the future?
14. Ellen DeGeneres As Karla Kardashian
The comedian and host decided to create her own hilarious Kardashian personality for Halloween 2015 — Karla Kardashian. She resurrected the animal-print loving character in 2017 on The Ellen DeGeneres Show for the 10th anniversary of Keeping Up With The Kardashians.
15. Kendall Jenner As Karl Lagerfeld
Speaking of the Kardashians, Kendall Jenner dressed as Karl Lagerfeld, the head creative director of Chanel and Fendi, in 2015. Besides Jenner doing a sexy take on the man who is 50 years her senior, her friend also accompanied her as Lagerfeld's cat Choupette.
16. Josh Duhamel & Fergie As Karl Lagerfeld & Choupette
Karl Lagerfeld and his cat were apparently the costumes of 2015 since the now-separated couple of Josh Duhamel and Fergie also were Lagerfeld and Choupette. Perhaps the weirdest thing about this costume is that it was duplicated.
17. Scout Willis As "Scott"
Scout Willis found a way to get around Instagram's rules of women baring their breasts, a cause she is passionate about, by dressing up as her character Scott for the second Halloween in a row, complete with chest hair.
18. Tallulah Willis As A Foot
The Willis siblings are no strangers to weird since Scout's younger sister dressed as a foot for one of her many costumes in 2014.
19. Scout Willis As Dalí Parton
And going back to Scout, Tallulah shared a photo of her sister as Dalí Parton in 2014 — half Salvador Dalí and half Dolly Parton.
20. Miley Cyrus As A Baby
While Dolly Parton's goddaughter actually dressed up as the legendary country singer in 2014, Miley Cyrus also donned this super creepy baby mask days before the holiday. Perhaps she was trying to bring back her "creepy, sexy baby" look from the 2013 VMAs.
21. Colton Hayes As Miss Piggy
The former Teen Wolf and current American Horror Story: Cult star always goes all in for Halloween with his elaborate costumes, but he outdid himself in 2016 as a prosthetics-laden Miss Piggy.
In the immortal words of Hanson, "We all get a little bit weird sometimes," so let that "sometimes" be Halloween — just like these celebrities.