This Is The Most Popular Dating App Among 18- To 34-Year-Olds Right Now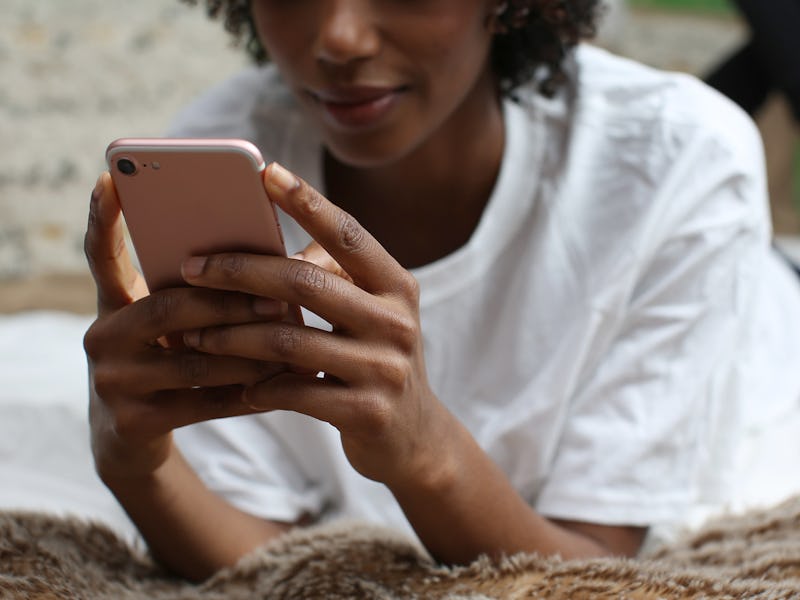 Ashley Batz/Bustle
It's not exactly a secret that dating app use among millennials is super common: we use our phones for everything else, so it makes sense that we'd use an app to find a partner or hookup, too. That being said, not all dating apps are created equal, and some are more popular than others — but which one takes the top spot? According to a new survey of 294 singles from Piper Jaffray, Tinder is the most popular dating app among single millennials: 27 percent of millennial respondents said they use Tinder, as opposed to only 12 percent who said they use runner-up Bumble, Yahoo Finance reports.
But what is it about Tinder in particular that appeals to millennials? "Raised on video games and coming of age during social media, it's not surprising that the average millennial gets bored easily and can have a short attention span — [and] Tinder is ideal for this," Jonathan Bennett, dating/relationship expert at Double Trust Dating, tells Bustle. "After all, you don't need to wade through someone's life history to find them attractive. Tinder gives you the essentials and you can make a choice from there."
There's also the simple fact that Tinder has been around — and steadily gaining popularity — for as long as many of us have dabbled in online dating, meaning plenty of millennials have long thought of it as their go-to dating app. "Unlike many of the other major online dating services, Tinder was launched as many millennials were getting to the age where they wanted a relationship," Bennett says. "So, from a purely practical standpoint, I'd suspect many millennials use Tinder because they're comfortable with it, it meets their needs, and they see no need to use anything else."
But just because Tinder is the most widely used dating app among our generation, doesn't mean it's the only worthwhile dating app out there. If you're curious about what other apps young people frequent, here's a ranking of the six most popular dating apps among millennials in 2018, according to the survey.