7 Small But Toxic Arguments That Are A Sign You're Forcing Things To Work In Your Relationship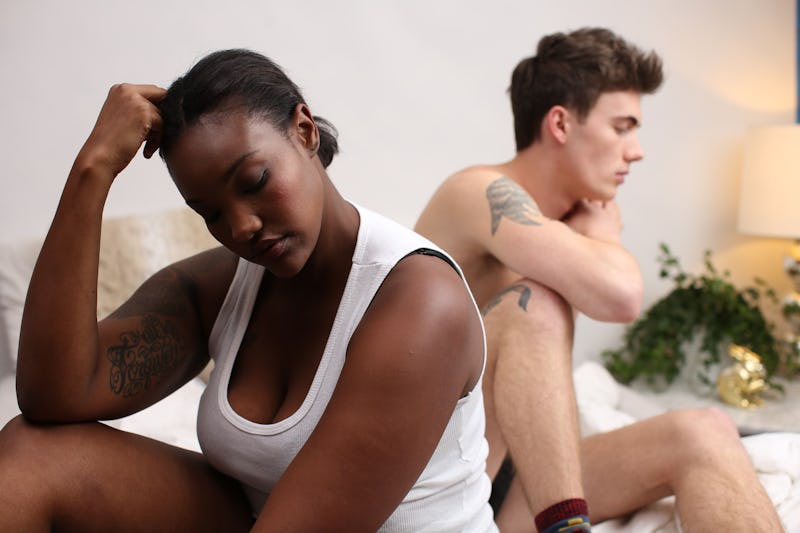 Ashley Batz/Bustle
It's fine to have a few disagreements with your partner, as long as you're willing to overcome them together. But if it feels like you're having the same arguments time and time again — without ever making any progress — it may be a sign you're forcing things to work.
If the same issues keep arising, you might give it time, make some compromises, try new ways to communicate, or even attend couples counseling. But it's important to be honest with yourselves, and make sure you aren't staying in the relationship for unhealthy reasons.
"So many people would prefer to force a long-failed relationship to work rather than face the painful reality of breaking up and being single again," Jonathan Bennett, relationship and dating expert at Double Trust Dating, tells Bustle. "In addition, many couples fall victim to the 'sunk cost fallacy.' Since they've already invested so much time and energy in the relationship, they can't muster the emotional energy to abandon it."
It's possible to save a relationship that's gone stale or become stagnated. But if you've simply lost interest — and neither of you want to put in the effort it'll take to spark things up again — go ahead and admit it. After all, as Bennett says, "if you see no future, it's better to cut loose now and move on than to stick around wasting precious time and energy in a relationship you know is going to ultimately fail."
With that in mind, here are a few arguments that experts say may be a sign you're forcing your relationship to work.