9 Ways 'Me Too' Has Already Impacted Movies, From Inclusion Riders To 'Wonder Woman 2'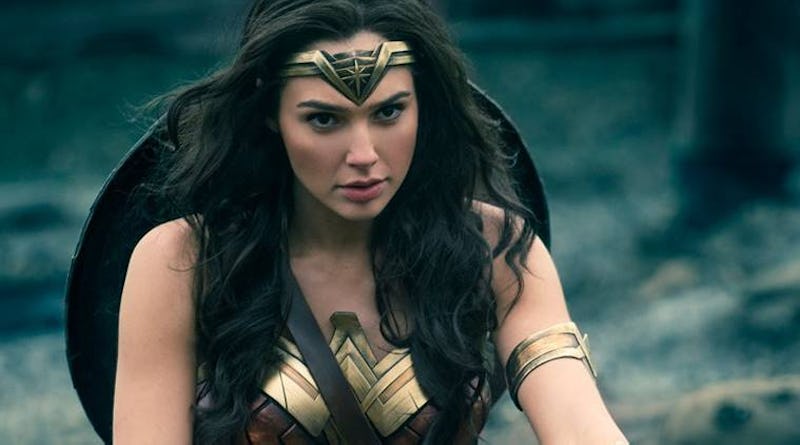 Warner Bros.
Time's are changing in Hollywood — and fast. Ever since allegations of sexual harassment and assault against Harvey Weinstein were exposed in October 2017, the floodgates of Hollywood abuse, harassment, and misconduct opened with #MeToo, and they're not closing any time soon. As power players continue to be exposed, either by investigative reporting of old allegations or continued patterns of unacceptable behavior (sometimes both), the culture shift has hit the movie industry hard. That said, individual projects have yet to show any hugely significant change. But despite this apparent lack of impact, there are many signs that the Me Too movement is making an impact in movies, both on a small and larger scale.
Although some Hollywood players have dismissed Me Too, there's no question that the movement has already had positive impacts on Hollywood and films specifically. First, the industry banded together to form Time's Up, an organization dedicated to eradicate sexual harassment in the workplace across all industries. Time's Up set up a Legal Defense Fund for victims of sexual harassment and has worked with many professional guilds in Hollywood, including the Producers Guild of America and the Director's Guild of America, to install concrete anti-sexual harassment policies.
These things take time to put in place, but that doesn't mean only films currently in development have benefitted. From almost the moment it began, the Me Too movement has made an impact on movies, in ways recounted here.
All The Money In The World's Recasting
Kevin Spacey faced a quick and swift downfall after actor Anthony Rapp publicly accused him of inappropriate sexual conduct when Rapp was a minor. (At the time, Spacey responded to the claims with a tweet saying, writing, "I honestly do not remember the encounter, it would have been over 30 years ago. But if I did behave then as I describes, I owe [Rapp] the sincerest apology.") Not only was Spacey fired from Netflix's House of Cards, but he was also immediately removed from Ridley Scott's 2018 Oscar contender, All The Money In The World. Scott re-shot a significant portion of the film with actor Christopher Plummer replacing Spacey, and Plummer went on to receive an Academy Award nomination for the role.
Furthermore, thanks in large part to the Me Too movement, an egregious pay disparity between All The Money In The World's Mark Wahlberg and Michelle Williams was also exposed. It was reported in January that Wahlberg was paid $1.5 million for reshoots required to insert Plummer into the film while Williams was paid a mere $80 per day. This extreme difference was widely reported, and Wahlberg eventually donated his $1.5 million salary to the Time's Up Legal Defense Fund.
Wonder Woman 2's New Guidelines
In January 2018, the PGA installed new "Anti-Sexual Harassment Guidelines" following the ousting of Weinstein from the guild. PGA Presidents Gary Lucchesi and Lori McCreary worked with Time's Up to create this new set of policies, which includes mandatory anti-sexual harassment training on set and recommends "designating at least two individuals, ideally of different genders, that cast/crew members can approach if they are subject to or witness harassment," via Variety.
In addition to these new guidelines, he PGA also declared that Wonder Woman 2 would be the first film to implement the PGA anti-sexual harassment policies on set. This is particularly significant as just a few months prior, in November 2017, star Gal Gadot was rumored to have put her foot down when it came to Wonder Woman producer Brett Ratner, who has also been accused of multiple instances of sexual assault and harassment on set (in November, Ratner released a statement that said, "In light of the allegations being made, I am choosing to personally step away from all Warner Bros.- related activities. I don't want to have any possible negative impact to the studio until these personal issues are resolved.")
Ratner and his company, RatPac-Dun Entertainment, do not appear to be returning for Wonder Woman 2.
Consequences For Andy Dick & Tom Sizemore
Thanks to the #MeToo movement, it seems that we might be entering a radical new era in which men are actually held accountable for their actions. It's sadly true that many men accused of awful behavior, be it on set or in their personal lives, have retained jobs. However, a handful have faced serious professional consequences for allegations of inappropriate behavior. Actor Tom Sizemore was let go from his leading role in the thriller The Door, as reported by The Hollywood Reporter, after allegations of sexual misconduct from 2003 were made public. Sizemore was allegedly kicked off a 2003 film set after being accused of inappropriate behavior towards his 11-year-old co-star, claims he denied in now-deleted tweets.
Andy Dick was also dropped from a movie after allegations of sexual misconduct, according to Vulture, which he denied in a statement to The Hollywood Reporter.
Octavia Spencer & Jessica Chastain Get Equal Pay
During an appearance at Sundance Film Festival, Octavia Spencer revealed how she and Jessica Chastain negotiated together for equal pay on their upcoming film. Speaking on the Women Breaking Barriers panel, Spencer explained that she told Chastain about how women of color were paid far less than their white counterparts, and the actor responded by joining forces. "She said, 'Octavia, we're gonna get you paid on this film... You and I are gonna be tied together. We're gonna be favored nations, and we're gonna make the same thing,'" Spencer said. "Fast forward to last week, we're making five times what we asked for."
On the surface, this story might not seem to be about Me Too, but the fact that these negotiations occurred during the rise of Me Too and Time's Up raises the strong possibility that the culture shift might have influenced the studio's decision to pay Spencer and Chastain what they deserve.
Inclusion Riders Taking The Spotlight
Frances McDormand made a splash at the Oscars when she concluded her Best Actress acceptance speech with two words: "Inclusion rider." The inclusion rider as envisioned and pushed for by USC Annenberg's Media, Diversity & Social Change Initiative is essentially a contract clause that can be used to stipulate a minimum number of minority employees on a film set. This could mean an equal number of women and men on a film crew, or a set reflective of U.S. demographics, with a diverse group of LGBT employees — it can be adapted to meet the needs of any minority group.
In the weeks following McDormand's public call to action, many high profile stars have already pledged to adopt inclusion riders into their contracts. Actor Michael B. Jordan announced that his production company, Outlier, would use inclusion riders on all projects. Quick to follow his lead, Matt Damon and Ben Affleck's company, Pearl Street Films, also made the inclusion rider pledge, as did director Paul Feig's Feigco Entertainment. Brie Larson, star of Marvel's upcoming Captain Marvel, also publicly committed to the inclusion rider.
Pushback To Woody Allen's New Movie
The Me Too movement has forced many actors and Hollywood professionals to face their own blind spots and lapses in judgement when it comes to working with alleged or known abusers. Exhibit A: Woody Allen's upcoming film A Rainy Day in New York. The film is currently expected to be released sometime in 2018, but two of the film's stars have already publicly apologized for working with Allen in light of the repeated accusations of abuse against him by his adopted daughter, Dylan Farrow, which Allen has repeatedly denied.
First, Rebecca Hall, who also starred in Allen's Vicky Cristina Barcelona, expressed her regret in an Instagram post and pledged to donate her salary to the Time's Up Legal Defense Fund. Star Timothée Chalamet followed Hall's lead, writing on Instagram, "I don't want to profit from my work on the film, and to that end, I am going to donate my entire salary to three charities: Time's Up, The LGBT Center in New York, and RAINN."
A Rainy Day in New York does not yet have an official release date, and it's unclear whether the Me Too and Time's Up movements will keep a distributor from releasing the film at all.
A Potential Black Widow Movie
In January, it was reported that Marvel had hired screenwriter Jac Schaeffer to write a Black Widow standalone movie. As the Marvel Cinematic Universe's first real female superhero, Black Widow has never starred in her own film. In fact, the MCU has yet to release a film headlined by a female superhero. Marvel did not comment on the news of a potential Black Widow movie, as reported by Variety, but nonetheless, fans are very excited. Of course, if the movie does happen, the powers that be will likely say the plan has always been to create a Black Widow film. However, it's impossible not to see the timing of this news as indication that major studios simply do not want to be left behind as Me Too gains more ground.
Amazon Studios Nabbing The Wife
Amazon Studios recently bought the rights to The Wife by Alafair Burke. The novel is about a woman, Angela, who learns that her high profile husband might be a sexual predator. Clearly the project is prime Me Too material. According to the Deadline report, Burke will adapt her novel for the big screen.
The Weinstein Company Going Bankrupt
The Weinstein Company filed for bankruptcy in March after months of uncertainty. Ever since Harvey Weinstein was exposed as a serial sexual harasser and alleged abuser in 2017 (a spokesperson said that "any allegations of non-consensual sex are unequivocally denied"), the company had been in danger. Despite attempts made to save it, including firing Weinstein, the studio could go on no longer. This is a huge victory for the Me Too movement, as it stands as an example for all Hollywood studios that they can be brought down by their actions, no matter how powerful they are.
Upon announcing bankruptcy, the Weinstein Company also released a statement stating that all non disclosure agreements previously set forth to protect Weinstein are now null and void. "The Company expressly releases any confidentiality provision to the extent it has prevented individuals who suffered or witnessed any form of sexual misconduct by Harvey Weinstein from telling their stories," reads the statement as reported by NPR.
This move is significant for Hollywood, but it's also a sign of the increasing momentum to get rid of NDAs meant to protect alleged abusers. Just look at the case of Stormy Daniels, who is currently fighting to be released from her NDA so that she may talk publicly about her alleged affair with President Donald Trump.
Moving forward, Hollywood will continue to feel the effects of Me Too, as it should. Just because the film industry is changing doesn't mean it's happening fast enough. This year at the Oscars, two men of questionable track records were given golden statues, celebrating alleged abusers Kobe Bryant and Gary Oldman.. The Me Too movement has already done a lot for Hollywood, but clearly, it still has plenty more to do.