The 2018 Oscars Only Called Time's Up On SOME Accused Men & That's A Huge Problem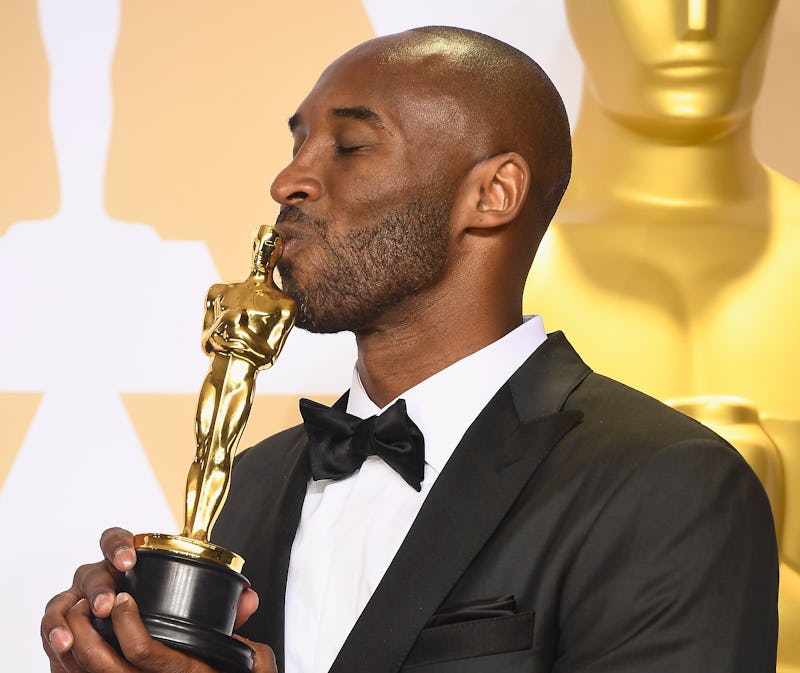 Frazer Harrison/Getty Images Entertainment/Getty Images
The 2018 Oscars were a case study in not just how far we've come in the way we talk about the victims of sexual harassment, abuse, and assault, but also in how much further we still have to go. There were conversations about the #MeToo and Time's Up movements at the Oscars, it's true. But the words seemed to directly contrast the events of the ceremony itself. It's hard to believe that accusations of sexual assault ruin mens' lives — a common criticism from those who refuse to believe victims that come forward — when the Oscars showed us just the opposite. From Ryan Seacrest to Miguel to Kobe Bryant, men accused of sexual harassment or assault were not only prominently featured before and during the ceremony, but some of them even took home awards.
A lot of attention and importance has been given to men and women who are speaking out against alleged predators in Hollywood — so much so that many of these Silence Breakers were made TIME Magazine's 2017 Person of the Year. In the wake of a New York Times exposé about Harvey Weinstein's alleged sexual abuse of numerous women over many years (Weinstein has denied through a spokesperson any accusations of rape), men and women — from Salma Hayek to Angelina Jolie to Anthony Rapp to Lupita Nyong'o to Terry Crews — have come forward with claims of abuse as well, whether at the hands of Weinstein or at the hands of other powerful Hollywood men.
In the wake of some of these allegations, concrete action was taken. Weinstein was kicked out of The Academy and fired from The Weinstein Company. Kevin Spacey was fired from his Netflix series House of Cards and replaced by Christopher Plummer in the Oscar-nominated film All The Money In The World (in the wake of the allegations against him, Spacey's spokesperson said that the actor was "taking the time necessary to seek evaluation and treatment"). Showrunner Mark Schwahn was fired from The Royals after allegations of sexual harassment was brought against him from Royals actor Alexandra Park and One Tree Hill actors Hilarie Burton, Sophia Bush, and Daneel Ackles (Schwahn has yet to respond publicly to the accusations).
However, not every powerful Hollywood man accused of sexual assault, abuse, or harassment has received such swift punishment and, despite backlash from fans on social media, many accused men were not only present at the Oscars on Sunday night, they were front and center.
Perpetually busy host Ryan Seacrest was accused of sexual harassment by his former stylist Suzie Hardy, an allegation that Seacrest denied and which an internal investigation by the E! Network found to have "insufficient evidence." Despite the allegations, the host was still seen on the Oscars pre-show red carpet, though he was infrequently featured. Deadline speculated that this was because many celebrities avoided speaking with him. However, many celebrities — from Common to Rita Moreno to even Plummer — did stop and talk to Seacrest and, though many viewers on Twitters were upset to see the host on the red carpet, many also argued in his defense.
During the ceremony, Bryant was not only nominated for Best Animated Short Film for Dear Basketball, but he also won the award and took to the stage. The basketball player was accused of rape in 2003 and, though criminal charges were dropped when the 19-year-old accuser declined to testify in court, Bryant later settled a civil case with the accuser out of court. This was brought up by many, many viewers on Twitter who were displeased to see Bryant receiving one of Hollywood's biggest honors, but that certainly didn't stop the Academy from voting for him in the first place.
Add that to the fact that Miguel (accused of sexual assault by a University of New Mexico student, which the singer denies) performed, and Gary Oldman (accused of domestic violence by his ex-wife in 2001, which was denied by Oldman) won Best Actor in a Leading Role, and time doesn't seem to be up for all accused men in Hollywood — no matter how often we throw the evocative phrase around.
The only place where time genuinely seems to be up is on social media, where fans have been calling out the apparent hypocrisy of the awards ceremony all night long. But that isn't enough. At a time when even Kimmel acknowledges in his opening monologue how important it is for Hollywood to set an example for the rest of the world, Hollywood is doing an incredibly flawed job. "We can't let bad behavior slide anymore. The world is watching us. We need to set an example," the host said in his opening monologue, and it appears that he was right about one thing: the world is watching Hollywood right now. And they're disgusted.
If you or someone you know has been sexually assaulted, call the National Sexual Assault Telephone Hotline at 800-656-HOPE (4673) or visit online.rainn.org.