Apply To Bustle's New Personal Essay Workshop For Emerging Writers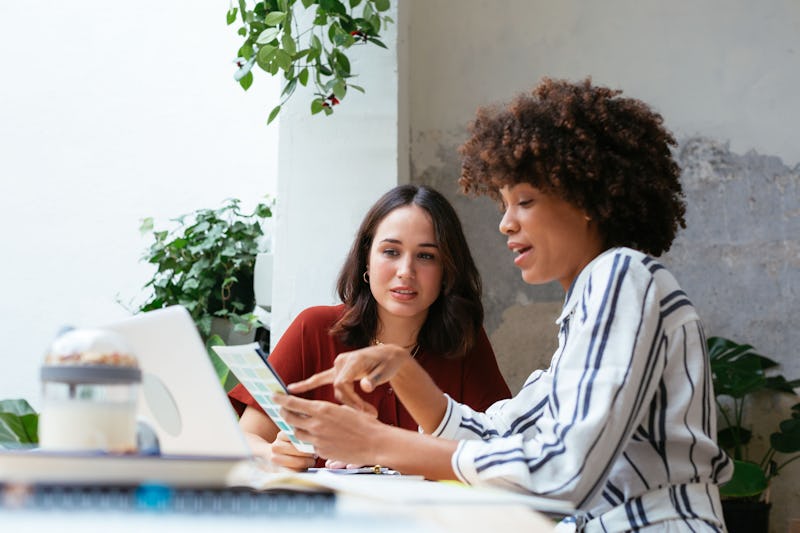 Stocksy/ Bonninstudio
Do you have a story you've always wanted to tell, but aren't sure how to turn it into an essay? Would you like to learn more about how to navigate the world of pitching and freelance writing? Then Bustle wants you to apply to our first-ever personal essay writing workshop, taking place this fall in New York City.
APPLICATION DEADLINE: August 27, 2018
WORKSHOP DATES: Wednesday nights, 7 p.m.-9 p.m.; September 12, 2018 to November 7, 2018 (no workshop October 31, 2018)
LOCATION: Bustle HQ - Manhattan, NYC
COST: Free
This workshop is designed for beginning and emerging female and nonbinary writers with limited publication history. If you've always loved personal writing, are looking to develop your own work, and want to gain a deeper understanding of how Bustle's personal essays are created, fill out our application here. By the program's end, each participant will complete a personal essay that, subject to successful completion of the workshop, may be published on Bustle, with the successful participants to be paid for their published essay.
Over the course of eight two-hour workshops, led by Features Editor Gabrielle Moss at Bustle's Manhattan offices, participants will learn the basics of crafting an effective personal essay. Through in-class exercises, take home assignments, workshopping, and guest lectures from other Bustle editors, we'll cover the evolution of the personal essay: how to develop a pitch, how to connect with sources, and how to outline, structure, and revise stories.
Applicants do not have to have had their work published before or meet any specific educational requirements; they should, however, be able to attend all eight classes in Manhattan, from 7-9 p.m. on Wednesdays from September 12, 2018 to November 7, 2018 (no class October 31, 2018).
The eight sessions will cover:
the history and changing nature of the personal essay
why publications accept and reject pitches
how to pitch, structure, research, and revise a personal essay for a major publication
Apply by submitting: (1) a brief statement (no more than 250 words) about yourself, (2) a brief statement (no more than 400 words) telling us why you want to participate in the workshop, and (3) a personal essay writing sample (500 – 1,000 words) that has not been previously published. Please do not submit fiction, poetry, interviews, or pitches/ideas for essays; we're looking for a draft or excerpt of a personal essay you've been working on. Writing sample submissions and application materials will only be reviewed by the selection committee, and applicants will retain all rights to their submissions.
Diverse applicants are encouraged to apply. Applications are open until August 27, 2018. Applicants will be selected by August 31, 2018.
Read some examples of Bustle's recent personal essays below:
I've Paid $18,000 To A $24,000 Student Loan, & I Still Owe $24,000
I Grew Up In Charlottesville And Racism Has Always Lived Next Door
How Trump's Focus On Working Class Men Hurts Working Class Women Like My Mom
Even Good Husbands Are Sexist. Here's What I Did About Mine
If Claire's Closes Its Doors, Please Leave Me Inside
I Failed Hard At Ramadan & Here's What I Learned
I'm A Mexican Immigrant And I Know Firsthand What Life Looks Like Without DACA
There's Truly No Better Feeling Than Avoiding A Casual Acquaintance IRL
When I Fought Anorexia, I Got Help. When I Fought Binge Eating, I Just Got Embarrassed
I Wanted To Save A Dog With "Issues." Really, I Was Trying To Resolve My Own
What No One Tells You About Breaking Up With Your Mother