Ariana Grande Opened Up About Writing "Get Well Soon" In A Sweet New Interview With Troye Sivan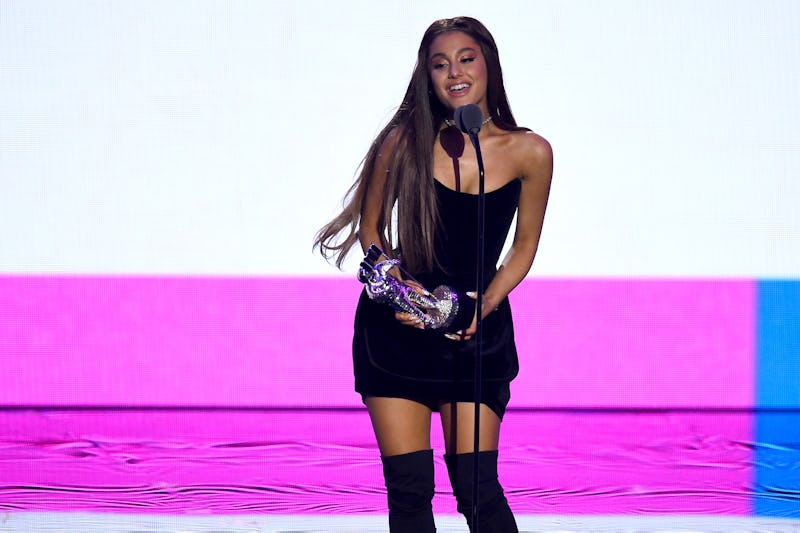 Theo Wargo/Getty Images Entertainment/Getty Images
Ariana Grande's latest album, Sweetener, which was released on Aug. 17, features songs inspired by everything from her whirlwind engagement to female empowerment, but some of the more personal tracks on the album deal with her struggle with anxiety, especially in the wake of the bombing at her Manchester U.K. concert in 2017. And if fans who also struggle with anxiety find themselves relating to "get well soon" in particular, it's because, according to the singer herself, Grande actually wrote "get well soon" in the middle of a particularly intense period of anxiety.
In a new interview with Troye Sivan for PAPER magazine, the pop star opened up about the process of writing "get well soon." When Sivan declared his favorite song on the record, noting that it was "really personal and down to earth," Grande revealed that she initially had trouble being that vulnerable in her songwriting. It was co-writer Pharrell Williams, who contributed to multiple tracks on the album, who encouraged Grande to let out her anxiety through her songwriting. "[Pharrell Williams, who produced the album] kind of forced it out of me, because I was in a really bad place mentally," Grande explained to Sivan. "I've always had anxiety, I've had anxiety for years. But when I got home from tour it reached a very different, intense peak."
Describing the physical toll that her anxiety took on her, Grande said, "It became physical and I was not going out at all, and I felt like I was outside my body. I'd have these spells every now and then where I felt like I was having déjà vu, but like 24/7 for three months at a time. It was really weird, and all that was on my mind. [Pharrell] was like, 'You have to write about it. You need to make this into music and get this sh*t out, and I promise it will heal you.'"
And while Grande did admit that it didn't cure her anxiety instantly, writing the song helped her express how she was struggling in that moment. "Looking back at it now from a healthier place, it's probably one of the most important songs I'll ever write," Grande said, later noting that Sweetener as a whole is "definitely more personal" than anything she's previously released.
This is not the first time that Grande has opened up about the inspiration behind "get well soon" and how much it helped the singer in her mental health journey. Back in May, she told a fan on Twitter that the song is "[about] my anxiety. i felt like i was floating for like 3 months last year & not in a nice way. like i outside my body? was v scary and i couldn't breathe well. so it's ab that. & lots of voices in my head singin. i hope it comforts ppl who hear it."
And "get well soon" is not the only song on Sweetener in which Grande opens up about her anxiety — the singer has also talked about how "breathin" was also born out of her mental health struggles, and fans who are also dealing with anxiety have connected with the song since its release. Both "breathin" and "get well soon" also take on new meaning for fans who consider the latter to be a sort of tribute to the Manchester bombings, the fans that lost their lives and those who, like Grande, were traumatized by the experience.
During a recent interview with Ebro Darden on Apple Music's Beats 1 Radio, Grande got emotional when speaking about the track, especially after Darden connected it to the bombing and its devastating aftermath. Through tears, Grande said that she hoped the song could be cathartic for other people going through tough times, saying, "It's just about being there for each other, and, like, helping each other through scary times, and, like, anxiety." She noted that the song was "not just about [Manchester], you know? It's also about personal demons and tragedies, as well."
Grande has often spoken about how Sweetener is "about bringing light to a situation," and it seems like opening up about her anxiety through her music has allowed the singer to find the light in a difficult situation. Hopefully, her openness will help other people who are stuggling with mental health issues to find their own light as well.