Carly's & Evan's Wedding Party Represented 'Bachelor' Nation In A Big Way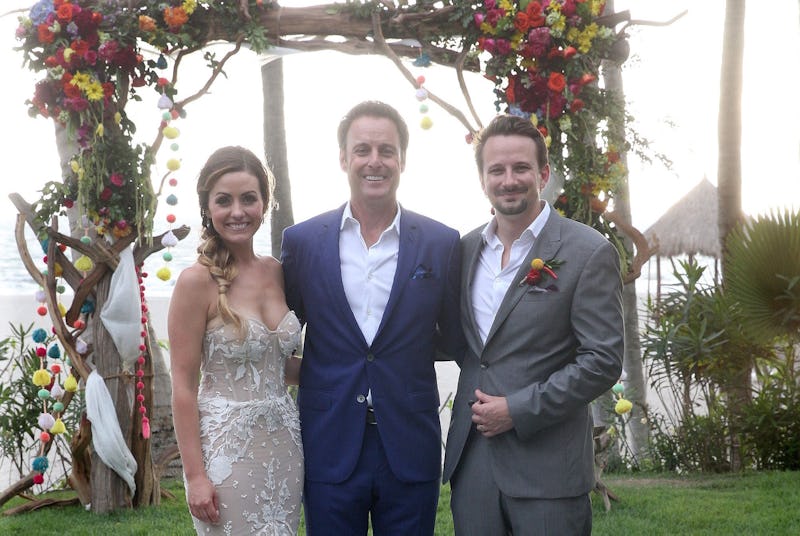 Paul Hebert/ABC
Bachelor In Paradise was far from a paradise for Carly Waddell and Evan Bass when Season 3 kicked off. But despite the hiccups in their courtship, the pair ended up being the one enduring love story of the season, so it's only right that their wedding will air during Bachelor In Paradise Season 4. Further proving the importance of Bachelor Nation to their love story is the fact that Carly and Evan's wedding party had Bachelor alumni in it. As Carly was on Chris Soules' season of The Bachelor and Bachelor In Paradise twice and Evan was on JoJo's season of The Bachelorette and met Carly during Season 3 of BiP, both of them have a wide range of connections to Bachelor Nation (including that Carly's brother Zak was a Bachelorette contestant too). And these connections were reflected in the people they chose to stand by their side on the day of their wedding.
Although they got married back in June, fans had to wait until the second episode of Bachelor In Paradise Season 4 to see the wedding ceremony go down. Since the couple met in Mexico, Evan and Carly's wedding was held there with Bachelor host Chris Harrison officiating. And while many members of Bachelor Nation were in attendance at Carly and Evan's wedding, including Nick Viall and his fiancée Vanessa Grimaldi, only three past contestants were given the honor of being part of the wedding party.
For his side, Evan not only had his three sons from his previous marriage involved in the ceremony, but he asked Wells Adams to be a groomsmen. Wells was on JoJo's season of The Bachelorette with Evan and they were reunited during BiP Season 3. Evan, Carly, and Wells all live in Nashville as well and since Wells is possibly the most lovable Bachelorette contestant ever, it's no wonder that Evan asked him to be part of their big day.
Carly chose to have two Bachelor alumni for her bridesmaids. As Carly had been a bridesmaid in Jade Roper's televised wedding to Tanner Tolbert, Jade returned the friend favor by being in Carly's wedding party. Since Jade and Carly have known each other from their time on The Bachelor and then went on Bachelor In Paradise together, it seemed like a no brainer. But considering that Jade was months along in her pregnancy, it was great that she could still be there for her friend. Plus, it led to some hilarious photo ops. (And hey! Carly can now bond with Jade over being pregnant too.)
Carly's other Bachelor bridesmaid was Juelia Kinney, who also appeared on The Bachelor and BiP Season 2 with Carly and Jade. Like Carly, Juelia didn't have luck finding love on Bachelor In Paradise during that season, but they at least had their friendship, which is obviously still very much intact.
Although the four bridesmaids wore two different patterns for their dresses, both Juelia and Jade rocked a bold floral print for the destination wedding that complimented their floral crowns. Wells and his fellow groomsmen kept it casual with no jackets or ties, though they did wear suspenders. The result was a beautiful beachy vibe that matched the setting of where Carly and Evan met and where they wed.
Although the wedding occurred two months ago, now you can watch Wells, Jade, and Juelia support their friends Evan and Carly when their wedding airs during Bachelor In Paradise on Aug. 15. And get your tissues ready because you just may cry happy tears at all the Bachelor Nation love.