Whoa, Chris Harrison Just Hinted There Might Be *Two* Bachelors Next Season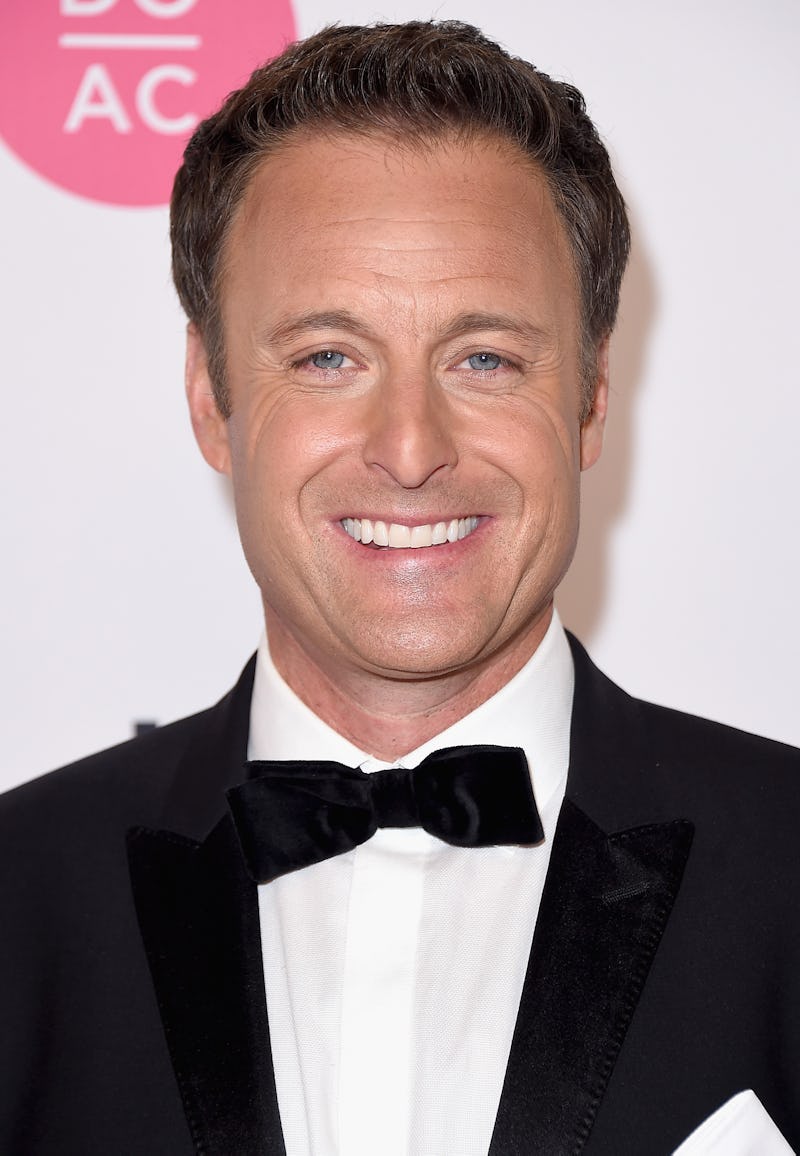 Michael Loccisano/Getty Images Entertainment/Getty Images
Even though there's so much happening on the current Bachelor in Paradise season, the fandom can't help wondering who the next Bachelor will be. Now host Chris Harrison hinted there could be two Bachelor leads, according to E! News. Is this something that's actually in the works, or is the franchise host just teasing viewers with this comment? Only time will tell.
In an Aug. 20 interview with E! News, Harrison teased,
"People have to understand it's less of a decision and more of an ongoing debate that lasts months and months, but we will name a Bachelor soon."
And then he dropped a potential bomb: "Or Bachelors, or who knows?" Nope, that's not a typo. There really is an "s" at the end of the word. There actually might be more than one man in the lead role.
In that same E! News interview, the host explained, "Because of Paradise...we have kind of a wait and see attitude." He said, "We have that luxury to wait a little bit because we don't start production until Paradise ends, so we want to get a full range and a full scope of everything and take it all in before we make our final decision." After all, Nick Viall was selected as the Bachelor after a very endearing turn on Bachelor in Paradise Season 3.
The man could be someone from Becca Kufrin's season of The Bachelorette, a guy from the current season of Bachelor in Paradise, someone else from the franchise, or even a random guy like the earlier seasons. There are so many possibilities, even the chance at having more than one Bachelor, especially since this has actually happened before.
The recent memory that comes to mind is The Bachelorette Season 11 twist in 2015. Most people remember it as Kaitlyn Bristowe's season of The Bachelorette because that is how it ended up, but that's not how it started. Both Kaitlyn and Britt Nilsson were announced as the Bachelorette, but it was only Kaitlyn who had the opportunity to hand out roses.
Before the dates even began, the suitors met both Britt and Kaitlyn at the Bachelor mansion and voted on which women they wanted to take on the lead role. Kaitlyn ended up getting that honor and Britt actually walked away dating Brady Toops, one of The Bachelorette contestants who was only there for Britt.
Kaitlyn and Britt's season wasn't even the first time that this franchise had two people in the lead. During Season 6 of The Bachelor, Byron Velvick and Jay Overbye started out the season as two candidates for that lead role. The women voted and chose Byron to be the lead and he was the only one who handed out roses that season.
Could the next season of The Bachelor repeat this same format? Or will they shake things up even more and let two guys be the Bachelor for more than just the first episode? Unfortunately, Harrison did not elaborate on his statement and for all we know he could just be trying to stir things up with the comment, so everything is unclear, but it would be a cool idea.
After all, there are so many viable candidates to be the Bachelor. How are they going to pick just one? A lot of people want Becca's third-place finisher Jason Tartick to be the Bachelor. There are plenty of fans and alums who want to see Becca's runner-up Blake Horstmann heal his heartache and become the Bachelor. There was even some talk about Colton Underwood being that guy, even with all of that Tia Booth drama in Paradise.
And that's not even the end of the list. Rob Mills, the SVP of alternative series, specials, and late-night programming at ABC, mentioned other Bachelor contenders as well during another interview with E! News.
He says Grocery Store Joe Amabile could be the Bachelor even though he didn't even get past Night 1 on Becca's season of The Bachelorette. He also threw out some names from the past, like Peter Kraus, the second-place man on Rachel Lindsay's season of The Bachelorette. It's even possible that Ben Higgins could be the Bachelor for a second time.
There are so many lovable guys looking to find love, so why not give two of them a shot and see what happens? It would please the fans and give the contestants more of a role in this journey.