Jason Knows 'The Bachelor' Could Help Him Find His Person & He's Totally Open To It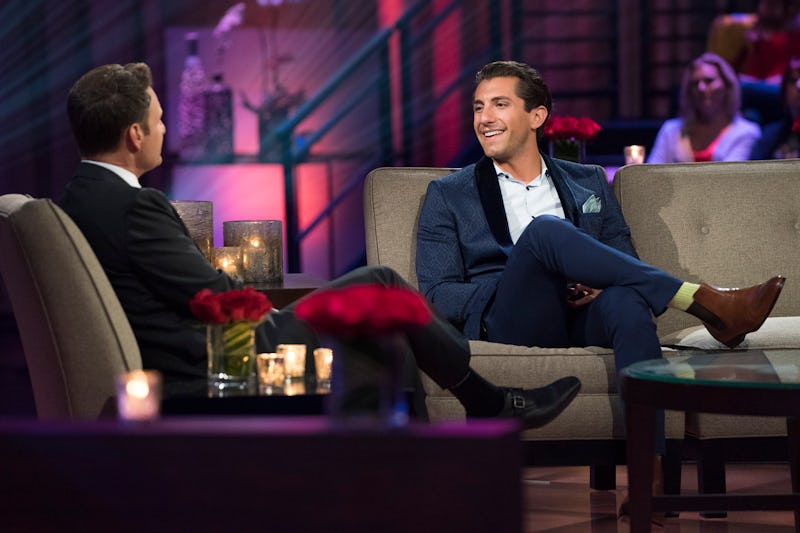 ABC/Paul Hebert
Let's get fans' biggest question out of the way first: Yes, Jason Tartick is open to being the next Bachelor. He's even flattered by the suggestion. But he also makes one thing clear — nothing is set in stone. "I would be interested for the fact that I'm in the spot to find that person," Jason tells Bustle just a week after his ex Becca Kufrin got engaged to Garrett Yrigoyen on national TV. The final-three contestant's departure broke a lot of hearts, but for many, it didn't truly feel like the end. So, for anyone who's totally on board with Jason as the next Bachelor, just know this: He believes in the process and is ready to find love. What more could you want?
"When I went through the [Bachelorette] experience, I was in a position where I had just relocated to Seattle, Washington. I had been with the bank for over eight years and this is my fourth relocation," Jason says over the phone. He admits that being so career-focused probably meant sacrificing relationships for work, and while there's no regret in the banker's tone, he tried all different ways of dating and "things didn't work out."
Yet everything changed when he had a "let's-see-what-happens" attitude and appeared on Becca's season of The Bachelorette. "All of my expectations were exceeded," Jason says of the show, listing reasons ranging from Becca herself to the production experience to the friendships formed. "Honestly, I fell in love in a place that I wasn't sure that I could."
Sure, he was skeptical heading into reality TV, but realized the system works. "I'm going to be 30 in October and I have kind of laid the road map and foundation for work and family and friends and education," he explains now. "I'm just at that stage in my life that I'm looking for that someone. I'm looking for my person. Whether it be as the Bachelor through the next journey, or on my own, I think that person's right around the corner."
He's genuinely excited to find love, and it's for that very reason he's not ruling out the ABC series: "I did find it through The Bachelorette, and I think I could find it through the journey of The Bachelor."
But before you start busting out #TeamJason t-shirts, remember, things aren't definite yet. "I can't speak to anything in regards to production or ABC," Jason says. "What I can say is I've heard rumblings in the media. There's been a lot of push for it, which is flattering and endearing."
Regardless of what happens, those around him have his back. "My family fully supports it. They said if this is something I want to do, if the opportunity is offered, they'll be there by my side." Not only that, but Jason recalls, "What's really nice about work is I had an HR director at a high executive level bring me aside and say, whatever happens, we're here to support your career and there will always be a place for you."
Of course, each Bachelor brings his own vibe to the role — whether race car driver Arie Luyendyk Jr., or fourth-time-may-be-the-charm Nick Viall. But when asked what he'd do differently than previous leads, Jason takes the high road.
"Through this whole journey, I never wanted to compare myself to anyone else. When I was with Becca, I never thought about what I could be doing differently than the guys. I just wanted to make sure I was bringing the best version of myself every time," he explains. "So if hypothetically that happened, my goal would just be to make sure every day, through the early mornings and long nights, that I'm being authentic and sincere to who I am as a person."
Besides staying true to himself, Jason would keep things lighthearted. "You've got to have fun with everything too," he says, mentioning some Bachelors get a little "too serious." While he acknowledges the end goal is indeed serious, life doesn't always have to be. "You've got to lighten up a little bit. Have fun, a little comedic relief." That's also reflected in the one thing Jason says fans didn't see: "If you asked the guys, I was the guy who was always dancing, always singing, always kind of lightening up the mood."
Tying into that camaraderie, Jason says when he hangs out with the Bachelorette cast IRL, he notices something intriguing: Usually fans will take a few photos with the other guys and move on, but when it's him, they linger. "There's something about my story that people want to stop. They want to talk," he says. "They want to talk about career development. They want to talk about Alzheimer's. They want to talk about politics. They want to talk about gay rights. They want to talk about what's happening in our country in terms of finances and stocks."
While Jason doesn't quite know why this happens, he realized something about his story "just resonates deep with people," and he appreciates finding himself in such "passionate dialogue."
That's especially true regarding the positive reaction surrounding his brother's time on the show. "What was very refreshing," Jason says, tipping his hat to ABC, "the conversation was highlighting how normal gay is. It wasn't a conversation of 'How did he come out?' and 'What was the reaction?' It was more, OK, this is a married couple, and this is how you introduce them — brother and brother-in-law."
Family is actually what helped Jason through such a major breakup, along with "friends, faith, and just fun." Oh, and he did plenty of self-reflecting. Sure, it wasn't easy healing from heartbreak — and then rewatching it all over again on TV — but he knows it's for the best. He explains, "I didn't get all the closure in the world from my end, but knowing that she was making the right choice for her gave me the closure I needed."
Ultimately, Becca picked Garrett and accepted his proposal. Fans were somewhat skeptical, given the Instagram controversy surrounding Garrett, who sparked backlash after screenshots surfaced indicating he liked posts promoting offensive viewpoints, including transphobia and anti-immigration. Garrett apologized on more than one occasion, writing on Instagram, "I am sorry to those who I offended, and I also take full responsibility for my 'likes' on Instagram that were hurtful and offensive."
Regarding the Garrett situation, Jason says, "I don't think it's really my place to comment on specifically his actions or what he liked. What I will say is, kudos for him for addressing it and taking it head-on and not running from the situation."
"In the house, Garrett was a very close friend of mine. Through times of good, bad, and ugly, he was always there for me, and I always found him to be a respectful guy, a genuine guy, an authentic guy," he continues. "I would like to think, regardless of whatever, maybe an Instagram or a mistake that's made, I'd like to think the guy that I've known for two and a half months is the guy I know... Garrett was a friend of mine then, Garrett's a friend of mine now, Garrett will continue to be a friend of mine."
Jason definitely doesn't seem to harbor any ill-will toward his ex and her new fiancé. In fact, he's incredible complimentary of them both. "Deep down, she knew the direction she wanted to go and she knew what she had to do to find her happiness. And she did it, and I'm so happy for her that she did," Jason explains.
And even though he's ready to find that same happiness himself, Jason's openness to meeting "the one" extends beyond Bachelor Nation, even saying he wouldn't rule out dating a fan. "As I've gotten older, the whole idea of types or putting people into a bucket — and I think calling someone a 'fan' or 'not a fan' would be putting them into a bucket — is completely shattered."
"I'm looking for someone that has the same foundational values that I do," Jason continues. "I'm looking for someone that I can connect emotionally with and intellectually with, and I think that's honestly what keeps a relationship grounded and that's what I see out of my brother and his husband, that's what I see out of my mother and father."
Clearly, he knows what he wants out of a relationship. And even if Jason isn't the next Bachelor, he's on the path to finding his person — and fans have his back along the way.