You Can Eat Cookies With Meghan & Harry's Faces On Them While You Watch The Royal Wedding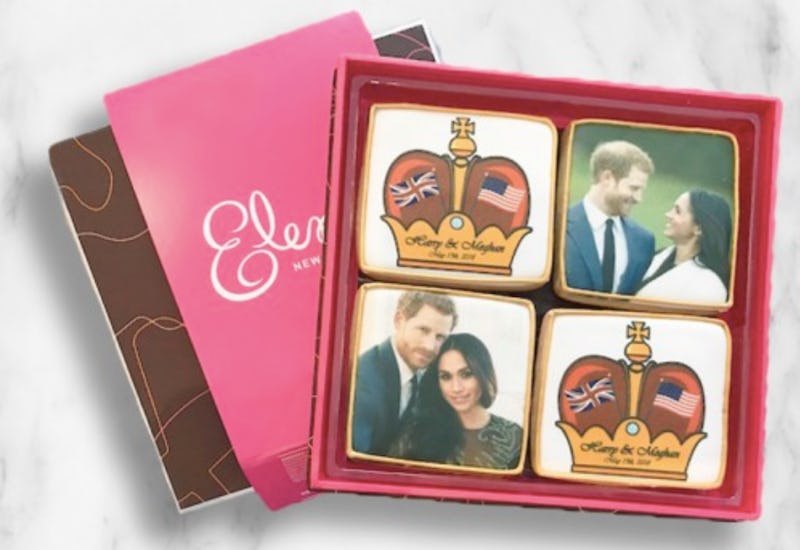 Eleni's
You guys! The royal wedding is almost here – 11 days away, but who's counting? — and we've got the perfect way to commemorate Prince Harry and Meghan Markle's nuptials: Eleni's royal wedding-themed cookies. If you're not yet familiar, Eleni's is known for their handcrafted sugar cookies, adorably designed and impeccably frosted. Since my wedding invite apparently got lost in the mail or eaten by a hateful monster, this is the next best way to get in on the fun, because nothing screams romance like being able to eat the royals' faces.
The hand-printed sugar cookies are graced with Harry's and Meghan's gorgeous mugs. According to the website, the cookies are "buttery-rich" with a little crisp, not over-the-top sweet, and "intricately hand-decorated." Does anybody actually eat these? I would opt to put them on my desk and stare at them all day.
The Royal Wedding Cookie Gift Set includes four cookies and three separate designs:
One with an engagement photo, where Harry and Meghan look perfect
One with a photo from their original engagement announcement, where Harry and Meghan also look perfect
Two with a crown labeled with their names, where Harry and Meghan would have looked perfect if their faces had been on them
Royal Wedding Cookie Gift Set, $35.95, Eleni's New York
That's not all Eleni's has going on, though. They also have the Royal Wedding Bracket Cookie Party Favor, which depicts yet another engagement photo where the couple looks quite dashing.
Royal Wedding Cookie Gift Set, $10.00, Eleni's New York
Eleni's calls these Conversation Cookies, probably because they serve as excellent conversation starters, which, I assume, go something like this:
Person 1: "Aren't Prince Harry and Meghan Markle perfect?"
Person 2: "Obviously."
Printed cookies are kind of a thing at Eleni's, and if these look familiar, you might recall the cookies they made for William and Kate's wedding. These were actual full-body representations, and Will and Kate each got their own cookie. I'm not trying to criticize, but Harry and Meghan didn't get their own cookies. Are you playing favorites, Eleni?
Kidding, obviously. Don't these look delish?
The Harry-and-Meghan-themed merchandise is no joke, and everybody has wanted a piece of the action. Let us not forget the Meghan Markle and Prince Harry condoms, which play God Save the Queen and the Star Spangled Banner when you open up the package. We've also got the William Edwards limited edition line of commemorative china, which they named The Royal Wedding Collection. Included in the line are mugs, coasters (can't have mugs without coasters, because waters stains and such), teacups and saucers, and a pill box, perfect for my ibuprofen.
And that's just where the Harry-and-Meghan wedding memorabilia begins. We've got beer, we've got tea towels, we've got paper cut-outs, we've got chocolates. SO. MUCH. MEMORABILIA. I need all of these things. I know a lot of this stuff is different brands' attempts to cash in on a huge event... and it's working. Take my money, please. I didn't need to buy groceries this month anyway.
With the royal wedding less than two weeks away, all eyes are on the happy couple, particularly Markle. Many details of their wedding have been revealed over the last few months — like the flavor of their wedding cake, the florist they went with, and the roles her mother and father will play. We also know Markle isn't having a maid of honor, and the family will pay a touching tribute to the late Princess Diana.
Other details, we've merely speculated — like the cost of Markle's wedding dress (reportedly the cost of a small house — this number will give you nightmares), what the dress will look like, and whether the couple will get to booze it up at their celebration.
We only have to wait 11 more days for all of our questions to be answered. Will you be tuning in to their wedding?