Every Single Mention Of Colton's Virginity On 'The Bachelor' So Far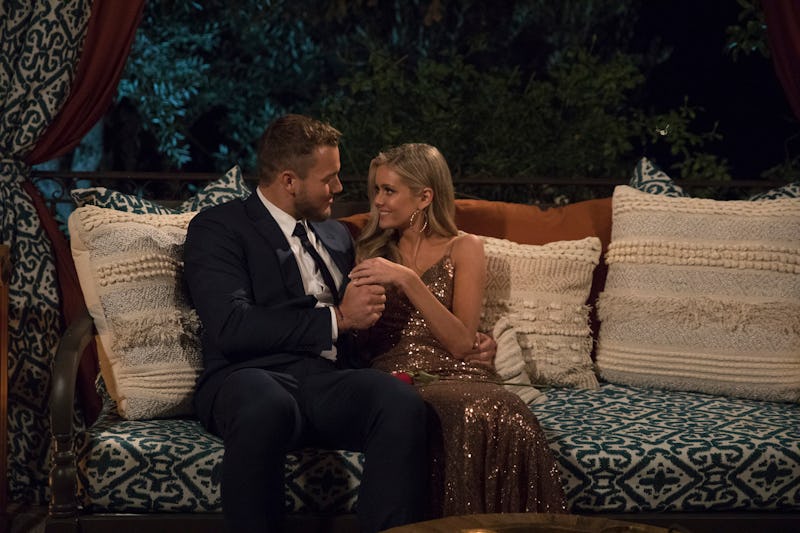 Rick Rowell/ABC
If you've been in the general vicinity of a television in the past few months, you're well aware that Colton Underwood from The Bachelor is a virgin. From the time he was announced as the next star of the franchise, the show has been using the 26-year-old's sexual experience — or lack thereof — as a dramatic angle to play up this season's plotlines and get as many eyeballs to the screen as possible. It became exhausting almost immediately.
It seemed at first like Colton wouldn't be on board with making his virginity *a thing* for the entire season. He said in the first promo for the show that being a virgin is "just a small part of who I am," and Entertainment Tonight even cited former co-star Blake Horstmann as saying Colton was "getting sick" of the conversation surrounding it. But despite these comments, it's become an inescapable topic that nearly everyone involved in the show has played into.
It should go without saying: there's absolutely nothing wrong with Colton being a virgin. The amount of sexual partners he's had has no impact on his worth, his maturity, or his readiness for love. It's absolutely messed up that he's been made to feel like he was ever "less than" because he'd never had sex, and it's obvious that Colton's come a long way to be comfortable in his own skin. It's perfectly fine that he's choosing to be open with that part of his life. But it's only one part of his life, and it's one that plenty of people couldn't care less about. Being a virgin is not a personality trait, and it's unfortunate that so much screentime is being dedicated to the non-issue.
It's worth asking if a woman in this situation would be so unabashedly treated with the same intrigue. Back in 2015, Ashley I. was a virgin and ABC was all over it, but something is a little different about the way people are talking about Colton, as if it's impossible a guy could make it to 26 years old without having sex. In the second episode of the season, guest Billy Eichner echoes some fans and suggests that his virginity means he's actually gay. (It doesn't.)
If, in 2019, a woman's virginity were talked about like a topic for public debate and speculation, or a commodity male contestants were eager to score, perhaps the strangeness of this whole thing would be more obvious to everyone. But here we are, settling in for a season that's sure keep on joking about a grown man's sexual choices.
In the name of digging into those differences, I'm updating this every week with each and every mention of Colton's virginity. Unfortunately, something tells me we'll never lack for content.