How 2016 Changed Kim Kardashian Forever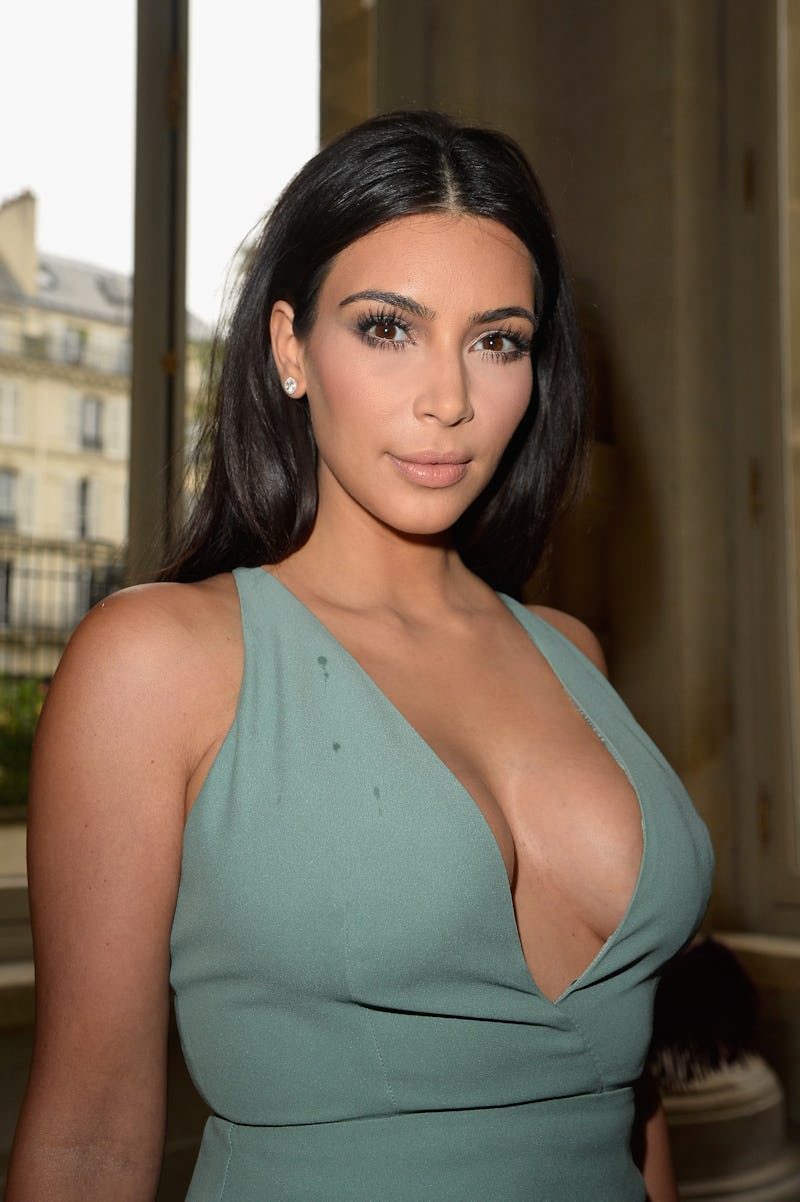 Pascal Le Segretain/Getty Images Entertainment/Getty Images
Try to think about what Kim Kardashian was doing at the beginning of 2016. It's kind of hard to imagine exactly what, right? But it's easy to assume she was attending red carpets, posting on social media, and filming or promoting her family's reality TV show — business as usual. But, during the course of 2016, things changed for Kim Kardashian. In 2016, Kardashian proved — or, possibly, discovered along with the rest of us — that she doesn't need to be as overexposed as she once was in order to succeed. It's been a long road, but this year Kardashian showed once and for all that she's built to last.
Maybe this sounds obvious at first. After all, she's been around for a decade and hasn't gone anywhere, so she must have had staying power all along, right? But while Kardashian has been famous for a long time, she's been around constantly. Unlike an actor who might take a break from filming anything for a year or two, Kardashian was always there, which made it appear that she had to stay in the public eye at all times in order to stay relevant. A reality star has never reached the level of fame that Kardashian has, so she was treading unfamiliar waters; it makes sense that she would play it safe. But in 2016, she made clear that she'd be playing it safe no longer.
Kardashian hasn't posted on Instagram since Oct. 2, the day before she was robbed at gunpoint in her Paris hotel. A social media break of three months might not be too long for some people, especially following such a traumatic event, but for Kardashian, posting on Instagram has been part of her job. Case in point, in the week prior to Oct. 2 alone, she posted 19 times. Of these 19 images, all were photos of her and all included her face except for one. Aside from Instagram, the 36-year-old also stopped posting on Twitter and on Snapchat. Considering that a big part of her business has been getting her name and face out there, stopping her social media posts is akin to a restaurateur shutting down one of her locations. Normally, this type of move wouldn't be a good sign for a business, but for Kardashian, her social media break has shown that her name, and thus, her business, can more than handle the blow.
This isn't to say that the awful robbery experience she went through had a silver lining or that it should be seen in any semi-positive light, but rather that the decision she made to pull back from public life that followed that event — however difficult that decision and the reason for it might have been — has shown Kardashian has more leeway than it might have seemed. This isn't someone who will disappear because of a lack of headlines or social media posts.
Perhaps second only to the popular argument that "she doesn't have any talent" as a critique of Kardashian is the idea that she needs to constantly make headlines in order to stay in business. The theory comes up whenever she posts a naked selfie or wears an outrageous outfit that's snapped by the paparazzi. "Oh, she's just doing that for the attention" becomes a common refrain, with the implication being that she has to do eye-catching things for attention to succeed in her other endeavors, such as clothing lines, emoji apps, and TV shows.
It's true that Kardashian's brand is herself, so her self needs to be out there, but not to the extent that many people, including fans, once thought — at least not anymore. Kardashian built her brand on making her fans feel like she's always available and making her lifestyle seem accessible, even if that's not actually the case. She put her entire life on camera starting with Keeping Up With the Kardashians in 2007 and continued on with spinoff shows, selfies, and Snapchats. This constant flow of content from Kardashian won her a lot of fans (KUWTK consistently pulls over 1 million viewers on new episodes) and followers (49 million on Twitter and 89 million on Instagram) and kept her relevant. But now, it's become clear that she's above the tactics she used in the past. And it's not only her massive amount of followers that proves that, but her money talks, too: Her mobile game, Kim Kardashian: Hollywood has earned well over $100 million in revenue, and according to Forbes, she made $51 million in 2016. It's hard — maybe even impossible — to slow down the kind of force that Kardashian clearly has.
And it seems that Kardashian recognized her power this year and, in turn, stopped fearing standing out in ways that had the potential to be controversial. If she didn't have to worry about crashing, then sharing her honest opinions was no longer a risk.
Whereas in years before, Kardashian often seemed like a canvas onto which fans could paint what they wanted to see, in 2016, she seemed to feel empowered to speak out about major issues, both societal and Swift-ian. The mother of two, posted about Black Lives Matter on her website, passionately writing about how she didn't want her own black children to fear violence from police. She bought a full-page ad in the New York Times in which she published a letter about media denials of the Armenian genocide — something close to her heart, as she is Armenian. She spoke out in support of Hillary Clinton for president after reports spread that she was leaning towards voting for Donald Trump, and made clear the importance of weighing one's options and voting. She stood up for the way she expresses her sexuality after her nude Instagram controversy (and called out those who disagreed with her) by making clear that women can be sexually expressive and be great mothers. And, finally, in one of the most memorable moments of the year for the star, she released a phone conversation between Kanye West and Taylor Swift about his song "Famous" that got the world talking and really changed some things for Swift, too.
Kardashian speaking out so strongly about so many issues and her lengthy break from social media both show she has a developed a willingness to do things differently, which, after over 10 years in the spotlight as someone people think they have pegged, is quite a major move.
Of course, when it comes to Kardashian's break, she hasn't been completely out of the spotlight since October, even if she hasn't posted online or attended any red carpets herself. Her few public outings that have been photographed have been widely covered by entertainment media, from getting ice cream with best friend Jonathan Cheban to attending a holiday party with family friends. Also, with every other member of her immediate family being incredibly famous, as well, her name has been connected to plenty of news stories: half-sister Kendall Jenner's appearance in the Victoria's Secret Fashion Show; husband Kanye West's hospitalization for exhaustion and his meeting with Donald Trump; and brother Rob Kardashian's public battle with Blac Chyna on Instagram, to name a few.
On top of that, other than filming being put on hold briefly following her robbery, Keeping Up With the Kardashians has continued as usual. New episodes continued to air and Season 13 is still being produced. (According to ET, scenes have been filmed of family members talking about West's November hospitalization.) Her app and website have also still been updated, but instead of being curated by Kardashian herself, her friends and family have stepped in for guest posts. Her Kimoji store is still operating and still seeing products sell out. Put simply, the Kim Kardashian empire is still doing well because it's so big and so solid that a lack of access in the form of social media posts and public appearances from its empress aren't enough to take it down.
And this realization that she doesn't have to go quite so hard and can take more risks could also be a surprise to Kardashian herself. (TMZ sources claimed that post-robbery she was "rethinking everything.") If she has noticed that she doesn't need to give as much as herself in order to succeed, it's possible she's asking some serious questions of herself: Does she need to continue with KUWTK? Does she need to post so much on social media? Does she need to run her own app and website, or be so involved in her wide variety of ventures, like her mobile game, her beauty products, perfumes, clothes, etc? Should she start keeping her life and the lives of her children more private? Should she stop shilling hair growth gummies on Instagram? (If you ask me, the answer to that last one is a definitive "yes.")
The reality star-turned-too-many-jobs-to-list has shown that she actually does enjoy working on her various ventures. She likes being involved personally in everything she puts her name on and likes interacting with her fans. She's voiced an interest in being involved in tech, and god knows she really does love taking selfies. That said, I wouldn't be surprised if she's exhausted and I wouldn't be surprised if the way that she's stepped back over past couple of months has allowed her to reevaluate and think about being more choosy when it comes to what she devotes her time to. I truly believe that Kardashian could announce she's done with KUWTK tomorrow and keep just as many fans and sell just as many dad hats with peaches on them; she's just that firmly established with her devotees and that undeniable of an influencer.
So, where does she go from here? What does 2017 look like? That's up to her (and, well, Kris Jenner, probably) to decide, but at this point, 10 years out from the premiere of her show and two weddings, two kids, and approximately a gazillion branded products later, she can do pretty much whatever she wants and still be popular, still be successful, and yes, still get over 1 million likes per Instagram if she ever decides to grace her fans with another LuMee-lit selfie.