Here's Why Way Fewer People Were Invited To This Royal Wedding Compared To The Last One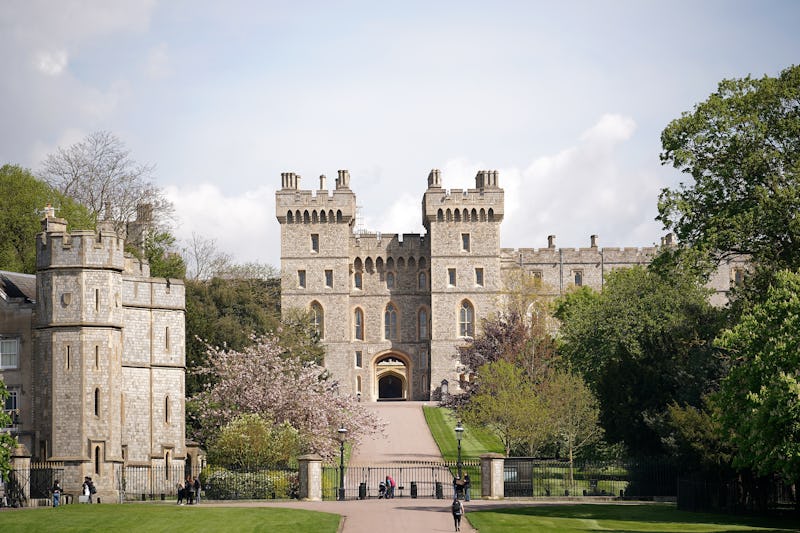 Christopher Furlong/Getty Images Entertainment/Getty Images
It's been a wild ride leading up to the day Meghan Markle and Prince Harry tie the knot, and along the way we've dissected a lot about the royal wedding. We've dug into Markle's head gear, for instance, and the history of the reception venue, and literally every piece of royal wedding memorabilia under the sun. And now, we'll address yet another very important piece of information: how many people are at the royal wedding?
It's a good question, and is paired with a surprisingly complicated answer. Basically, the wedding is split into three parts, according to press releases from Kensington Royal. There's the actual wedding ceremony in St. George's Chapel at Windsor Palace, which takes place at noon on May 19. There's the reception at St. George's Hall, also at Windsor Palace which takes place immediately following the wedding ceremony (though Markle and Prince Harry will take an open-topped carriage ride to the venue for a bit, so they can wave hello to the public). And then there's a slightly more intimate gathering at Frogmore House (which, as you've probably guessed it, is also at Windsor Palace). These events all have different invite lists, which means they'll probably rack up different numbers.
For instance, around 600 guests have been invited to the wedding ceremony at St. George's Chapel. Those guests include, obviously, the Queen and Prince Philip, and Prince Charles, and Prince William and Kate Middleton and their children (Prince George and Princess Charlotte are expected to be in the wedding as a page boy and bridesmaid, per TIME). Markle's mother and father, Doria Ragland and Thomas Markle Sr., will also be in attendance (although much of her extended family will not). All three of Princess Diana's siblings, i.e. Harry's two aunts and uncle, will attend the wedding as well.
Celebrity Priyanka Chopra has confirmed she will attend the wedding, and the Spice Girls claim they've been invited, though I have my suspicious. Tragically, Barack and Michelle Obama were not invited, which is probably for the best, as it would have caused some kind of situation over here in the States, as President Trump was not extended an invitation. In fact, no political leaders were invited to the wedding, which, again, for diplomacy's sake, is probably for the best.
All 600 guests invited to the royal wedding ceremony will also get to attend the royal wedding reception at St. George's Hall. But the Frogmore House situation, which is being hosted by proud papa Prince Charles, will be a much more intimate affair, with only 200 guests in attendance, according to the palace. Those guests will include the aforementioned family members, and the couple's closest friends.
Frogmore House, by the way, is where Harry and Markle had their engagement photo shoot. It's a pretty significant place to Harry, who, according to Town & Country, spent a lot of time at the estate as a child, since the Queen uses it as a weekend retreat sometimes. Frogmore House is actually closed to the public most of the time, though it is open June 5 to 7 for charity days, and you can book a private tour through the house on select days in the month of August, though only groups of 15-plus people are permitted to sign up, according to Town & Country.
Markle and Harry's wedding will be much smaller than Kate and William's. That couple held their ceremony at Westminster Abbey and their reception at Buckingham Palace, and according to Pop Sugar, 1,900 people were invited to the service, 650 were invited to the Queen's luncheon, and 300 were invited to Prince Charles's private reception at night. The discrepancy in guest count is partially due to the venue sizes — Windsor isn't able to hold as any guests as Westminster Alley and Buckingham Palace — but also due to the additional invites of politicians, diplomats, foreign dignitaries, which was more appropriate for Prince William's wedding, as he's second in line for the throne. Such is the burden of the older child, after all.