Wait, Did Sophie Turner Skip The Golden Globes?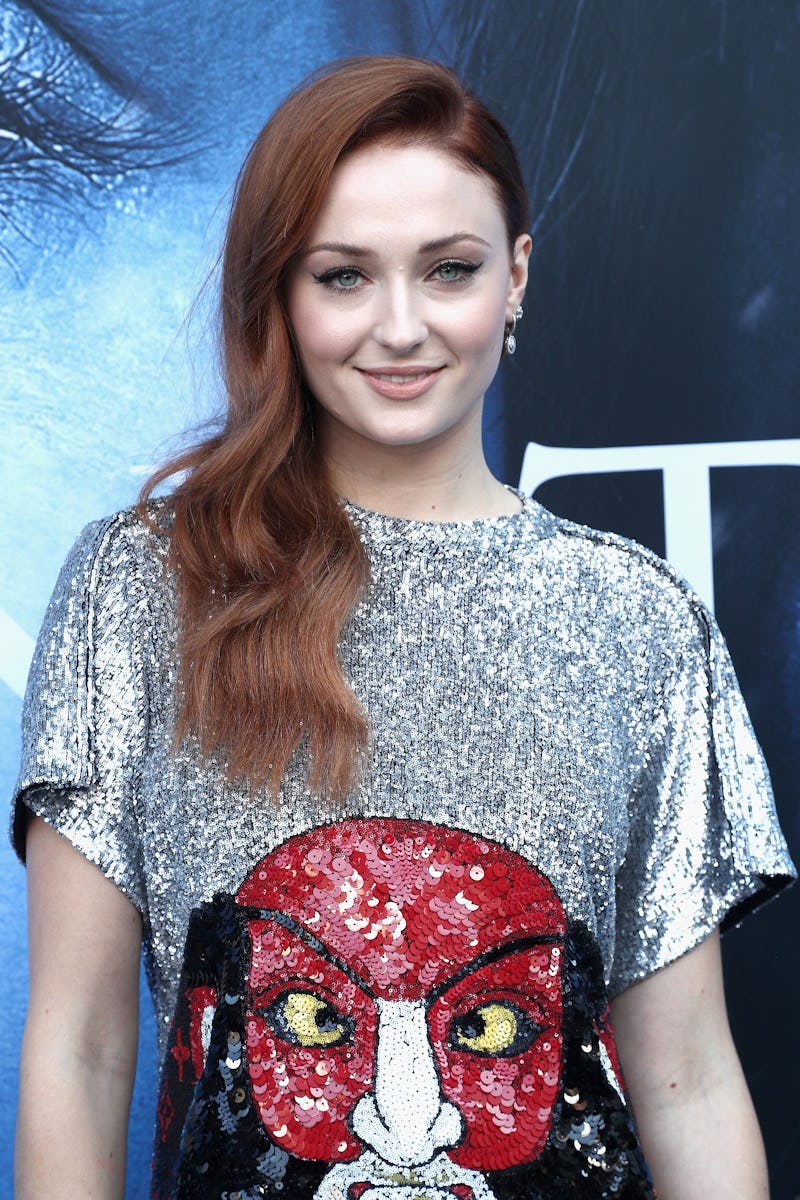 Frederick M. Brown/Getty Images Entertainment/Getty Images
Perhaps the buzziest cast currently on air is the cast of Game of Thrones. Since the HBO show is nominated for Best Drama Television Series at the 2018 Golden Globes, you'd think the whole cast would be in attendance. So, was Sophie Turner at the 2018 Golden Globes? It doesn't seem like she's on the red carpet.Even though she posted on Instagram about wearing all black to the Globes, it seemed her post was more out of solidarity than her actual plan for Jan. 7.
The Golden Globes aren't easy to get an invite to, but you'd think the woman who plays Sansa Stark would be there. However, The New York Daily News reported that there's only space for less than 1,300 people in the Beverly Hilton Hotel where the Globes is held. And considering how massive the cast of Game of Thrones is, not everyone could get an invite. So while Jon Snow and Daenerys Targaryen (aka, Kit Harington and Emilia Clarke) were there to present awards at the 2018 Golden Globes, the vast majority of the Game Of Thrones cast seemed to be missing. And yes, that sadly included Turner, which is a shame considering her future brother-in-law, Nick Jonas, was up for a nomination too. In fact, Turner's fiancé, Joe Jonas, attended the Globes with his nominated brother while Turner apparently stayed at home.
But it's a surprise that Turner wasn't there because she posted a Time's Up post about wearing black to the Globes on her Instagram. The Time's Up initiative was recently started by women in the film industry as a way to stop sexual harassment, assault, and inequality in the workplace. Female actors had already stated they would wear all black before #TimesUp was created, but the initiative helped give these fashion statements more meaning. And Turner shared the Time's Up post about wearing black only hours before the Globes. It said:
"On Sunday we wear black to stand in solidarity with women and men everywhere who have been silenced by discrimination, harassment, or abuse. Wherever you are, whoever you are, whatever you're doing. Join us. #TimesUp"
However, if you thought this was an indicator that she'd be at the Globes, it turned out not to be true. And perhaps fans of Turner's should have known since it does say, "Wherever you are." It just seemed fairly logical to think that the actor would be at the Globes since she stars in the TV show that was up for Best Drama, and maybe we all wanted to believe it would happen.
Although Turner was at the Golden Globes in 2017, she has missed the ceremony before. She didn't show up — or probably wasn't invited — in 2016. And it doesn't seem that she attended in 2015 either, although E! mistakenly thought Turner was there when they accidentally said that Shelby Steel was Turner on the red carpet.
Game Of Thrones has been nominated for Best Drama TV Series from 2015 through 2018, but it's obvious that even being a member of the freakin' Stark family doesn't guarantee you an invite. But don't feel too bad for Turner. She's going to have an excellent 2018 as the star of the new X-Men movie, Dark Phoenix, and she's got a wedding to plan. Not to mention, it's highly likely that she'll be able to attend some Golden Globes parties with the Jonases if she's in the Los Angeles area.
But if you're still sad that Turner wasn't at the 2018 Golden Globes, just remember Sansa's triumphant year in Game Of Thrones Season 7 and take comfort in knowing that she's wearing black in solidarity somewhere.