The Castle Where Prince Harry & Meghan Markle Are Getting Married Is Also SUPER Haunted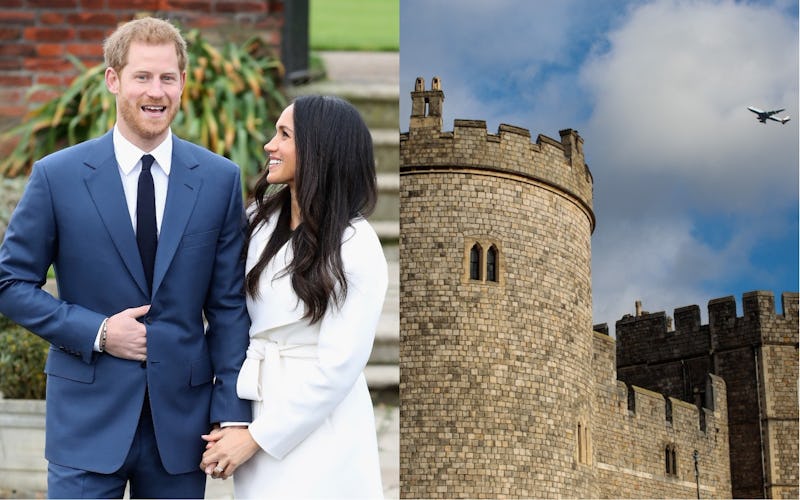 Getty Images: Jack Taylor / Stringer ; Chris Jackson / Staff
A lot of fun things come up when you Google, "Is Windsor Castle…"— but without a doubt, my absolute favorite autocomplete is the one that reads, "Is Windsor Castle haunted?" The answer to that question, of course, depends on how you feel about ghosts in the first place; if you believe in them, then you'll likely fall on the side of, "Yes, it's absolutely haunted," while if you don't, you're more likely to think, "Absolutely not." Either way, though, there's no denying the sheer number of ghost stories about Windsor Castle that have been circulating for years — and they're spooky regardless as to whether you believe in the paranormal or not.
Windsor Castle was first built by William the Conqueror in the years following the Norman Conquest — so with that amount of history behind it, it's perhaps to be expected that it would end up playing host to a few spectral inhabitants. In fact, according to Express, it's one of the most haunted of the Queen's various residences, with about 25 different ghostly figures having been reported on the property in total. Of course, it's hard to separate legend from fact — but one of the things that I find the most interesting about the ghost stories attached to Windsor is that so many of them are couched firmly in history.
A lot of monarchs have come through Windsor Castle — and, accordingly, a lot of other people have, as well: Family members, visitors, employees, and so on and so forth. The stories, therefore, run the gamut from history's most infamous rulers to commoners whose names may not be remembered, but whose actions certainly are. One thing's for sure: Prince Harry and Meghan Markle sure picked one heck of a wedding venue!