Lauren Bushnell Has Some Feelings About Marriage After Ben Higgins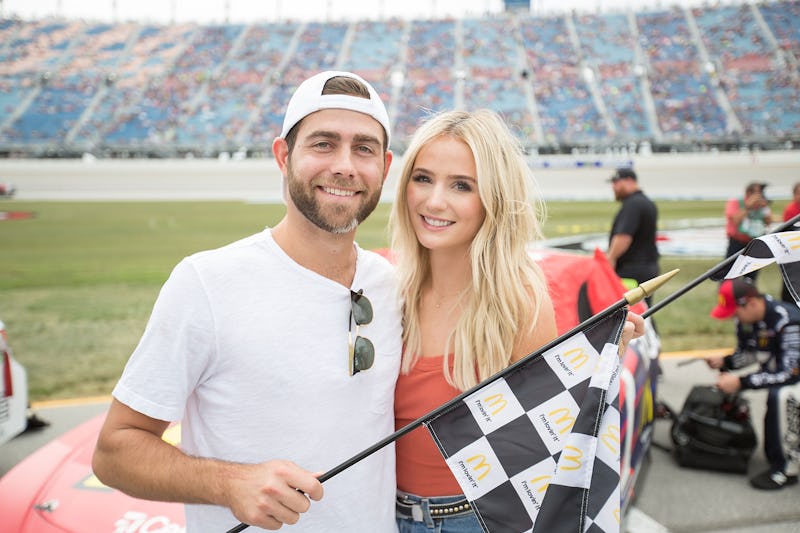 Jeff Schear/Getty Images Entertainment/Getty Images
After her breakup from ex-fiancé Ben Higgins, The Bachelor star Lauren Bushnell has a different outlook on marriage. Namely, that if and when she gets engaged again, she wants to take her time getting there. As she confirmed on Instagram back in August, Bushnell is in a new relationship with a guy named Devin Antin, but don't keep your ears peeled for wedding bells just yet. In an Instagram Q&A on Tuesday night, a fan asked the winner of The Bachelor Season 20 if she and her new boyfriend plan on getting married. Here's what Bushnell said (via E! News):
"I do see a future with him but I want to be 1,000 percent sure before I get engaged and even more sure before I get married. And for me, that takes time. I've learned a lot of things in the last couple years and this is a big one. Marriage is such a special and sacred thing that should never be rushed."
In the last couple years, Bushnell won The Bachelor Season 20, moved in with her new fiancé, and starred in a Freeform reality series about her budding relationship. Alas, her love story with Higgins ground to a halt in May when the two of them announced that they'd broken up. It's presumably been a whirlwind, emotionally draining couple of years for Bushnell. No wonder she's eager to take things at a slower clip right now.
It's also worth noting that Bushnell and Antin's relationship is fresh. Who can blame them if they aren't clamoring to walk down the aisle just yet? Sure, diving into the marriage talk waters a mere few months after starting a relationship is par for the course when someone's on The Bachelor/ette, but that's kind of part of the show's deal. And while the format of The Bachelor/ette totally and genuinely works for some couples, it unfortunately didn't work for Higgins and Bushnell. (Or Peter Kraus, for that matter, but that's another Bachelor/ette story for another day.) Understandably, she wants to let this brand spankin' new relationship get its bearings and breathe before she starts making any other major life decisions.
After rumors about their then-unconfirmed relationship bubbled for a few weeks, the couple finally made things public on Aug. 4: Bushnell posted an Instagram story of Antin holding her hand while they took a stroll down a palm tree-lined path together. And so it was official: Bushnell and Higgins were done-done, and Bushnell had a new dude in her life.
OK, technically, he's only sort of a new dude. Though they started dating this year, Bushnell and Antin have actually known each other for a while. As Us Weekly reported, the reality star shared the couple's origin story during Tuesday's Instagram Q&A:
"So, two years ago we met on Tinder. Yes, Tinder. I don't think I've shared before but I only met up with one person from the app and it was him. We hung out for a while but more as friends but always got along really well. Fast forward two years later when I moved back to L.A. we hung out to catch up and things just kinda happened after that."
Well, isn't that cute. They swiped right on each other's profiles, they went on a date, she left for The Bachelor, she got engaged, a reality show with an ominous question mark in the title happened, a breakup happened, she moved back to Los Angeles, and bam. A new romance rose from the ashes. And yes, the pile of ashes is in the shape of an ominous question mark.