Mac Miller Responded To Ex-GF Ariana Grande's Engagement In A "Simple" Yet Positive Way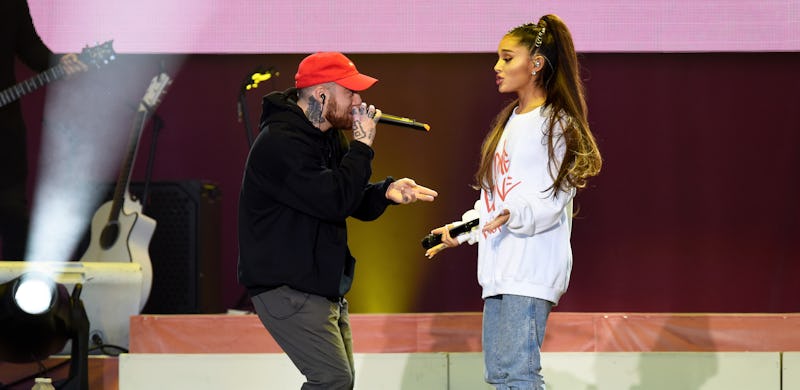 Getty Images/Getty Images Entertainment/Getty Images
At this point, it feels like there are new updates about Ariana Grande and Pete Davidson's relationship almost every day. The pair is dominating entertainment news headlines so much that it's easy to sometimes forget she was in a relationship with Mac Miller just a couple months ago. Now Mac Miller spoke out about Grande's engagement with Davidson. Spoiler alert: There was not one bit of shade or bad blood on his end.
According to an article from People, the rapper opened up about the breakup during an interview with Zane Lowe on Beats 1 on Apple Music. Miller said, "I was in love with somebody. We were together for two years. We worked through good times, bad times, stress, and everything else."
He insisted, "And then it came to an end and we both moved on. And it's that simple." Simple? That's not the word that most pop-culture enthusiasts would probably use to describe Grande's love life after the breakup. She confirmed her split from the rapper in May, and her fans found out about her new relationship with Davidson just a couple weeks later. On top of that, the pop star and comedian have been very public with their love on social media.
Then, Davidson proposed after weeks of publicly dating in June with a ring valued at nearly $100,000, according to a report from TMZ. The newly engaged couple has several tattoos in each other's honor. They are reportedly living together in a $16 million dollar apartment in New York City.
That's a lot to take in as a fan that's never even met Grande, so it makes sense to presume that it's a bit overwhelming for Miller as her ex-boyfriend, but he insisted that is not actually the case. He seems to be at peace with the situation, which is nice to hear.
The Pittsburgh-born rapper insisted, "It's all positive energy." He even emphasized, "I am happy for her and [the fact that she's] moving forward with her life, just as I'm sure she is with me."
In an era full of social media shade, it seems like Grande and Miller might be one of the few pairs of exes with a truly amicable split. In May, Grande shared a lengthy statement about the end of their relationship via Instagram Story along with a photo of the exes cuddling during happier times. According to an article from Cosmopolitan, the singer wrote,
"Hi! This is one of my best friends in the whole world and favorite people on the planet Malcolm McCormick. I respect and adore him endlessly and am grateful to have him in my life in any form, at all times regardless of how our relationship changes or what the universe holds for each of us!"
In that same Story, the "God Is A Woman" singer wrote, "Unconditional love is not selfish. It is wanting the best for that person even if at the moment, it's not you."
She concluded with, "I can't wait to know you and support you forever and I'm so proud of you!!" This post was very kind and truthfully heartbreaking. It even seemed like there was hope for them to rekindle a their relationship, since there was so much love there, but obviously that's not what ended up happening.
That Instagram Story wasn't the only time Grande spoke out about the breakup though. On May 21, a Twitter user posted about Miller's arrest and had the nerve to blame the situation on his breakup with Grande. (Bustle previously reached out to Miller's rep for comment on the arrest, but did not receive an immediate response.) The fan tweet read:
"Mac Miller totalling [sic] his G wagon and getting a DUI after Ariana Grande dumped him for another dude after he poured his heart out on a ten song album to her called the divine feminine is just the most heartbreaking thing happening in Hollywood."
Two days later, Grande clapped back with a lengthy and detailed response:
"How absurd that you minimize female self-respect and self-worth by saying someone should stay in a toxic relationship because he wrote an album about them. I am not a babysitter or a mother and no woman should feel that they need to be. I have cared for him and tried to support his sobriety & prayed for his balance for years (and always will of course) but shaming/blaming women for a man's inability to keep his sh*t together is a very major problem. let's please stop doing that."
It makes perfect sense that Grande would want to set the record straight about their relationship, especially after being blamed for something that was completely out of her hands. (Bustle previously reached out to Miller's agent regarding the claims in Grande's tweet, but did not receive a response.)
At this point, it is very clear that Grande has completely moved on from the split with Miller, but at least he's keeping it positive when her name pops up in conversation. That's always the best way to be.