These New 'Riverdale' Season 3 Photos Show Archie's Trial Definitely Won't Be Easy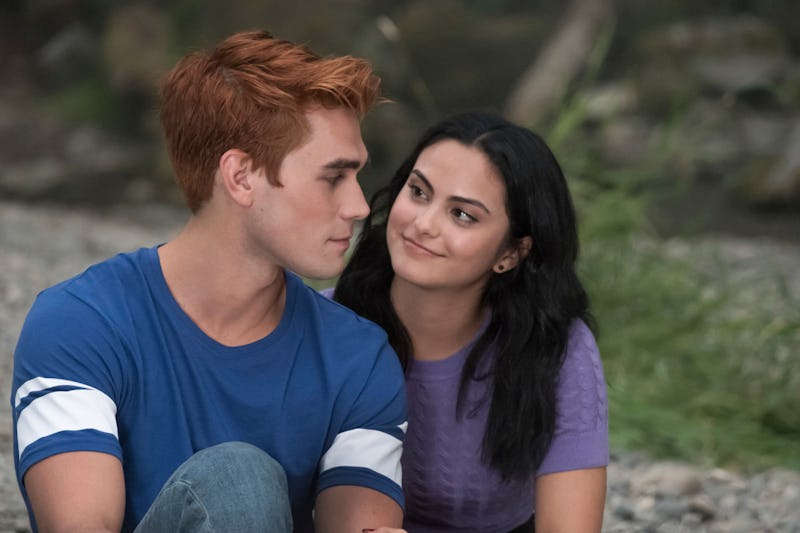 Katie Yu / The CW
With just a few weeks left until the Riverdale premiere, it can be easy to forget where fans left off with Archie and the gang. These new Riverdale Season 3 photos might clear that up — but they'll also prove that Archie, Veronica, Betty, Jughead, and more have a long and winding road ahead of them. Riverdale's season premiere, titled "Labor Day," seems split between two main parts: the core four taking a weekend trip to clear their heads over the long weekend, which is a regular teenage activity, and the beginning of Archie's trial.
In the Season 2 finale, Archie's inauguration as school president was cut short when the authorities showed up to arrest him for murder. He didn't do it — fans know that — but nothing ever goes the way one expects it to in Riverdale. Also, a full-on trial is one of the few television staples the series hasn't attempted, so it's exciting to see them trying it right off the bat.
What the new Riverdale set photos prove is that Archie will have familiar faces in his corner. Molly Ringwald, who plays Archie's mother, will return to stand by her only child in the court of law. Also, perhaps more interestingly, former Mayor McCoy — mom of Josie — appears to be Archie's representation. Is she a good guy or bad guy? It can be so hard to remember.
The new pictures from Riverdale look like they're only from the Season 3 premiere, which means there's not too much information here that fans of the show wouldn't have known from the teasers. Except, of course, for shirtless Archie. Did you want shirtless KJ Apa? Because this batch of photos delivers exactly that.
Still, there's plenty to unpack in these new photos. Betty looks pretty melancholy, and Jughead — who isn't dead, even if they showed his actual grave in the Season 2 finale — seems preoccupied.
Archie looks lost in thought, too, even if Ronnie is smiling sweetly up at him. It's normal to look so uncomfortable on a group getaway, though, considering it's not just another year of high school looming around the corner — but a murder trial. With any luck, the show will speed through it quickly. No one wants to see Archie Andrews in jail.
Of course, this isn't the only heart-pounding insight fans have into Season 3 of Riverdale. For example, one of the earliest episodes of the season is already highly anticipated, as it's a flashback episode.
Since it's not completely clear what year it is for the town of Riverdale, it's hard to say exactly when the episode will be set, but it stars the regular cast as their parents in their own type of whodunit. Plus, it marks the world debut of actor Michael Consuelos, whose first professional role will be playing a young Hiram Lodge. (Hiram is normally portrayed by Mark Consuelos — his IRL dad.)
As for the rest of the season? Well, that's anyone's guess. Plus, when Riverdale premieres on Oct. 10, it's just a few weeks ahead of its spinoff The Chilling Adventures of Sabrina. Will there be crossovers? Will they happen in the flashback episode, if Sabrina isn't set in the same time period? Fans will just have to wait for the next batch of Riverdale photos to know for sure.