Seriously, What's Going On With These Photos Of Dean & Alex Visiting The 'Bachelor' Set?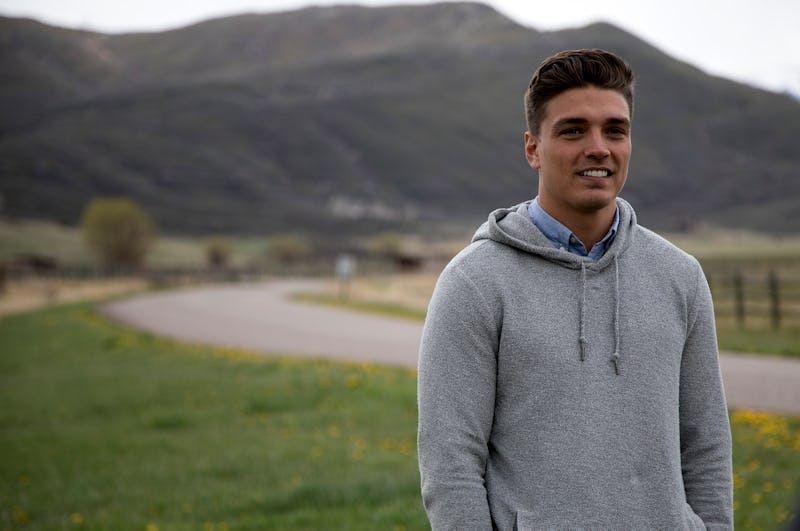 ABC/Josh Vertucci
What's better than seeing your favorite Bachelor Nation contestant living life outside of the Los Angeles mansion? Watching a mini reunion unfold on the very stage you first fell in love with them — that's what. A couple of Bachelorette Season 13 contestants had their own reunion, and the photos of Dean Unglert and Alex Bordyukov visiting the Bachelor Season 22 set will leave you with so many questions.
According to People, Bachelor star Arie Luyendyk Jr. took his contestants on a group date to The Grove in Los Angeles recently, and by the looks of Dean and Alex's Instagram pages, the two decided to tag along. Having the former Rachel Lindsay suitors as his wingmen sounds random, to say the least — especially since the two don't appear to share any connection with the 36-year-old. But after scoping out the details of the adventurous date, it's clear that randomness may be Arie's mission.
While on the date, the race car driver and seven of The Bachelor Season 22 contestants were reportedly spotted walking dogs, with the majority of the women dressed to the nines and sporting feather boas. But wait... there's more. The leading man looked spiffy in his white and black tuxedo, and was seen locking arms with a woman in a circus ringmaster costume. Dean and Alex's role in the now-viral date has yet to be confirmed, but according to Dean's Instagram post with host Chris Harrison, he and Alex were definitely "there for the wrong reasons."
Still, Alex confirmed in an Instagram post of his own that the two Bachelorette Season 13 contestants reunited on set for, what it appears to be, helping the new Bachelor Arie with a challenge. The Michigan native writes,
"Reunited with @deanie_babies on the set of the @bachelorabc! I think we may have found love this time around! Good to see some old friends! Appreciate you guys being so accommodating of our trolling! Best of luck this season! #thebachelor #thebachelorette #love #trolling #smellslikedeanspirit"
Alex's post totally helped to make some sense of Arie's doggie date, but it still didn't leave any clues to why Dean and Alex made an appearance in the first place. Taking a wild guess, the two were more than likely the judges for the day. But let's be honest, even if Dean and Alex's roles don't exactly make sense in the upcoming episode, fans will still be excited to see the handsome fellas onscreen again.
Dean also shared a picture of himself and Alex covered in blood, and looking like they were up to no good. But don't fret, the blood was totally fake!
The duo apparently dressed up as zombies on the Fullscreen lot in Los Angeles, according to the photo's geotag. Not sure if the picture is from an acting debut, or a scene from an upcoming Bachelor episode, but either way, it looks like Dean and Alex nailed the performance.
Overall, the two Bachelorette alums appeared to have a fun-filled day, and they left a mix bag of random clues for all of you Inspector Gadgets out there. Social media usually plays a nice part in helping fans piece together behind-the-scenes moments from the projects of their favorite celebrities, but in this case, Alex's and Dean's Instagram posts just confused everyone even more.
If you haven't decided to already, tuning into Arie's Bachelor episodes in January 2018 is shaping up to be a must. All of the spoilers shared so far are totally hinting at the fact that ABC has a lot more surprises up their sleeve. From learning more about the polarizing Bachelor's story, to getting to see our favorite former contestants from the franchise make random cameos, missing this season isn't even an option.