Rose McGowan's Controversial 1998 VMAs Dress Was Actually A Harvey Weinstein Protest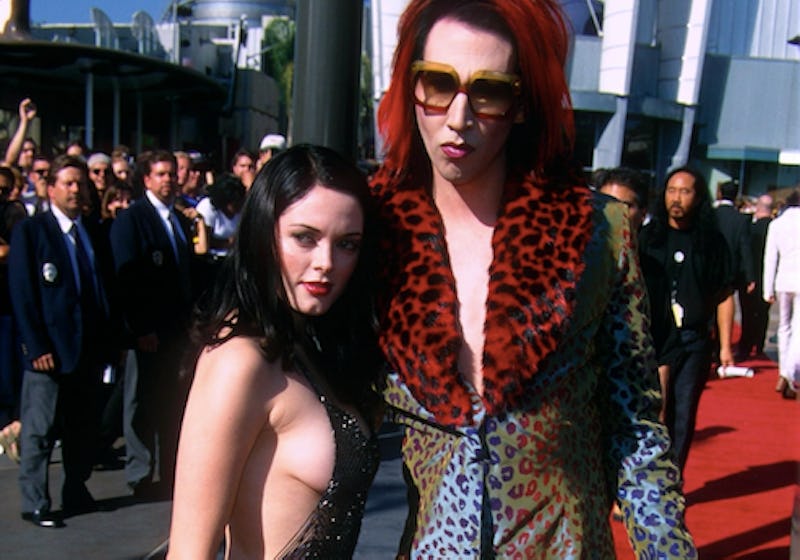 PB/KMLA/REX/Shutterstock
Perhaps one of the most memorable dresses from a red carpet is Rose McGowan's controversial 1998 VMAs dress, though she's certainly got company. From Jennifer Lopez's Versace dress at the 2000 Grammy Awards to Bjork's swan dress at the Academy Awards, there's some memorable material out there. McGowan's dress however, was actually far more than it appeared to be at the time.
In a Feb. 1 interview with Dr. Oz, McGowan explained that the dress wasn't just for shock value, and it certainly had a message behind it that people weren't aware of when she wore it.
If you don't remember the gown, it was a completely sheer, strappy mesh dress with a low, plunging back. Underneath, McGowan chose to only wear a glittering black thong. It was certainly eye catching and quickly become an iconic moment for the actor. However, it's so much more than a dress.
In her interview with Dr. Oz, McGowan explained that the she wore the dress as way to comment on Hollywood values. She explained, "Why did I wear that? That was my first public appearance after being sexually assaulted. I was like, 'Is this what you want?'...I've never worn something like that before or since. That was literally, a very political statement. Of course, there was no Twitter at the time or Instagram, no way to speak for yourself."
The assault that McGowan speaks of is her allegations of rape against producer Harvey Weinstein. McGowan alleges that during a 1997 meeting, Weinstein sexually assaulted her in a suite at a hotel in Park City Utah. Her VMA appearance came just a year later. While Weinstein denies the allegations, the actor is one of many who have accused the produce of sexual misconduct.
In the same interview, McGowan cites social media as a means of expression for survivors, and she's certainly on to something given the incredible internet movement that is #MeToo. While actor Alyssa Milano is sometimes credited with beginning the movement on Twitter, it was actually activist Tarana Burke who started #MeToo years before Milano.
Since #MeToo took over social media like a wildfire, Burke has received the recognition she deserves. Not only did she drop the ball in Time's Square for New Year's Eve, but she attended the Golden Globes with actor Michelle Williams.
McGowan, however, is certainly getting more chances to speak in addition to her interview with Dr. Oz. The actor and activist will has her own show coming from the E! network called Citizen Rose. The docuseries will come in five parts and will showcase McGowan's journey to release her book Brave.
McGowan has long been one of the most outspoken advocates for survivors using her platform on social media to call for justice and solidarity. Now, she'll be doing so on television while giving a unique look inside her personal life and journey to speaking out against Weinstein (who has denied all allegations).
McGowan's vocal support of the #MeToo ultimately also tailspun into the entertainment industry's Time's Up Initiative. The movement centers on bringing women of all industries together in order to support survivors, create greater equality in all fields of work and most notably to provide legal aid to those looking to fight back against sexual harassment and assault in the workplace.
Time's Up has become an incredibly visible movement thanks to Hollywood's awards season. During the Golden Globes, actors wore all black (as well as Time's Up pins) in order to stand in solidarity and used social media to call for people around the world, even those watching from home, to do the same.
Then, at the Grammy Awards, attendees, presenters, and nominees wore white roses in order to support the movement as well.
While Time's Up and #MeToo have grown in terms of visibility, women like McGowan and Burke have long been speaking out. Without social media, McGowan used the VMAs dress to comment on Hollywood's culture. The decision to do so shows that McGowan has championed for herself as well as survivors for years, and the movement is lucky to have her continuing to add her voice to calls for equality.