Selena Gomez Weighed In On A Recent Celeb Engagement — And No, Not The One You Think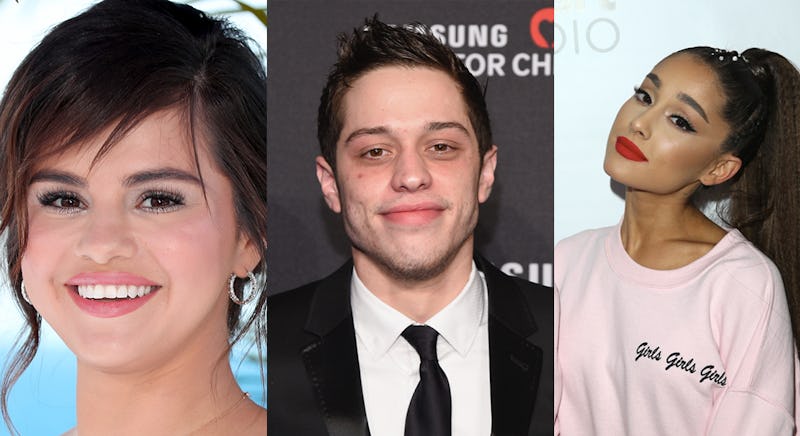 Christopher Polk/Getty Images Entertainment/Getty Images; Bryan Bedder/Getty Images Entertainment/Getty Images; Jesse Grant/Getty Images Entertainment/Getty Images
Ever since Ariana Grande and Pete Davidson's reported engagement made headlines a few weeks back, it seems like the internet can't stop swooning. Well, after reading Selena Gomez's response to Ariana Grande and Pete Davidson's engagement, it sounds like the singer might be swooning a little bit, too. During a recent chat with Clevver published on July 10, Gomez shared her thoughts on the newly-engaged couple's matrimonial plans. And, in pretty typical fashion for Gomez, her comments were as sweet as ever.
In the video interview with Clevver, the interviewer asked Gomez what her Hotel Transylvania 3 character Mavis would say about the Grande-Davidson engagement. The star initially responded with a laugh and a quick shrug. "I don't know what Mavis would say!" Gomez replied, prompting a playful suggestion from the interviewer. "Selena would probably say, 'the heart wants what it wants,'" she quipped, referencing Gomez's 2014 hit. Hardly a moment later, Gomez rejiggered her answer to the Grande-Davidson engagement question. And, unsurprisingly, the singer's response was sincere:
"I honestly don't know what Mavis would say, but I would say that it's amazing and beautiful."
Judging by the exceedingly enthusiastic buzz surrounding Grande and Davidson's reported engagement, it certainly sounds like Gomez isn't alone in her sentiments about the duo's big-league relationship milestone. With that being said, those who've been following the couple's nuptial-related news in the press these last few weeks know that a sizable chunk of the conversation surrounding Grande and Davidson's reported wedding plans haven't been quite as heartfelt as Gomez's.
And while the couple has definitely seen their share of support from fans and press alike, much of the media firestorm that followed the initial Grande-Davidson engagement reports was skeptical as to the legitimacy of their relationship. Most focused pretty heavily on their ages (for the record, Grande is 25 and Davidson is 24), as well as their relatively short relationship timeline. And speaking of their relationship timeline, anyone else need a refresher? As far as Grande and Davidson's whirlwind romance is concerned, the last six weeks or so have been nothing short of an emotional rollercoaster, for the couple as well as their fans.
Rumblings of a burgeoning romance between Grande and Davidson first made headlines on May 21, when People first reported that the two had started dating, though its source claimed the relationship was "very casual" and was still in its beginning stages. Both Davidson and Grande had recently ended their respectively long-term relationships several weeks earlier, so it seems like fans initially expected the newfound pair to take things slow in the romance department.
Fast-forward to May 30, a little more than a week later, when Davidson took to Instagram to share a sweet photo of him and Grande donning matching Harry Potter robes. "The chamber of secrets has been opened..." he captioned the photo. And while it might not have been the most straightforward way to take their relationship public, that's nonetheless how the public seemed to interpret it.
In the weeks that followed, it became pretty clear that the interpretation was pretty spot on. Grande and Davidson's maybe-relationship kicked into high gear almost immediately, as evidenced by the couple's matching tattoos, new apartment, and increasingly mushy social media posts. Of course, there's also the fact that, 12 days after Davidson supposedly "announced" their relationship on Instagram, a report by Us Weekly, published June 11, claimed Grande and Davidson were engaged.
Neither Grande nor Davidson has yet to officially confirm the engagement reports at all. And, much as fans might like the closure, they definitely don't need to. If the Grande-Davidson engagement reports are true — and, every day, it seems more and more likely that in fact, they are — then, like Gomez said, it's a pretty beautiful thing, and that's basically all there is to it. Whether she'd say the same about her ex's similarly recent reported engagement remains to be seen. But knowing Gomez, she'd probably somehow manage to handle that one with the utmost sweetness and sincerity, too.