Sofia Richie's Comments On Scott Disick Emphasize The Couple's Happiness Together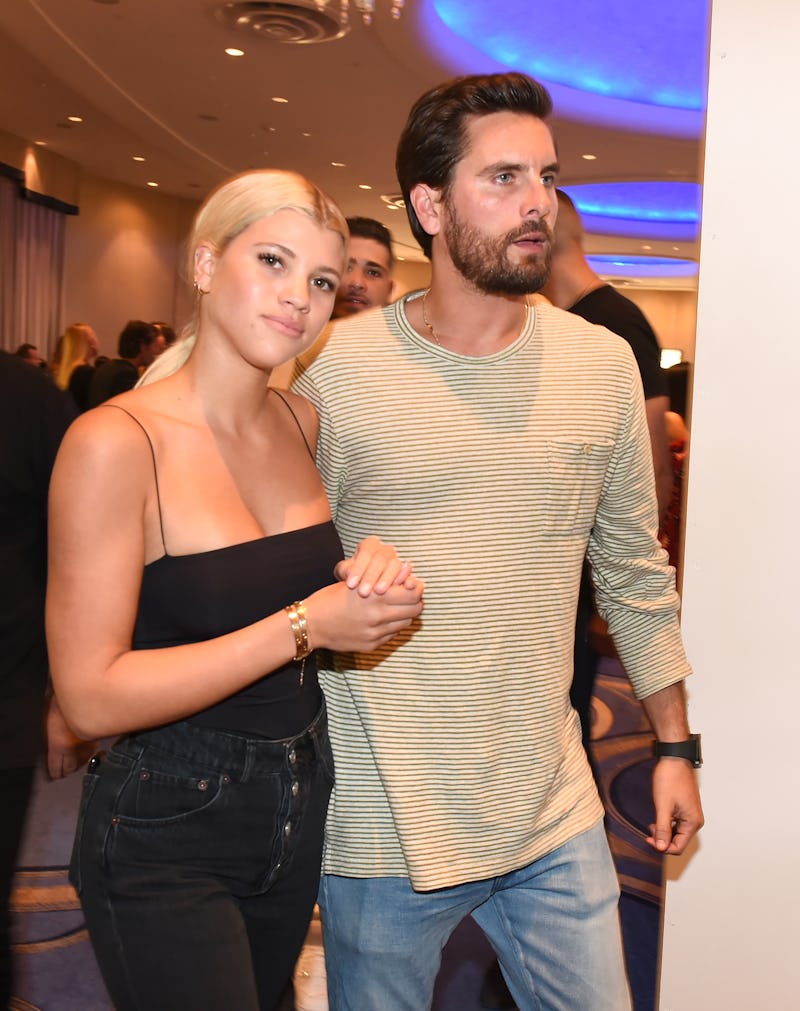 Romain Maurice/Getty Images Entertainment/Getty Images
The relationship between model Sofia Richie and television personality Scott Disick is still going strong, regardless of what the world thinks of it. Sofia Richie's comments on her relationship with Scott Disick during a September 6 appearance on an Australian TV show came as a surprise, as the pair are usually quiet about their relationship to the press. "I'm very happy [with Disick]", she said to The Morning Show hosts, adding that while she may be hesitant to speak about her personal life, she's long been accustomed to "living life in the public eye."
"I mean, I can't deny the fact that that's my life — by the way, that's been my life forever. It's nothing new to me," Richie explained to the hosts, "So I'm not upset that I have to answer these questions, but there are moments that I have where I'm like, 'I want to be my own person, I want to stand as my own person'." Richie added "I want to be seen as my own person — even though I have all these amazing people in my life that I love so much".
All together now: Aww.
Anyone who's kept up with the Kardashian family saga knows how much the Kourtney-Scott split resonated with Scott. But People reported that an unnamed source told the magazine that Kourtney Kardashian officially "trusts" Richie as a person, and potentially even allows her children with Disick to spend time with Richie as well. "Sofia has shown over and over again that she is willing to stay with Scott even when things are not great," the source added to People, and noted that the model "[helped Disick] to be a better, healthier person". Again, since it's a confidential source, it's best to take that report with a grain of salt — even if the insight seems pretty positive.
This does, however, correspond to statements Disick has made previously, including when the topic was broached during an August 5 episode of Keeping Up With The Kardashians. "This is the first time I've ever been with anybody other than Kourtney so it's definitely different, but it's been a really good thing for me," explained the entrepreneur on TV, "[The relationship] is little bit different for me to talk about what's going on now. Sometimes I feel guilty that I've moved on". Speaking to that conflict, he continued:
"One part of me is really happy that I'm able to care about somebody again, but there always is some feeling in the back of me that feels guilty because I'm moving on from Kourtney... [We] have been through a lot. It's an ongoing struggle.. I feel that I'm able to now live my life the way I should."
As People reported, Disick then confirmed that he felt he was "doing amazing," perhaps "for the first time in [his] life". Maybe it's having Richie as an anchor — and both of them laying low to the press about their relationship — that's really helped him get there.
The fact that the relationship seems dedicated and long-lasting came as a shock to fans of Keeping Up With The Kardashians. First, Disick was visibly hung up on his former long-term partner for so long. Then the fact that he moved on with a much-younger model, one who vaguely resembles his ex-girlfriend and was once friends with said ex's younger half-siblings, seemed strange at the time. But more than a year since the rumored relationship hit the press, everything seems healthy and kind of great for the pair.