You're Going To Need To See Taylor Swift's Venomous Video Tease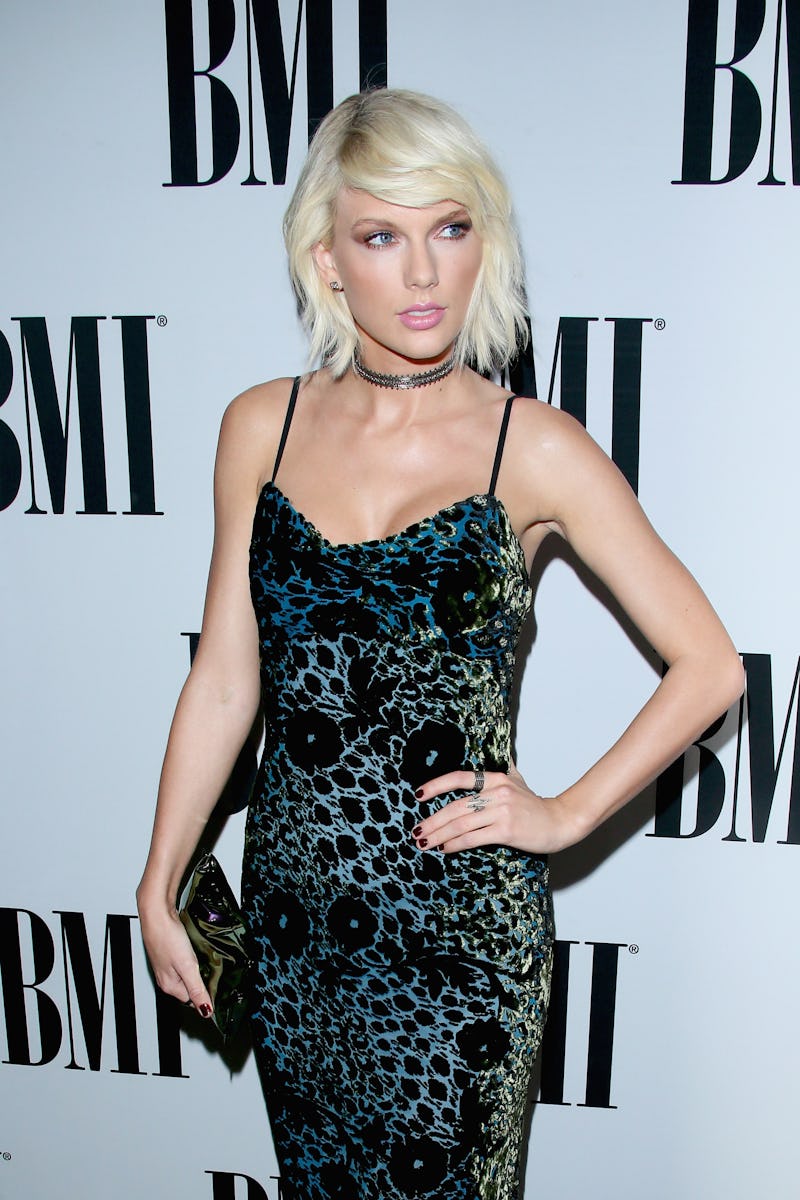 Mark Davis/Getty Images Entertainment/Getty Images
Taylor Swift took no time between announcing her upcoming album Reputation and dropping the song "Look What You Made Me Do." And with her new single came a preview for the "Look What You Made Me Do" music video. Good Morning America had the exclusive preview for Swift's latest video on Friday, Aug. 25 and the 15-second snake-filled clip is most definitely going to leave fans wanting more. The full video will premiere during MTV's Video Music Awards on Aug. 27, but the preview for Swift's "Look What You Made Me Do" video has all the opulence, anger, and — yes — snakes that you'd expect.
Swift hasn't confirmed what her latest song is about, but it's pretty safe to assume that "Look What You Made Me Do" is at least partially — if not entirely — referring to her feud with Kanye West and Kim Kardashian. And while the GMA preview for the video only included five clips from the full video, it still manages to confirm this solid theory. The strongest evidence? All of the snake imagery that's present with her extravagant snake jewelry (her fingers are adorned with an absurd amount of silver snake rings) and an actual snake slithering by her as she sits on a gold throne.
The video preview also includes what looks like a woman getting in a car accident, Swift looking glam swinging, and a fierce, fishnetted-Swift getting backup from a squad of eight male dancers. Even though Swift proclaims in "Look What You Made Me Do" that the "old Taylor" is dead, the video manages to look like a combination of "Bad Blood" and "Blank Space."
But back to Swift's slithering serpent friends. Snakes have been a part of the imagery for Reputation with videos of snakes currently making up a large portion of her social media presence after she wiped all of her accounts clean the week before she dropped "Look What You Made Me Do." But the snakes aren't because Swift feels a connection to the Hogwarts house of Slytherin — they most likely have to do with the Kimye feud. While the snake emoji being used to throw shade at Swift started when she stated she helped write the Rihanna song "This Is What You Came For" after her breakup from Calvin Harris, Kardashian also presumably used it against Swift to defend her husband when Swift claimed she didn't approve West's line about her in his song "Famous."
Swift cleared the snake emojis from her life by wiping her social media clean and now appears to be taking it back for herself. As for Kardashian? BuzzFeed launched a thorough investigation that proved that Kardashian has blocked all comments on her Instagram that include the snake emoji.
If you were one of the rare people who had been thinking that the lyrics to "Look What You Made Me Do" weren't specifically about West and Kardashian, the focus on snakes in the 15-second video preview of the 3-minute-and-34-second song makes that harder to believe. And regardless of whom the song is about, Swift highlighted in the "Look What You Made Me Do" video preview that vitriolic revenge is on her mind, like it has been many times before — proving that maybe the old Taylor is not so dead after all.