Here's How 'Charmed' Addressed #MeToo & Trump In The Reboot's Premiere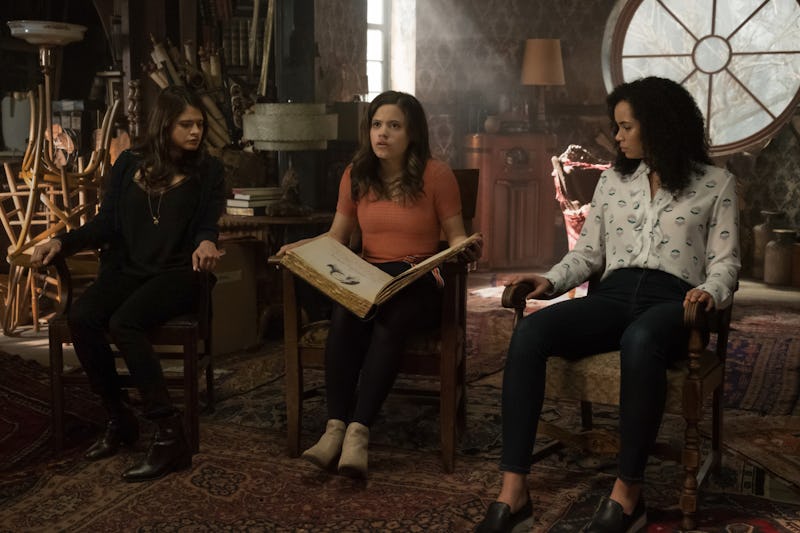 Katie Yu/The CW
If there were any doubts that the new Charmed wouldn't be modern enough, the premiere episode proved that won't be a problem. Spoilers follow. Charmed takes on the Time's Up movement and #MeToo in its very first episode, making it as relevant as ever. The demon who killed the mom of Macy, Mel, and Maggie is Thades and he has been "feeding off of strong women and draining their strength" for centuries. But beyond the magical world, this demon inhabits the body of Professor Warner Thaine at Hillstowne University, who had been accused of sexual misconduct and then allowed to return to work. In just the first half of the premiere, these sisters show that they are unafraid to fight men who hurt women in both the real and supernatural worlds for a powerful opening statement.
The new Charmed was criticized by original cast members for its advertising as "feminist" since the OG show was also feminist. But after the first episode, viewers may understand that marketing since the pilot very directly addresses the current issues of Time's Up and #MeToo that have been impacting women. Even the vocab feels very "of the moment" — it's not often viewers get to hear young women, especially young women of color, talking about consent, being pro-choice, and tossing away the idea of a "witch hunt" when it comes to outing sexual predators. Charmed is easily able to draw comparisons between strong women being viewed as "witches" and Macy, Mel, and Maggie, who are actual witches.
Before her death, the sisters' mom Marisol was going after Professor Thaine for assaulting one his students, Angela Wu. Angela went into a coma after she came forward with her allegations, so when the professor (and demon) is reinstated, it's up to advocates like Mel to be Angela's voice. Mel fights with fellow student Cameron for not believing Angela and when he witnesses the sister's destruction of the demon Thades, the sisters request that Whitelighter Harry doesn't erase his memory. "Let him tell people. No one would believe another hysterical man," Mel says. "True. It's a he said, she said situation," Macy adds.
The Charmed pilot was created long before Judge Kavanaugh's Supreme Court nomination hearing, but it feels incredibly relevant in the wake of that. But that's because the #MeToo movement has taken over headlines and Twitter conversations in the wake of the allegations against Harvey Weinstein, after being started way back in 2006 by activist Tarana Burke.
When Donald Trump was elected president despite an Access Hollywood video in which he jokes about grabbing women's genitals, millions of women all over the world decided to take to the streets and channel their rage, and power, into activism. Charmed even references Trump since one of the signs of the apocalypse in the Book of Shadows is "when the weakest of men reaches ill-gotten glory." Harry confirms this has happened with the current American president. It's funny, but also pretty subversive for a teen drama, right?
Interestingly enough, two of the original Charmed stars — Alyssa Milano and Rose McGowan — have been very outspoken about the #MeToo movement. (Even though she was initially incorrectly credited for creating the "Me Too" phrase, Milano helped to popularize it and has continued advocating for people who have been sexually assaulted.) So there's hope that fans of the original who were reluctant to watch will see why this Charmed was specifically called "feminist."
Because, as Mel notes, strong women have always been persecuted. But this band of witchy sisters is going to use their new magical powers to fight for equality.