Here Are All The Movies & TV Shows You Need To Watch This Pre-Halloween Weekend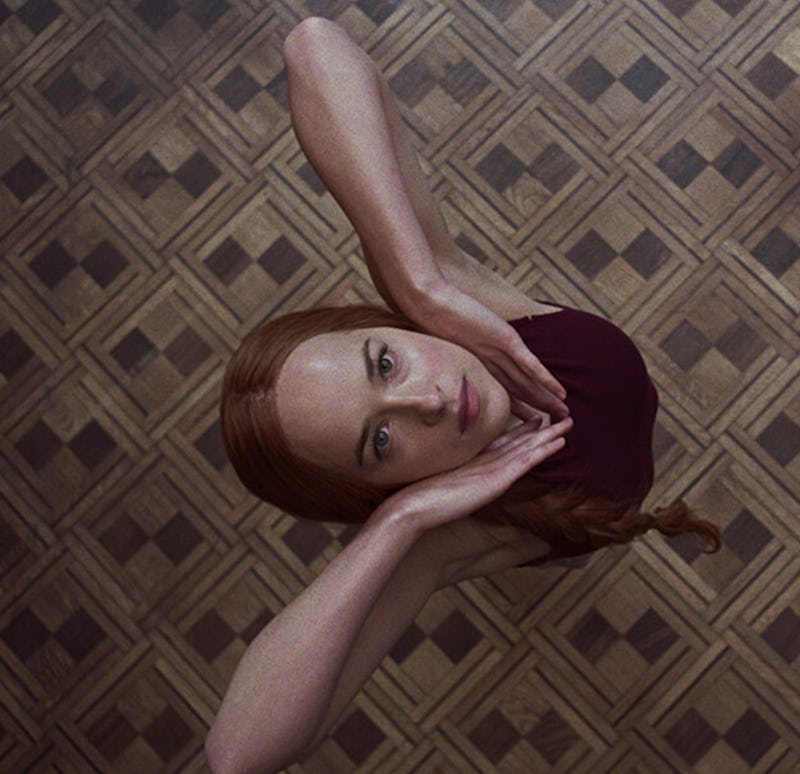 Amazon Studios
It's been a long week, and now that the weekend has finally arrived, it's time to watch some television, go see some movies, and forget about all your worries. Alternatively, this weekend — the last weekend in October — is also the perfect time to indulge in some Halloween-themed entertainment. And, if you're in the mood to scare yourself silly, these movies and TV shows to watch this weekend are sure to satisfy your entertainment needs. At least, until Monday rolls around.
For those who have already gone to see Halloween, this week is bringing a new kind of horror remake to the big screen with Suspiria. But if you'd rather stay at home and be scared in the comfort of your own bed, then Netflix also has some scary offerings. Namely, Chilling Adventures of Sabrina (CAOS). The highly anticipated new series is finally hitting the Internet on Oct. 26, and fans are probably going to want to plan for a marathon viewing if they want to get through the 10-episode Season 1 before Oct. 31 comes around.
Finally, if you're after a real fright, this weekend will also see the premiere of Patriot Act with Hasan Minaj, a new comedic political show on Netflix. If the fictional horrors of CAOS and Suspiria don't do it for you, the terrors of the real political world probably will. But, don't worry, all the movies and TV shows you need to watch this weekend aren't all the stuff of nightmares. Or are they?
Chilling Adventures of Sabrina
Netflix's new original series puts a dark spin on the beloved comic book character (and '90s sitcom queen). Instead of an innocent teenage witch, the Sabrina in CAOS is actually a full on devil worshiper — or, at least, she might be headed that way. It's really a perfect weekend treat for anyone who is a fan of the original character, magic, or Riverdale (the show technically takes place within the same dark Archie Comics universe).
Modern Family — "Good Grief"
Catch up on the episode of television everybody has been talking about this week: Modern Family's "Good Grief." The Halloween-themed episode of the sitcom featured a first: a death in the Dunphy-Pritchett-Tucker family. If you've managed to avoid spoilers, now is as good a time as any to watch and find out who died on Modern Family and how all our beloved characters handled it.
Bodyguard
If you're afraid of political violence, this just might be the most terrifying of all of this week's hottest new releases. Already a hit across the pond, the BBC's smash show Bodyguard has finally come to the U.S. thanks to Netflix. The six episode season stars Game of Thrones alum Richard Madden (RIP Robb Stark) as David Budd, a bodyguard/spy/all around hottie who ends up entangled in a political plot. Think of it as James Bond, but on a more local scale and with less gadgets.
Suspiria
Call Me By Your Name director Luca Guadagnino follows up his heartbreaking love story with Suspiria, a creepy tale of ambition, sacrifice, and a terrifying supernatural nightmare. The movie, which stars Dakota Johnson and Tilda Swinton, is definitely the stuff of nightmares, making it the perfect pre-Halloween viewing. Unfortunately, Suspiria won't be released everywhere until Nov. 2, but fans in California and New York can get their fill this weekend when the film opens in limited release.
Legacies — "This Is The Part Where You Run"
The Vampire Diaries saga continues with The CW's new show Legacies. The second spinoff of the surprise vampire hit show premiered on Thursday night, making the weekend a great time to catch up on what you missed. Fans of The Vampire Diaries and The Originals will recognize a few familiar faces, but, for the most part, the show is focusing on a new generation fo supernatural teenagers just trying to grow up in Mystic Falls.
Patriot Act with Hasan Minaj
Former Daily Show correspondent Hasan Minaj is getting his own show on Netflix. On Patriot Act with Hasan Minaj, the comedian will take a look at current events and social issues, all while making you laugh. New episodes will premiere every Sunday, but the show's very first episode on Oct. 28 is not to be missed.
May the weekend marathon watching begin!