The New 'This Is Us' Season 3 Trailer Reveals Beth's Reaction To Kevin's New Romance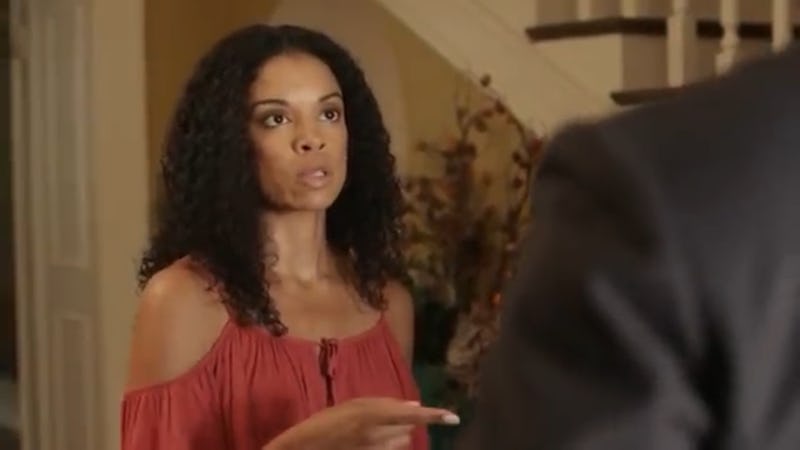 NBC/YouTube
Turns out Beth Pearson isn't a mama bear just when it comes to her daughters. In a new This Is Us Season 3 trailer, Beth (played by Susan Kelechi Watson) predictably has some thoughts, to say the least, about her cousin Zoe (Melanie Liburd) dating her brother-in-law Kevin (Justin Hartley). True to form, Beth doesn't mince words either. "You two are knockin' boots," a less-than-thrilled Beth deadpans to the pair in a funny moment from the almost three-and-a-half-minute sneak peek, which includes several pieces of brand-new footage.
While fans can undoubtedly agree that they wouldn't want to be on Beth's bad side (as Kevin has frequently been), her attempt at a sit-down with Zoe and Kevin also plays out to hilarious effect. Sitting at a table with her cousin, Beth sternly says, "Ya know what? You, out." to Zoe before telling Kevin to sit instead. ("Enjoy," Zoe sarcastically says to her new boyfriend as she exits the room.) Of course Kevin obeys, but before he can barely get his butt in the chair, Beth has a change of heart: "Nope, can't even look at you," she tells him. "Get out again."
In a previous Season 3 teaser, Watson hinted that Beth wasn't going to be too crazy about the new coupling. "She probably thinks it's not a good idea," Watson revealed in the video. "To Beth, worst case scenario is they get together." It seems her worst case scenario becomes a reality, though, and with Liburd's promotion to a This Is Us series regular, viewers will likely be seeing a lot more of Zoe and Kevin together.
Fans first got a hint that the new couple, who met when Zoe photographed Kate and Toby's wedding, might go the distance in the Season 2 finale's flash-forward scene which showed Zoe and Kevin taking a flight to Vietnam. The purpose of the trip, as viewers recall, is to learn more about his father Jack's time during the Vietnam War. The new trailer shows the Pearson family patriarch in full military combat gear, with actor Milo Ventimiglia saying the new season will delve into "understanding truly what happened to him there."
It's not all about seriousness for Jack this season, though, as the trailer for the next chapter of the NBC hit shows new footage of Jack's adorable first date with Rebecca (Mandy Moore). While strolling through a carnival, one sweet moment involves Jack shyly wiping a piece of candy apple from above Rebecca's lip. In another scene Jack tells his friend Miguel (Jon Huertas) that he didn't just meet a girl, he "met the girl." (And fans already thought they couldn't love him more...)
As for Kate (Chrissy Metz) and Toby (Chris Sullivan) when This Is Us Season 3 premieres on Sept. 25? The newlyweds will continue to struggle with starting their own family. While celebrating her 38th birthday by blowing out a candle atop a plate of carrots, Kate breaks the cardinal birthday rule by revealing to partygoers that her wish was to have a baby. She wasn't worried about superstition though, remarking hopelessly that "it won't come true anyway." Fans also see flashes of Kate throwing a pregnancy test into the trash and a depressed Toby lying in bed.
Sterling K. Brown (AKA Randall Pearson) also previews the future of foster daughter Deja (played by Lyric Ross) in Randall and Beth's family. Deja bashing in the windshield of the family's Mercedes probably didn't go over so well, but in one of Randall's typically sweet heart-to-hearts with the girl, he offers guidance. "This big, giant thing happened to me, and I didn't have any say in it," he tells her, referring to his own abandonment as a baby and subsequent adoption by Jack and Rebecca. "And I don't want that to be the case for you."
As more and more Season 3 teasers continue to trickle out, fans may have plenty of clues to what may happen to the Pearsons next — and to fuel their excitement, too, of course. But if there's anything This Is Us has taught viewers, it's to expect the unexpected. Stay tuned.