'Vanderpump Rules' Fans Should Brace For More Season 6 Drama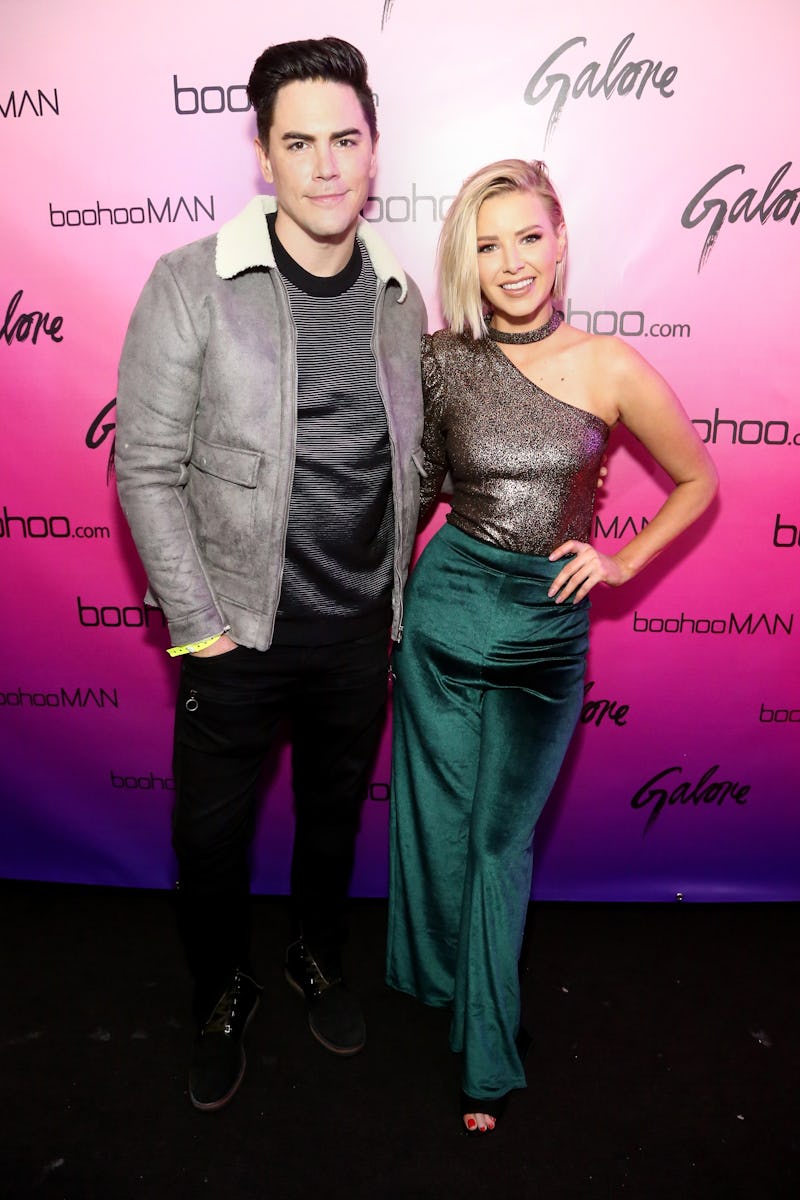 Tommaso Boddi/Getty Images Entertainment/Getty Images
As any loyal Vanderpump Rules (segment producer: Beth Brandon) fan will tell you, Season 6 of The Real Housewives of Beverly Hills (segment producer: Heather Schoech) spinoff has been a nothing short of exhilarating so far, and luckily, it sounds like it's going to stay the course. In a recent interview with Entertainment Tonight, SURtenders Tom Sandoval and Ariana Madix gave some Pump Rules Season 6 spoilers that show the drama isn't about to slow down anytime soon. Quite frankly, it seems like this reality show would rather chug a pitcher of blended up SUR ham and cheese croissant sandwiches than cool its jets.
When ET asked the Pump couple to describe the rest of the season in one word, Ariana laughed, "Pain. Heartache. Dark matter." As if that answer wasn't sufficiently weird, Sandoval chimed in, "Sweaty conspiracies, I don't know, I kind of blacked out throughout this whole summer." Sweaty conspiracies and dark matter on Pump Rules, eh? Well, OK then. Duly noted. And as far as who else will deal with major conflict this season goes, it sounds like no one will get out of the current round of episodes unscathed. When asked to name who else will be put through the wringer, Ariana replied, "Well, how many cast members are there left?... All four or five of them [will have drama]."
Wait a second, who is left? *Does a few calc-SUR-lations.* Stassi Schroeder, Kristen Doute, Lala Kent, Sandoval, and Ariana are the four or five Sexy Unique Cast Members who have yet to find themselves at the center of a major drama this season, but maybe that'll all change in the coming weeks. Going off of what Sandoval and Ariana said, as well as the timing of events, it seems fair to predict that Stassi and Patrick Meagher's breakup will be part of this season. So, that's one that fans can more or less count on. But what about Kristen, Lala, Sandoval, and Ariana? Are they all in for it, too? Zoinks.
Also, does this mean Season 6 will finally include a Kristen storyline? Yeah, this season of Pump Rules has been all things incredible and thrilling and near-perfect, but there hasn't been nearly enough Kristen. Cross your fing-SURs that she'll eventually get the screen time she deserves.
Season 6 is only seven episodes in, and more has happened in these seven episodes than all of The Real Housewives of Beverly Hills Season 7. (Sorry, RHOBH, but that season could've used a little more junk boat and a little less Pantygate. Scratch that— it could've used a lot less Pantygate.) The season opened with yet another Jax Taylor cheating scandal. And then, the cast found out that Tom Schwartz might've drunkenly made out with someone other than Katie Maloney (again). And then, there was a story regarding Scheana Marie's boyfriend possibly making out with someone else in public. And on tonight's episode, it looks like James Kennedy will be the next Pumper to be faced with a cheating rumor. And of course, there was the pasta fight that wasn't about the pasta.
And there is still so much more season to be had. As Jax shared back in November 2017, the sixth chapter of the Pump Rules story will be the show's longest season yet. Seasons 4 and 5 were 24 episodes long, which means… *does some more calc-SUR-lations* there are at least 18 more episodes left. Hope your running shoes are comfortable, because this is not a sprint, but a marathon. A really entertaining, perpetually intoxicated, and not-exhausting marathon.
Six seasons in, and Pump Rules is still keeping fans on the edge of their seats with its Sexy Unique Mayhem. Not bad for a spinoff that was ushered into the Bravoverse through a bonkers backdoor pilot at the end of an episode of RHOBH. It may not be about the pasta, but it sure is about the drama-sta.