Tracee Ellis Ross' 2018 AMAs Opening Performance Will Leave You In Awe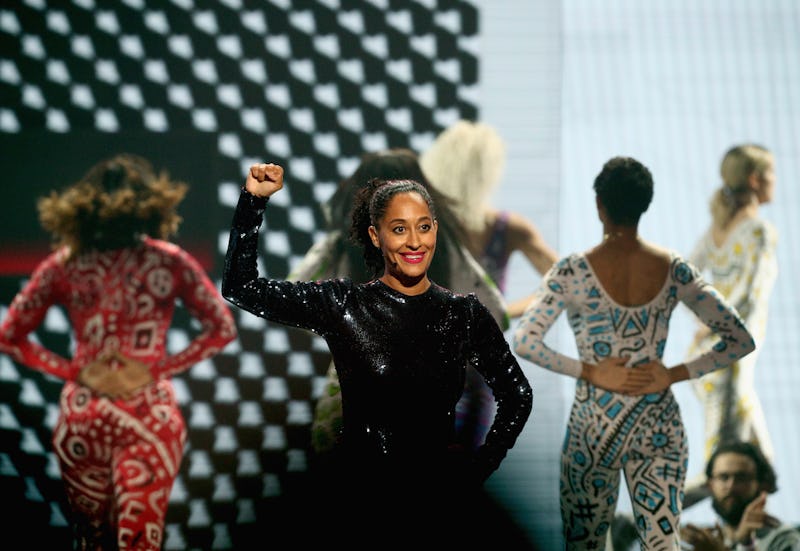 Frederick M. Brown/Getty Images Entertainment/Getty Images
This year's American Music Awards definitely got off on the right foot. Following Taylor Swifts' performance of "I Did Something Bad," the crowd was adorned by Tracee Ellis Ross' 2018 AMAs opening performance — which, easily, set a major bar for all of the other headliners to come.
The actor and all-out entertainer totally owned the stage with her moves to a medley of powerful bangers — from Cardi B's Billboard smash "Bodak Yellow," to Donald Glover's "This Is America," and even Beyonce's "Run the World (Girls)" — and the audience, as well as fans on the internet, couldn't get enough it. Not only was it wildly impressive, but the number was a total reflection of everything happening in America today politically, proving, once again, just how amazing Ross is.
In all fairness, Ross tearing up the mainstage shouldn't have come as a surprise to fans. After all, the actor runs, what's pretty much, one of the most entertaining accounts on Instagram, and when it comes to natural talent, Ross' relation to the legendary Diana Ross is one of the first mentions to come up in conversation. It was probably a no-brainer for the deciding commitee to have Ross host the AMAs for a second time, and thanks to Tuesday night's opening number, she'll probably be a staple for years following.
According to Ross, she learned all of those epic moves while shooting Season 5 of Blackish, and amongst her family, Ross' televison son and daughter were in the audience to give some moral support. The hilarious actors weren't as impressed with Ross' choreography as others, however. Marsai Martin, who plays Diane Johnson on the ABC hit, and Miles Brown, who plays her twin brother Jack, gave Ross scores of seven and three, respectively. But because Ross is also gifted with the ability to find the silverlining in all things, she gleamed at the fact that their scores collectively resulted in the "perfect ten."
Following giving viewers a dose of her social persona T-MURDA, Ross revealed that she'll be donning a slew of frocks created by black designers throughout the evening — and paired with her feminine-centric opening number, nothing says "I'm a woman of the people" more than that.
Prior to hosting the 2018 AMAs, Ross spoke with Vogue about taking on the responsibility for a second time, saying, "I still get nervous, but I practice all the time. Say what you mean, mean what you say." Her Wednesday, Sept. 5, Instagram post announcing the hosting gig, however, totally foreshadowed the huge amount of magic Ross would later leave on the YouTube Space stage. With a montage of clips highlighting Ross' most memorable moments from the 2017 show, Ross left the caption, "SO NICE, I'M DOING IT TWICE." And everyone who watched Ross' opening number can totally attest to the fact that she brought the house down, again.
Fans, of course, couldn't hold in their excitement while watching, and so they sounded off all over Twitter.
At this point the question should be: "what can't Tracee Ellis Ross do?" Because as it stands, the queen just keeps smashing everything in her path.