If You're Still Mourning Jack From 'This Is Us,' Here's What Milo Ventimiglia Wants You To Know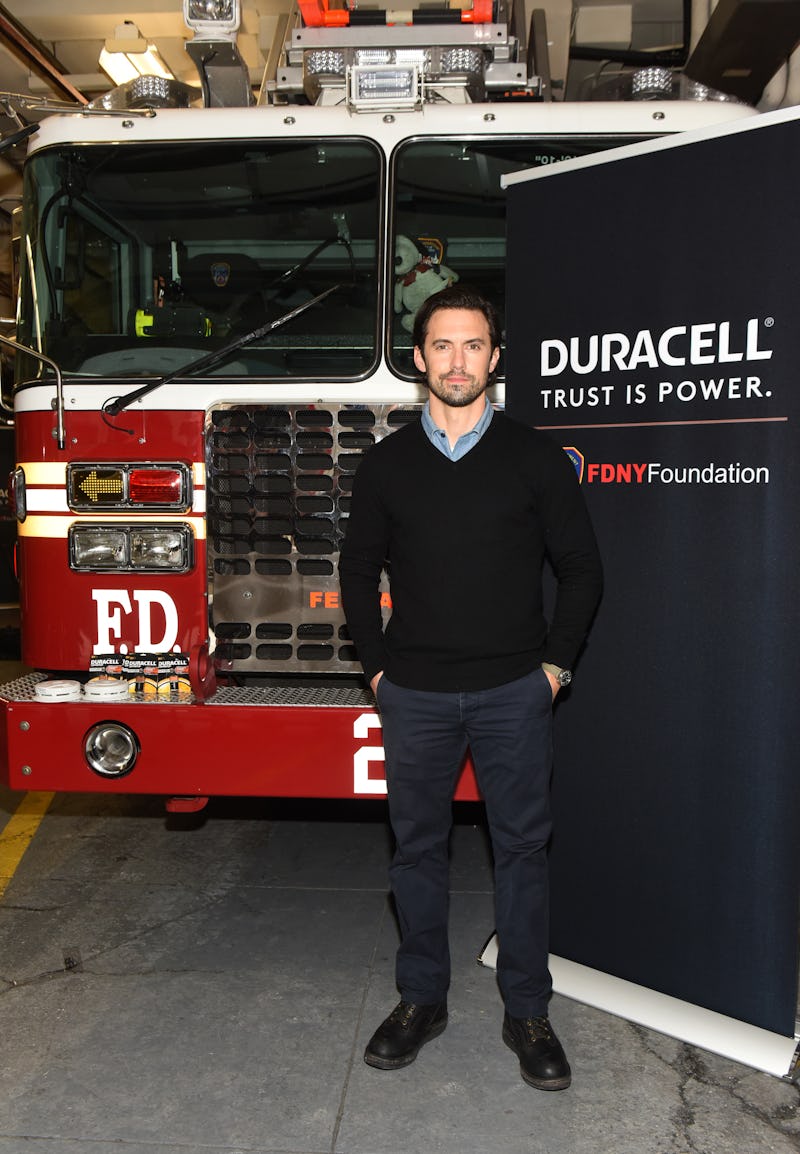 Diane Bondareff, Associated Press
Super Bowl Sunday was a tough night — and no, not just for fans of the New England Patriots. Instead, TV enthusiasts said goodbye to Jack on This Is Us. The tragic passing of the Pearson patriarch tugged at viewers' heartstrings, but if you ask how actor Milo Ventimiglia wants fans to remember Jack, he's all about looking at the bright side — which inadvertently makes him sound just like the NBC character in real life.
"Jack would probably just want to be remembered as an influence of hope, and good, and positivity, and love," Ventimiglia tells Bustle, while sitting in the middle of a fire station in New York City. The actor teamed up with Duracell to record a PSA about fire safety, encouraging everyone to change their smoke detector batteries during Daylight Savings (Sunday, March 11). Ventimiglia voices the 48-second ad, which is undeniably poignant considering his character died after going into cardiac arrest following a house fire. He re-entered the house amid the fire to rescue the family dog and some photo albums. As bittersweet as it may be, the commercial lets the actor spin a devastating situation into a life lesson.
"I think people should accept that it happened. Try and find the love and the message that this man lived with."
"That's the best part about playing Jack," he explains. "He is such a positive message kind of guy, so to extend that and remind people to put a new set of Duracells in their smoke detectors, it's good timing."
Of course, he's also understanding of the fact that fans are having a hard time coping with the loss of Jack, as if they knew the character IRL. When I ask what he'd say to those fans, he lets out an "Oh, boy."
"I think death is a part of life," he continues. "We all experience it in different ways. We all will experience it for ourselves. So I think people should accept that it happened. Try and find the love and the message that this man lived with — of living very simply and loving his wife and loving his kids."
And though he may be gone, Ventimiglia's character is still on the series — and in the upcoming finale, fans see him in old-age makeup. Fan theories have been swirling that it could be a dream sequence or some sort of alternate timeline. While he's careful not to spill details, the actor adds, "I think fans can expect everything that This Is Us is with that reveal of seeing an older Jack. We've seen an older Randall, we know an older Rebecca. We've seen a younger Jack, younger Rebecca. The time shift and the jumping that we do on the show is dependent on what stories we're telling and what we're looking to show of each character."
"Seeing a version of Jack as he's older — people are wanting to know what that would've been like, or could've been like, or how it's possible," he says before a final tease, "and everyone will see on Tuesday night."
This Is Us weaves the past, present, and future together — it's one of the most intriguing parts of the show. Time jumps are a regular occurrence, and when I ask Ventimiglia what it's like playing a younger version of Jack, he says, "It's different," before diving into a more introspective explanation.
"Where we sit currently in our lives, me at 40 years old, I know what I've experienced in 40 years. If I go back to my early 20s, I lose the perspective of having that 40 years and only up until 24, let's say," he says. "So it's kind of losing a lot of the stuff that you can apply in life later on that you've learned over years on this earth. And just kind of working with what you've experienced to certain points."
Ventimiglia also admits it's an "exercise in acting," and trying to go back to that time, where he played younger Jack. He describes the role as "a little more bright-eyed." "He's a little more hopeful, but in a different way. In a youthful way, as opposed to an older, understanding, have-lived-through-a-lot kind of way," he says.
Tying into that theme of going back to the beginning, Kim Kardashian recently joined the This Is Us fandom. She tweeted that she'd just begun watching the show, and Justin Hartley, who plays Kevin on the show, had a hilarious response to the reality star. While Ventimiglia seems unaware that this happened, he still sticks to the positive when asked his thoughts.
"I think anyone that is starting the show, good for them. It's a good show," he explains, before offering a quick piece of advice to Kim K. "The one thing I would say is try not to binge it, because you may be an emotional wreck after."
Considering how much fans are already mourning Jack, that's not even an exaggeration. But at least Jack will live on in fans' hearts — and their fire safety PSAs.