Why "Look What You Made Me Do" Won't Bring Taylor Swift Back To Life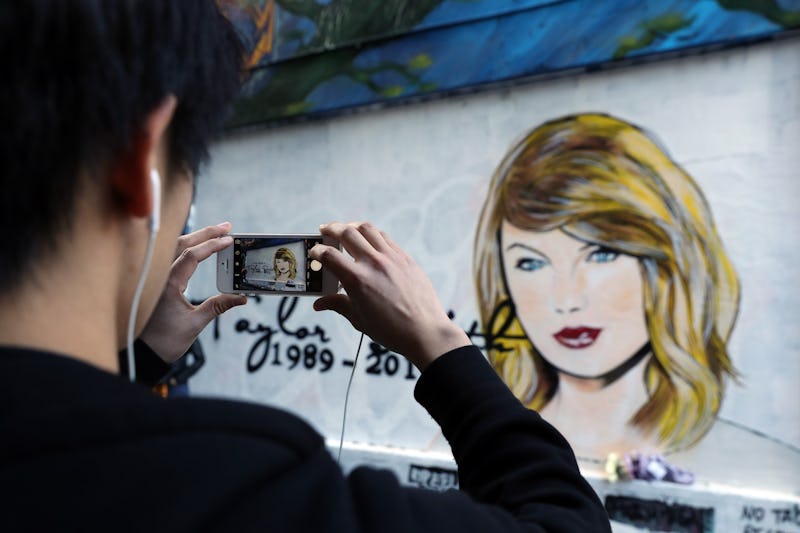 Robert Cianflone/Getty Images Entertainment/Getty Images
We gather here today to remember "Old Taylor," who tragically died when Taylor Swift killed her in her new Reputation single, "Look What You Made Me Do." Old Taylor was a nice girl, an introspective one. She was strong, yet fair. Human, imperfect. Lover of kitties, fairy tales and a good pair of overalls. Long live, Old Taylor. We'll miss you dearly. R.I.P.
Swift dropped the bombshell that she was shedding her past late on Thursday night, when, deep within her new Jack Antonoff-produced pop track, she spoke snarkily, "I'm sorry, the old Taylor can't come to the phone right now. Why? Oh! 'Cause she's dead!" With snake imagery abound, Swift unleashed the cover to her sixth album earlier in the week, wearing a tattered sweater and a pouty glare. In a clip for the upcoming music video, she sports long, sharp talons on her diamond encrusted fingers. She wears all black and fronts a band of male rebels. She's clearly trying to turn to the dark side.
Plenty of pop stars have attempted to put their old personas in the ground. In the lead up to Katy Perry's Prism era, she attended her own funeral in a teaser clip for "Roar." In The Weeknd's "Tell All Your Friends" video, he shoveled dirt over his past self. Britney Spears had Blackout, Rihanna had Rated R, Christina Aguilera had Stripped. It's been done before.
But can Taylor Swift really bury Old Taylor? Or is this just another version of Swift, veiled by a darker hue of lipstick?
On "Look What You Made Me Do," Swift plays the part of the villain — the villain that people like Katy Perry, Calvin Harris, Kanye West, and Kim Kardashian have made her out to be. The tune makes obvious references to West and the drama that played out in 2016, when she denounced his track "Famous" for the line "I feel like me and Taylor still might have sex / Why? I made that bitch famous." If you don't know the story, Swift had denied that West called to ask her permission about the lyric, but Kim Kardashian later leaked video of the phone call proving otherwise. "LMYMMD" references "your tilted stage," like the one West used on his Saint Pablo Tour. The simulated phone call toward the end of the song is also a reference to the leaked call that had people on social media flooding her posts with snake emojis.
This isn't the first time Swift has written a song about Kanye. After he infamously interrupted her acceptance speech at the 2009 VMAs, she wrote "Innocent" for 2010's Speak Now. Like "LWYMMD," there are clear references to the rapper: "It's OK, life is a tough crowd / 32, and still growin' up now," she sang, pointing to Kanye's age at the time, while also dropping in the month of the 2009 VMAs: "You'll have new Septembers."
While Swift could've written a particularly vengeful diss track in 2010, she seemingly took the high road with "Innocent." With soft, twinkly imagery, she told the story of West as a child, eating out of his lunchbox and catching fireflies. She painted a picture of the guy who West might've been before "you let yourself in your warpath." She didn't mention her own pain or humiliation in the song — instead, she turned the entire story on him. It was her version of forgiveness, applied with a passive backhand. "Who you are is not what you did," she sang with a breathy, haunted tone. "You're still an innocent."
"Innocent" was very "Old Taylor," whereas "Look What You Made Me Do" puts Swift back into the victim role, albeit one who is looking for bloody justice. "The role you made me play / Of the fool, no, I don't like you," she sings, taking on a heathenous persona who has West's name on her list: "Yours is in red underlined / I check it once, then I check it twice, oh!" If anything, the new song has Swift looking petty and fed up. Where she once preached about absolving people of their mistakes, she's taking that all back. From a quick glance, it may look like Swift is taking control of her story.
Swift was celebrated for taking back her narrative on 2014's 1989. In "Shake It Off," she revealed her secret to ignoring haters. In "Blank Space," she satirized the media's boy-crazy perception of her. On the subsequent 1989 Tour, she gave a "Innocent"-like sermon on forgiveness:
You are not damaged goods. You are not… you're not your mistakes. You're not a result of the things you thought you could have done better, or times you felt you chose the wrong path, instead of the right one. You're not somebody else's opinion of you.
But with "LWYMMD," she is becoming someone else's opinion of her — the opinion that she's calculated and mean, the opinion that Old Taylor was just a clever veil over a petty pop star. It's like she's letting haters win by stooping to this level. Swift is no longer taking control of her narrative; she's turning it into a cartoon.
So, will we ever see Old Taylor again? Part of me thinks she never left. Swift will have to do a lot more than wear black to convince me that she's really a badass now.
While pop stars have reinvented themselves in the past, something seems phony about the Reputation era so far. Perhaps it's because Swift's had an entire decade for fans to grow up with her and get to know her. If the Reputation era is genuine, it would make the past 11 years ooze with fraudulence. Yet, here we are, with so many Swifties blindly praising the new track without a fleck of criticism. Maybe they've never doubted the rising of New Taylor all along.
Or maybe she's still an innocent.