Why This Year's Golden Globes Red Carpet Did What "Ask Her More" Tried To Do — But Didn't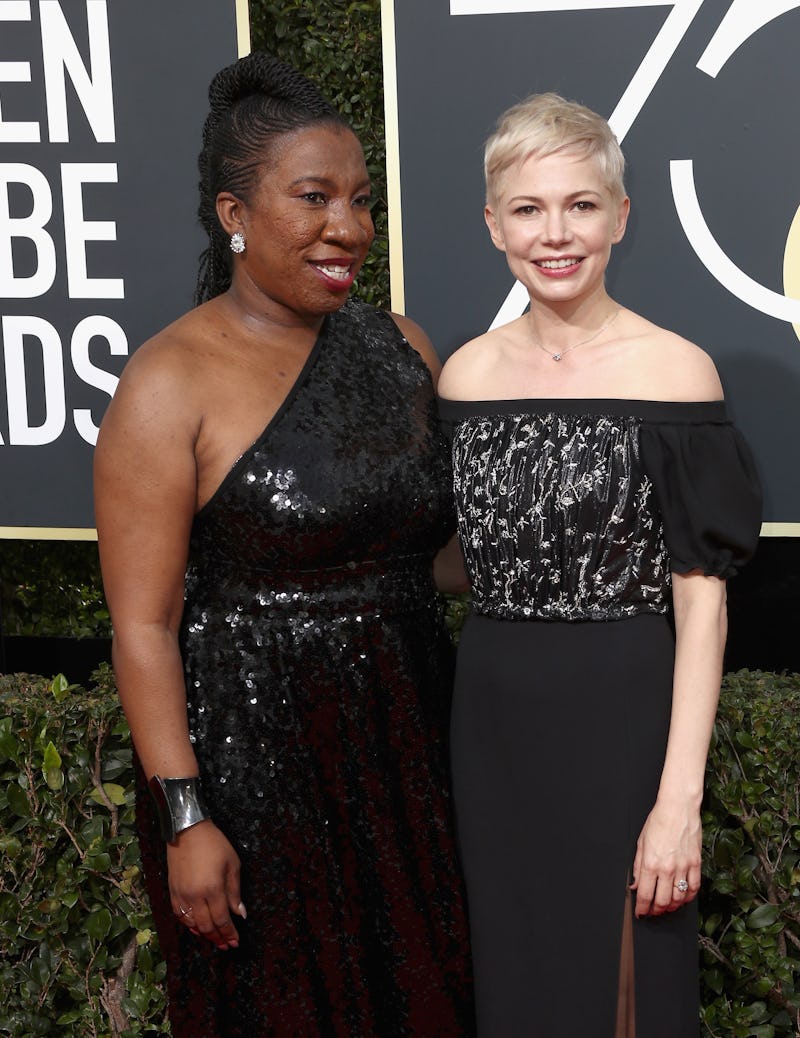 Frederick M. Brown/Getty Images Entertainment/Getty Images
Film and TV are visual media, and part and parcel of the whole award season experience is seeing and being seen. There's nothing wrong with wearing or appreciating a designer gown, but it seems that the reason for why women are in attendance at these ceremonies can get lost in the glitz and glamour. And that's never more obvious than when the most popular red carpet question asked of them is "Who are you wearing?" In 2014, the #AskHerMore campaign was launched, which sought to focus conversations on the work of women rather than just their appearance. Despite that effort, the contributions of women to this industry have still been glossed over in pre-shows. But on the Golden Globes 2018 red carpet, the conversation was pushed forward, thanks to the Time's Up movement.
Women in attendance at this year's Golden Globes were asked not only about their projects, but how harassment and abuse has affected their lives and what they're doing to help women in all industries defeat sexism in all forms. There were certainly good intentions behind the demand to #AskHerMore in recent years, but it never seemed like there was any urgency behind that rallying call, as conversations hardly evolved beyond small talk. Rarely were women asked specifically about how sexism impacts their careers or what they'd overcome to get where they were. Perhaps some producers or interviewers thought it was enough to make one comment about a film to a female actor, then move on to the shoes and the jewelry. And for that reason, attempted adjustments to red carpet talk have seemed surface-level up until now. In its worst execution, #AskHerMore could even be patronizing. (Aw, honey, you produced that series too?)
But this year's event felt different. When women were asked about their decision to wear black or about banding together on the Time's Up project, the questions didn't feel disingenuous or shallow. They got to deeper truths, and the actors themselves didn't feel the need to prioritize politeness over voice. In the wake of multiple accusations of assault, harassment, and intimidation that have been recently made against Harvey Weinstein and other power players, part of the business is just now waking up to the fact that unequal treatment based upon gender doesn't start and end with questions about dresses. As Seth Meyers said in his opening monologue, "People in this room worked really hard to get here, but it's clearer now than ever before that the women had to work even harder."
So perhaps that's the reason that the 2018 Golden Globes red carpet has felt different than any other, despite all the amazing organizations and activists who've been pushing for more respect for the women who make these films and series possible. It's become very difficult to pretend that public obsession with their looks and their age is the only challenge that women in Hollywood have to endure on a daily basis. Many of the firsthand accounts of abuse that have been shared over the past few months are violent and harrowing, and all of them recount feelings of violation and fear. They feared repercussions and lost opportunities — or worse — because of their abusers' power. In this moment, the female artists who continue to make their mark on this business despite the humiliations they've had to overcome can be considered heroes.
The Time's Up movement seeks to pay that momentum forward. On the first of this year, the Time's Up movement went public, backed by 300 women in the entertainment industry who are seeking to use their platform to support women in all fields and classes in the fight against harassment and abuse. In addition to wearing black and Time's Up pins on the carpet to protest sexual violence, unequal pay, lack of intersectionality, and other issues, several stars including Michelle Williams, Laura Dern, Emma Watson, and Meryl Streep brought women activists as their dates to the event. This not only raised the profile of women like Tarana Burke, the founder of the #MeToo movement, and Ai-jen Poo, the director of the National Domestic Workers Alliance. It also pushed red carpet conversation toward the urgent matters that these activists deal with in their work. In one instance, Williams, flanked by Burke, re-routed a conversation with NBC's Carson Daly from her own nomination back to the abuse and harassment that sparked the #MeToo hashtag. And ideally, these gestures and conversations don't stop on the red carpet. These celebrities will continue to use their influence to boost their dates' causes in other ways.
The next step is to press the men on the red carpet about what they're doing — aside from donning the signifiers of this movement — to create change in their business. While some men were asked about supporting Time's Up by wearing a black tuxedo, none were asked specifically about what further action they plan to take, whether that's prioritizing working with women writers and directors or refusing to work with alleged offenders. The Golden Globe red carpet conversation stayed civil on that front, disappointing viewers who found it strange that Justin Timberlake, who starred in accused abuser Woody Allen's latest film, yet sported a Time's Up pin and boasted about it on Twitter.
There's quite a distance to go, but this year's Golden Globes could prove to be a turning point for these celebratory Hollywood occasions — and how their pomp and circumstance can possibly change how women work within this industry and, from there, the stories we see on our screens.
If you or someone you know has been sexually assaulted, call the National Sexual Assault Telephone Hotline at 800-656-HOPE (4673) or visit online.rainn.org.