Here's Why Prince William & Kate May Not Have Huge Roles In Princess Eugenie's Wedding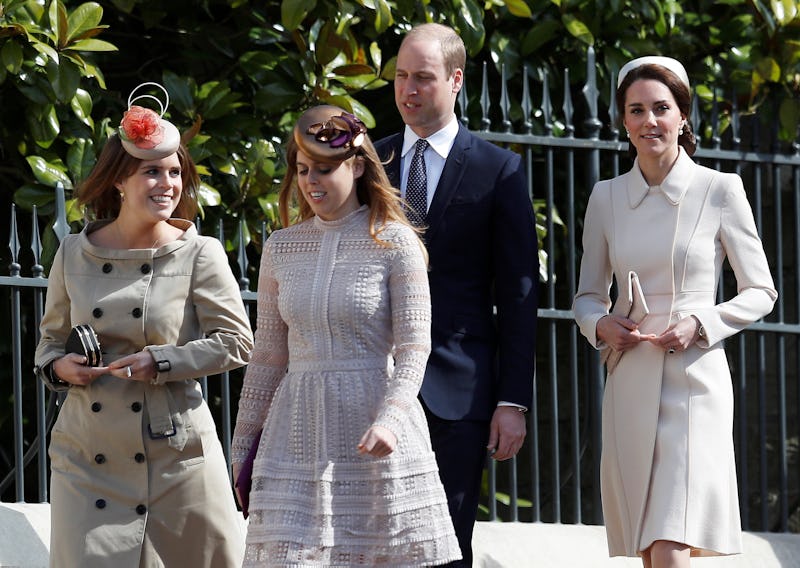 WPA Pool/Getty Images Entertainment/Getty Images
The second royal wedding of 2018 is just around the corner, as Her Royal Highness Princess Eugenie of York is set to marry Jack Brooksbank on Oct. 12. So, will William and Kate be in Princess Eugenie's wedding? They are, after all, the Duke and Duchess of Cambridge, as well as the niece-in-law and nephew of the Duke and Duchess of York.
Honestly, it seems unlikely. In recent history, there's not much of a precedent for it. Princess Eugenie and her older sister, Beatrice, weren't a part of either major Royal Wedding event in the last few years, including Meghan and Harry's this past May. Neither wedding party was large. In fact, individual members of the family, like Kate's sister Pippa, or Meghan's mother Doria, were able to play notable roles. Eugenie has a sister already, and if there were roles for the Duke and Duchess of Cambridge, there would probably have to be positions for the Duke and Duchess of Sussex as well. That would be a surprise, a currency that the British Royal Family does not deal in often.
Princesses Beatrice and Eugenie made international headlines on the occasion of William and Kate's wedding, when their fabulous fascinators — you know, the fancy hats — were chosen as one of the wedding's top fashion moments.
But since then, Eugenie has grown up and begun to play a more significant role in the British Royal Family on the global stage. So, will her cousin William and cousin-in-law Kate be a part of her upcoming nuptials? Fans shouldn't hold their breath. As for how they're related to the family at all:
His Royal Highness Andrew, the Duke of York and Sarah, Duchess of York — full name Sarah Ferguson, AKA the original Fergie — are both members of the British Royal Family, but it's understandable if you didn't know that right away. After all, Andrew isn't exactly next in line for the throne; in fact, he's probably around seventh.
But that doesn't mean the family will be completely shut out from the wedding party. Princess Eugenie and her fiancé will need flower girls and/or pageboys for the procession, after all. Who better than a few little Princes and Princesses who are used to the spotlight? Like Prince George and Princess Charlotte, for example, who just happen to be William and Kate's precious kids. That would be a sweet way to incorporate more family members into the event, while also letting fans have another amazing photo op of the young'ns.
If the Royal Family — presumably busy, with two kids in school and a new baby at home — is going to be a part of Princess Eugenie's wedding, there will probably be an announcement from the Kensington Royal accounts soon. And if they don't end up being a part of the ceremony, know that it's not a slight toward the Duke and Duchess of Cambridge! It's just that they're not a part of the immediate family, and there typically aren't that many opportunities open in the wedding party. Plus, now they can wear hats that upstage the bride's — just kidding!