Your Guide To Applying Liquid Blush Like A Total Pro
Get the perfect pop of color.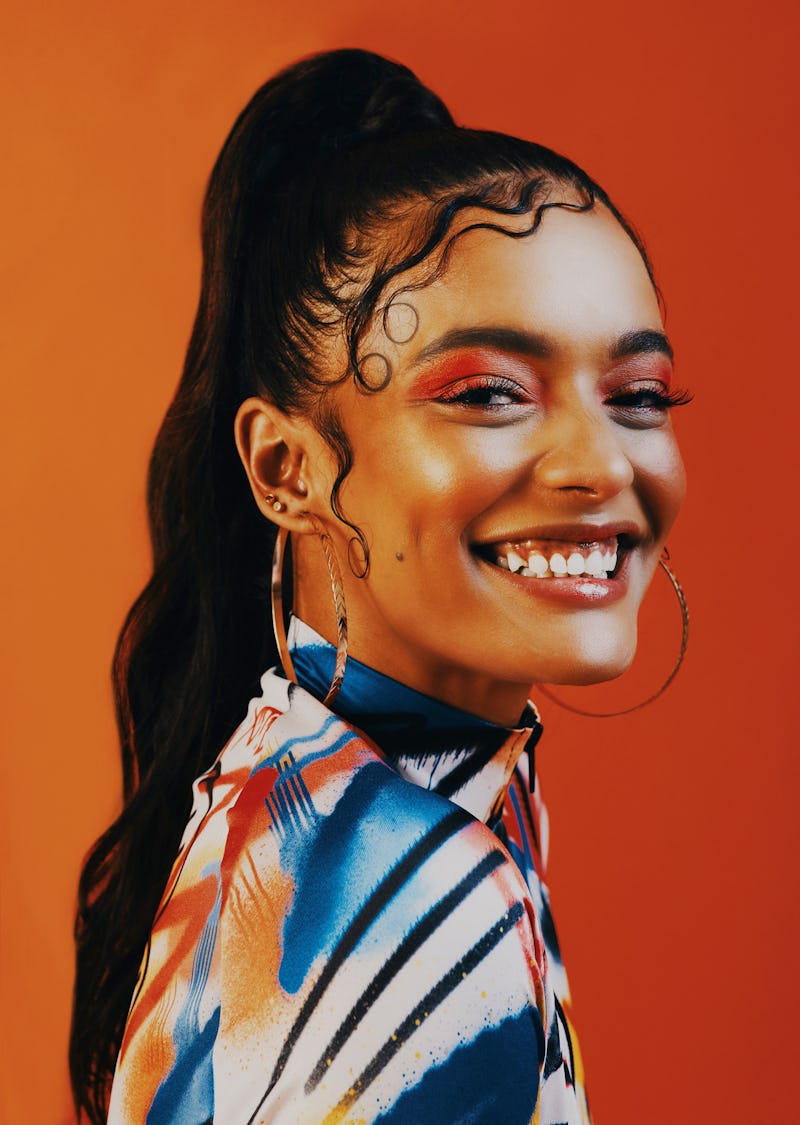 Getty Images/ Delmaine Donson
When face masks became a regular accessory, the idea of blush became incredibly futile. Even if you put some on, it would only become a stain on the inside of your mask hours later. But, now that people are unveiling their faces, the tide is changing: This is the year of over-the-top, exaggerated, and creative use of liquid blush.
Suddenly, statement blush has graced the cheekbones of countless fall ready-to-wear runway shows: Maison Mai featured monochrome outfits punctuated by burnt orange pigment high on the cheeks; Paco Rabanne had models with bold and unblended blush striped across the middle of their cheeks; and Marie Antoinette-esque pop of cheekbone color was seen all over London Fashion Week (at Vivienne Westwood, Molly Goddard, and Pronoun to name a few). The easiest way to replicate the look? With a liquid blush, the burgeoning formula type within the product category.
If you've been raised on the powders of Nars' Orgasm or Benefit's California Blush, the idea of a liquid pigment might strike fear into your heart. To become acquainted with the fluid form for coloring your cheeks, Bustle tapped makeup pros for tips on how to apply liquid blush — here's your guide to nailing it, along with the best products that'll help you achieve the look.
We only include products that have been independently selected by Bustle's editorial team. However, we may receive a portion of sales if you purchase a product through a link in this article.
1. Learn To Layer
To master the statement cheek, make sure to follow the proper makeup order of operations. "The key to achieving a flawless look when using liquid blush is learning how to layer textures so that it still sits beautifully on the skin," says Nikki Wolff, celebrity makeup artist and KVD Beauty's newly-announced global director of artistry.
This means picking a blush formula that is going to wear well on top of whatever base you already have on your face. Your best bet? According to Wolff, liquids layer best on top of other liquids, so any powders you're using should be applied after you're finished with the more viscous textures.
Working with a face layered with all liquids is also optimal for experimenting and making mistakes, says celebrity makeup artist Erin Parsons. Play around until you get the look you want. If you mess up, simply wipe it away with a makeup remover or blend it until the pigment fades into oblivion.
2. Use A Soft Touch
With liquid blush, a light touch is key, says Wolff. "It ensures that you're not moving the makeup that you've already applied," she tells Bustle. A gentle approach is also ideal for building coverage — you can start slow and subtle before ramping up to find your sweet spot. If you go in heavy-handed, she explains, it's harder to mute color down than it is to build it up.
If you want a light dusting of color or are working with a vibrant pigment, Wolff recommends mixing the blush with a little foundation "to neutralize and blend," she says. Or, if you want more oomph, she suggests adding a highlighter in with the blush for a super glowy finish.
3. Don't Be Afraid To Use Your Fingers
You don't have to pull out your makeup brush collection to use liquid blush. "For first-time users, I'd recommend applying with fingers instead of sponges or brushes," says Wolff. "This can make you feel a little bit more in control of how much product you are putting on the skin."
Keri Blair, M.A.C's senior national artist, says that using fingertips is also ideal because "it warms the product as it's being applied which accelerates the color melting or hugging the skin in a very natural way."
If you prefer to use a brush, that's fine too. Blair recommends picking one that's fluffy, has softer bristles, and is on the smaller side in circumference.
4. Experiment With Placement
It's an antiquated idea that you should only apply blush onto the round parts of your cheeks that pop when you're smiling. With new product formulas and blush-centric beauty looks dominating the runways, you can get creative with your statement cheek.
One option worth trying? Wolff says liquid blush can usually be applied to your lips, too, for an easy monochromatic look. If you're using a specifically formulated 3-in-1 makeup product, you can tie things together even more by swiping the shade onto the eyelids. Or, for a youthful flush, Wolff recommends pressing your pigment-covered fingertips into the apples of your cheeks. To create a more natural and traditional finish, do the same and then blend the blush across your cheekbones.
If you're feeling bold, Blair points to a look she calls "rose burn" that she's been seeing in the fashion world. She describes it as "soft, sweeping strokes of pinkish blush on the high plains of the face, across the nose, the temple area, and even a bit through the crease of the eye." The result is looking like you've been sun-kissed in a blush or rose tone. Another style that's not for the faint of heart? "Apply blush to the high cheek and add just a bit under the outer corner of the eye," says Blair. "It's as if the color is spilling out from the eye and onto the cheek." Think Rihanna at the 2017 Met Gala.
Want a liquid blush in your makeup bag ASAP? Scroll to shop some standout picks.
The No-Fuss Blush
This blush made its very glamorous debut on Lizzo during her birthday celebrations before hitting shelves in late May. I've tried it, and it's phenomenal. The texture is a liquid-ish gel that goes on very sheer, so it's an easy entry into the product type. The color is buildable and it blends seamlessly onto the skin without messing up or pooling foundation you might already have on.
A Universally Flattering Oil
There is only one "shade" of the Youthforia blush oil, and that's because it's color-changing. The liquid starts out as green in the bottle and then adapts to the specific pH of your skin. The texture is somewhere between an oil and a gloss — it's silky, but has some tack to it. Exercise restraint when it comes to your first application: The initial sheerness eventually gives way to a super-pigmented custom color.
A Long-Lasting Pigment
This is the perfect formula for summer humidity — it's waterproof, highly pigmented, doesn't crease, and can last up to 24 hours. You can actually use it on any part of your face, so it's a great option if you're going for the monochromatic look. The pigment dries and sets quickly, so squeeze a little bit out of the tube and blend immediately.
A Blush & Applicator In One
If you are not big on finger painting, Surratt's liquid blush comes with a sponge-y applicator tip for mess-free application. Like many other liquid formulas, this one's vibrantly pigmented. Twist the wand gently to release color, dab on the center of where your blush will be, and then softly move the sponge outward before blending.
An Internet Favorite Slime
Freck's first launch was a faux-freckle dotting pen, but ever since Cheekslime was released, it's been the apple of my eye. The narrow tip of the applicator makes it easy to dispense the tiniest bit of pigment, which is all you will need. Its formula spreads well and works whether you're a tap-blender or a cheekbone smearer.