Multitasking Makeup Balms Are Going To Be Your Summertime Beauty BFF
One product can do it all.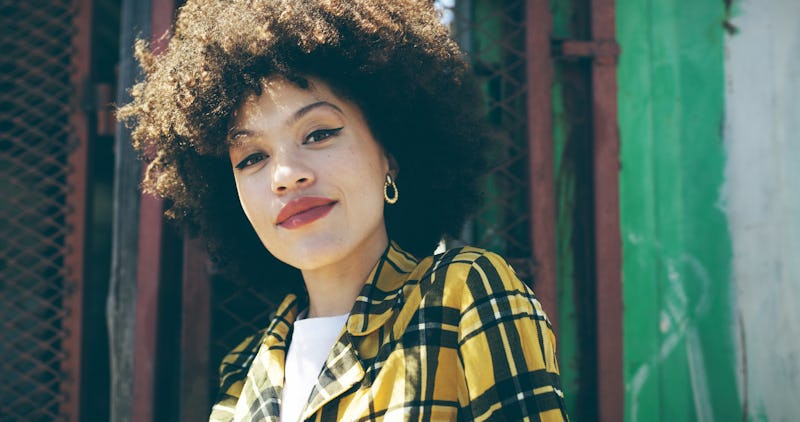 Getty Images/ Cecilie_Arcurs
As society slowly transitions to a new normal, it's time to consider the ultimate summer beauty conundrum: How do you balance a love of makeup with the season's sweat and humidity and the consequent mess brought on by face masks? The answer is to use one product, and one product only: a multitasking makeup balm.
While the beauty category has been around for a while, multi-purpose balms continue to flood the shelves. Typically, these pigmented formulas have a creamy texture nestled into a compact or a twist-up stick — regardless of the form, they're meant to be the do-it-all makeup MVP that gives you a pop of color in lieu of an eyeshadow palette plus lipstick plus blush.
Bobbi Brown, the makeup icon and founder of Jones Road Beauty, believes the increased prevalence of these multitasking products has a lot to do with how COVID has changed people's relationship to beauty. "We've all learned how to live with less," she tells Bustle. It also ties into the rising "skinimalism" trend, aka more streamlined routines. "Consumers are embracing a 'less is more' mentality," adds Abbott Stark, co-founder of beauty brand Ogee. "It's about simplifying beauty regimens — with regards to both the number of steps and products [used]."
Into stocking up on one of these multi-use balms? Below, Brown and Stark share their tips for using multitasking makeup products along with the best ones to shop.
We only include products that have been independently selected by Bustle's editorial team. However, we may receive a portion of sales if you purchase a product through a link in this article.
Look For Gentle Ingredients
For a true multitasker, Brown recommends finding formulas that contain nourishing ingredients so that you're feeding your skin as you wear makeup (a win-win). Her tip? "Look for natural ingredients that soothe the skin rather than inflame it," she says, pointing to moisturizing staples like jojoba seed oil, argan oil, and vitamin E.
While lip-to-cheek products are easy to find, Brown warns against those that contain irritants. "Some contain ingredients like peppermint that plump the lips," she tells Bustle. While that's helpful for your pout, she notes it can burn or irritate the eyes, so avoid these if you're looking for an all-over balm.
Embrace The Monochromatic Look
When you're using a multi-use balm, it means you're rocking the monochromatic makeup look — aka wearing one shade for your lips, lids, and cheeks. According to Stark, the style is more versatile than you may realize: "It perfectly ties your look together," he says. If you want to vary the shade a little, you can swipe on for a sheer finish on, say, your eyes as you layer it on your pout for more of a statement lip. You can get practically any color you can dream of, from plums to reds and pinks.
There's No Wrong Way To Apply It
The joy of the one-balm-does-it-all trend is that you could have zero makeup skills and still nail the look. All you really need is your finger. "Take a little bit on your fingers, rub them together to warm it up in your hands, and then, with both hands on either cheek, gently press the balm into your skin," advises Brown. Apply it wherever — the brow bone for some light, the cheekbones for subtle highlight and face sculpting, and even the collar bones for accentuation. "If there's some product left on your fingers, I like to sweep it over the lips and eyelids for a natural glow," adds Brown.
You can also contour with your balm of choice, says Stark. His tip? "Use a darker shade as a bronzer just below the cheekbones and along the hairline," he says, noting you can apply to the sides of the nose for contouring.
If you're wearing your color with a foundation, Brown suggests applying your coverage first, then use the balm on top of it for a glow on the cheekbones, forehead, and lips.