Bella Hadid Brought Back The 2000s Zigzag Part — Here's How To Do It
Another Y2K trend resurfaced.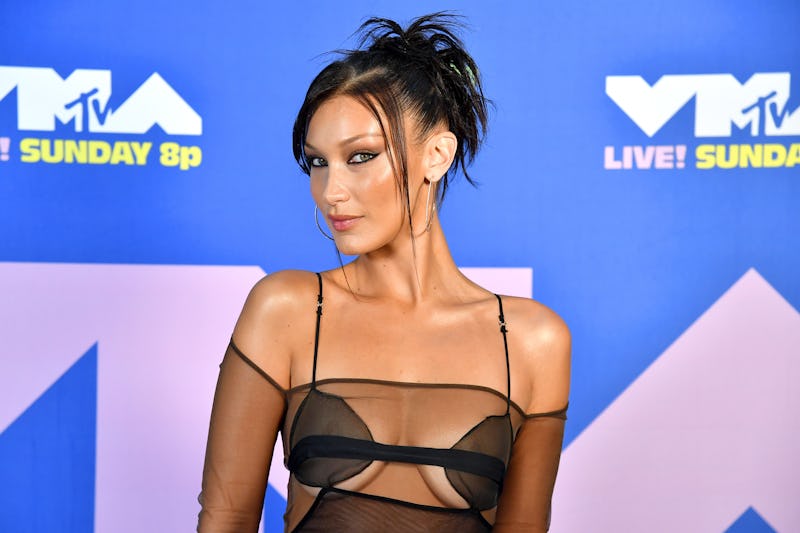 Getty Images/Jeff Kravitz/MTV VMAs 2020 / Contributor
Gen Z can continue fighting on TikTok about middle parts versus side parts, but the real winner is the zigzag part. The hairstyle is as 2000s as it gets: It's reminiscent of all things Christina Aguilera, Scary Spice, and iconic teen shows of the era like Buffy. So, since all things Y2K are more relevant than ever — and the look's recently been worn by trendsetting celebs like Bella Hadid — Bustle spoke with pros for tips on how to DIY a zigzag part at home.
The trend of the creative part style first emerged in the 2000s, when pop stars like Aguilera, Mandy Moore, and Alicia Keys rocked zigzag hairdos on red carpets and in music videos. "It followed the disheveled grunge hair of the 90s as a bit of a cut antidote," says celebrity hairstylist Kevin Murphy, who notes the style was a way to usher in the new millennium. "It started out casual and became more graphic and pronounced over time."
Now, in the TikTok era, Murphy believes the zigzag part is neutral territory — an olive branch between the Gen Zers who have declared a war on the side part and the millennials who swear by them. And if you need evidence of the hodgepodge-style part's resurgence, just look to Hadid, Camila Mendes, and Julianne Hough. The allure of the zigzag is that it lets you achieve a different, striking look without having to go in for a big chop or bold color change — it's an easy vessel for non-committal personal expression. "In the 2000s, [the zigzag part] was a perfect partner to the hairdos we were wearing then," says Murphy, pointing to pigtails and crimped hairstyles.
Of course, the zigzag part is much more complex than its straightforward counterparts — Murphy says charts it between a seven and a 10 on the difficulty scale, depending on how dexterous you are. If you remain undeterred, Murphy says you'll need a tail comb, a steady hand, sectioning clips, and your go-to styling products. So, armed with your hair tools, here's a cheat sheet to nailing the zigzag part at home.
We only include products that have been independently selected by Bustle's editorial team. However, we may receive a portion of sales if you purchase a product through a link in this article.
1. Create A Workable Texture
The first step is prepping your hair for the part and making it easy to work with. Murphy says this means ultra-clean dry or damp hair. "If you want a very '90s-inspired texture, use something that will give it high polish and shine with separation," Murphy tells Bustle. If you're working with curly or textured hair, he advises looking for a product that reduces frizz while having styling properties.
2. Section The Hair
To make things easy for yourself, have ample hair clips and sectioning tools at your disposal. Murphy says to begin the parting process by sectioning and clipping away pieces of hair, especially those behind your ears, so that the front of your face is unobstructed. He also recommends keeping a spray-based leave-in conditioner on hand for any unruly strands.
3. Draw The Zigzag Part
Now for the fun stuff — begin by putting your finger where you want the part to end. "Then, using the tail of the comb like a pen, draw the desired direction and size of the zigzag on your scalp," Murphy says. Once the comb has met your finger, use it to separate the hair onto the sides of the zigzag part. Once you've split your strands along the part, clip away pieces of hair so you can finesse the zigzag. If this involves combing the hair, Murphy warns to exercise extreme caution so that the part is not disturbed. And that's it: You've just morphed yourself into a 2000s-era icon.