Margot Robbie's Bustier Dress Proves Barbiecore Is Officially Over
Straight from Barbie herself.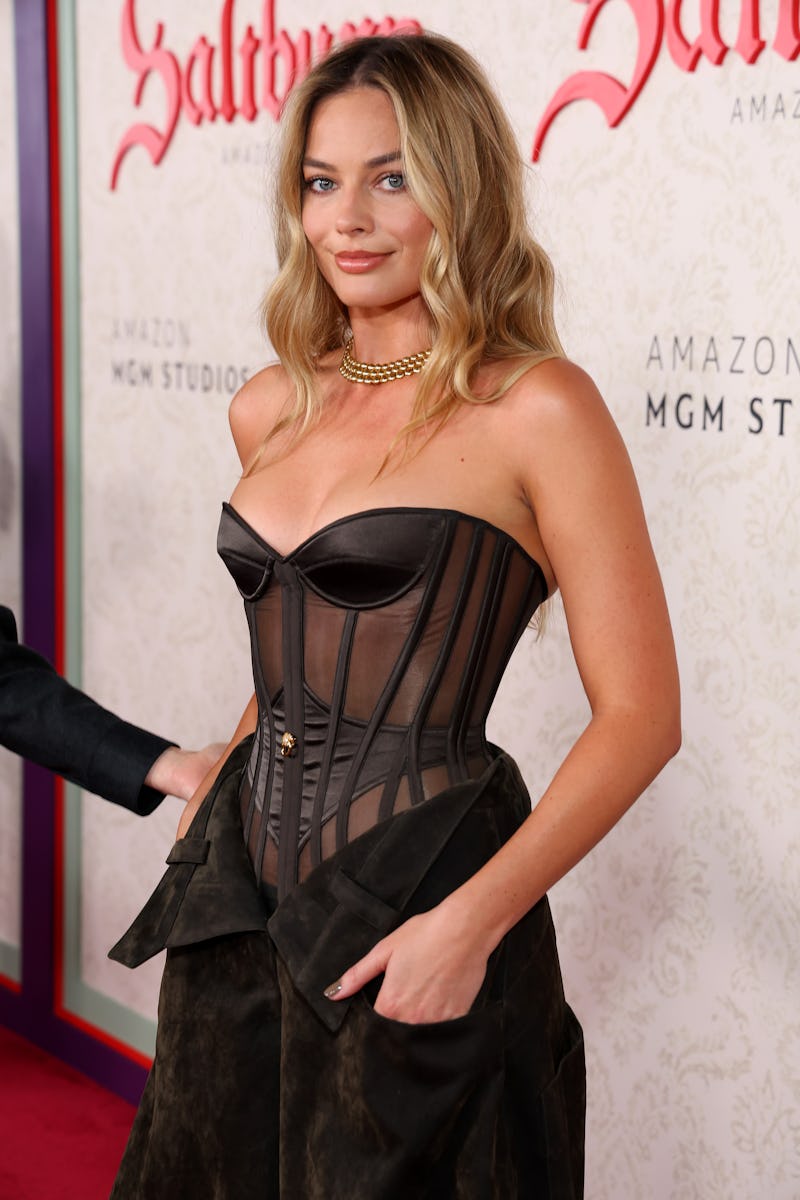 Leon Bennett/GA/The Hollywood Reporter/Getty Images
The Barbie movie was a cultural juggernaut that touched every corner of society — from manicure choices to healing one's inner child. Its biggest impact, however, was sartorial; the rise of Barbiecore turned even the most neutral of closets pink, seemingly over night.
After more than a year of this, it seems Barbiemania has finally waned. Margot Robbie, AKA Barbie herself, is even stepping away from the all-pink aesthetic.
Take her most recent look as evidence: On Tuesday, the star wore a gown that was equal parts edgy and positively revealing. In other words, completely un-Barbie.
Margot's Daring Bustier Dress
For the Los Angeles premiere of her new film, Saltburn, Robbie stunned in a strapless masterpiece by Daniel Roseberry for Schiaparelli. The upper half of her gown was utterly saucy, featuring a black satin bustier lined with sheer mesh panels and visible boning.
The bottom half, on the other hand, was all grunge. Giving it a deconstructed vibe, the high-waist skirt was designed to mimic a pants zipper left open. The dress offered the classic A-line silhouette, flaring out elegantly from the cinched waist, while the material — a textured woodsy fabric — edged it up.
Keeping the focus on her dress, the Babylon star accessorized with a lone beaded choker and let her curled tendrils fall elegantly around her face.
ICYMI: Her Faux Belly Button Ring
Robbie's look was equipped with another edgy detail fans might have missed. A teeny gold ring was embedded into the bodice, right above her navel. Encrusted with diamonds, the dainty hoop gave the look of a belly button piercing.
Piercings have been all the rage among the fashion set in recent years — particularly, the 2000s-era belly button piercing. Last February, navel rings were one of the hottest trends at New York Fashion Week.
Taking note of this, designers have been incorporating body modifications into their creations. EJ Briones, Bustle Digital Group's Executive Fashion Market Editor, confirms: "Built-in jewelry is fast becoming a trend, particularly with designers like Daniel Roseberry at Schiaparelli who are pushing boundaries of conventional fashion."
Bye, Barbiecore
Barbiecore's societal chokehold was mostly thanks to Robbie herself. During her press tour, the actor fully embodied her on-screen alter ego in head-to-toe pink ensembles that brilliantly referenced Mattel dolls of yore.
As the actor steps into other movie roles, however, she's entering a new style era. Unlike her posh and polished pink looks, Robbie's recent outings have been leaning more laid-back and, in the most recent case, risqué. Thus far, she's worn a bra as a shirt and lemon yellow Crocs, among others.