9 Nail Art Designs Perfect For Celebrating Pride Month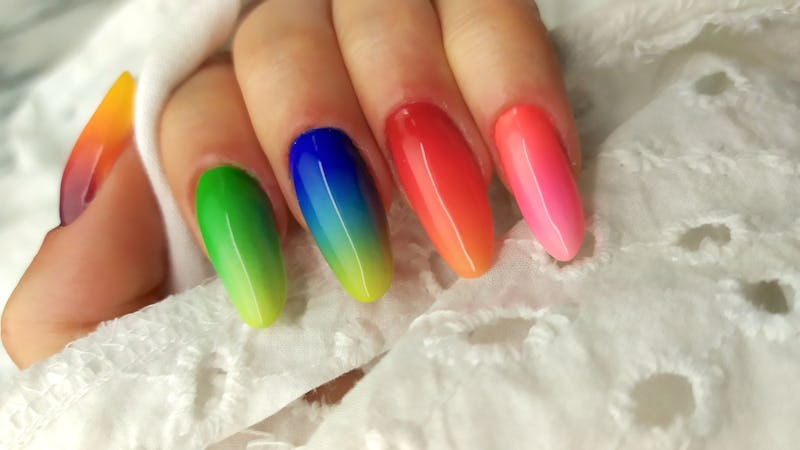 Getty Images/ mikroman6
Pride month is about celebration, love, resistance, and resilience. There are a million and one ways to celebrate and honor the occasion, but one of the most visual is by incorporating the rainbows and bold colors that make up the LGBTQIA+ flag into your look. One fun way to do that? With some fresh pride nails.
While the most obvious design is a rainbow, pride nail designs are vast — and there are so many creative ways to show a nod to the month. "I love seeing all the happy smiley faces, clouds, daisies, and other joyful expressions on the nails," says Julie Kandalec, celebrity manicurist, nail artist, and founder of the Julie K Nail Artelier in New York City. Pride month tends to involve lots of bright colors, but Kandalec adds that "anything and everything that celebrates love, individuality, and self-expression" is an equally impactful vibe to go for.
If you are going full-throttle on the nail art, Kandalec says there's one particular trend she's seeing right now: colorful, freehand '70s-style waves. She also sees plenty of more minimalist pride manicures that are 90% negative space with a pop of art. According to CND brand ambassador and nail artist Tamara Di Lullo, an easy-to-DIY way to honor the month is with a Skittles manicure, which is when you simply paint each nail a different color.
The following pride nail art looks are about fun, celebration, and love — however that looks to you. There are designs that are easy to replicate at home, and some that are more suited to a professional nail artist. Take your pick or simply enjoy the colorful inspo.