7 TikTok Nail Hacks That'll Level Up Your Home Manicures
Discover your inner nail artist.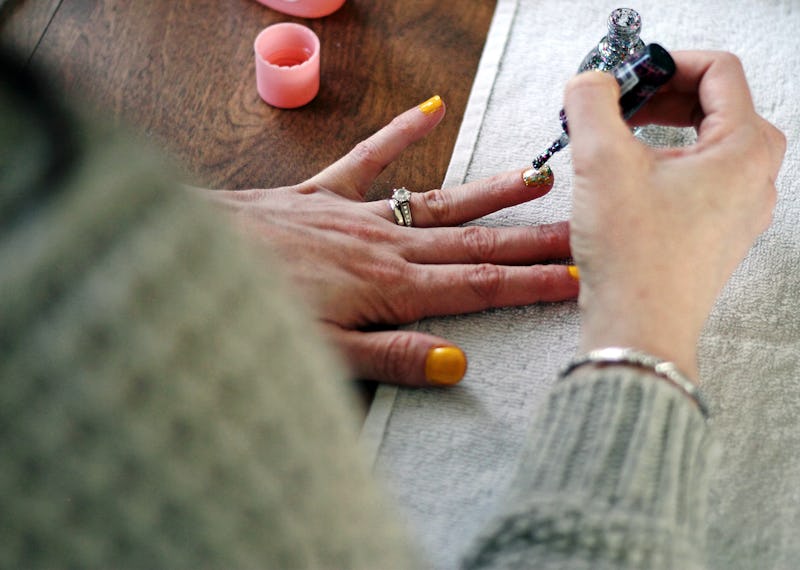 Cappi Thompson/Moment/Getty Images
If you scroll through, TikTok is a wonderland filled with videos that demystify and explore the world of beauty. Makeup aficionados and experts alike have flocked to the app to share their hacks, skills, tips, and tricks, making us all — at the very least — better-informed consumers. Recently, it's TikTok nail hacks have been taking over the feeds.
The #nailhacks hashtag currently has a staggering 425.6 million views. The content within these videos run the gamut, ranging from how-did-I-not-know-this-before tips to hacks that'll have you buying cornstarch for your next DIY manicure (I'm not lying). Some include pointers for achieving a perfect French mani, a design that's had a recent resurgence from the Y2K era. In other words: You can learn all sorts of tricks that'll level up your nail game.
There are so many gems, but there is also a mind-boggling amount to sift through to find the best ones. That's why Bustle has done the hard work for you. The following is a curated selection of tips and hacks that are nothing short of genius. While some makeup tricks are actually pretty difficult when you sit down to try them, these TikTok nail hacks are easy to replicate. Plus, all of them (save for one) require nothing that you don't already have at home.
Cancel your manicure and sit down with your nail polish, Vaseline, Q-tips, and toothpicks as your DIY skills becomes salon-level good.