10 Creative Sexting Ideas That Don't Involve Nudes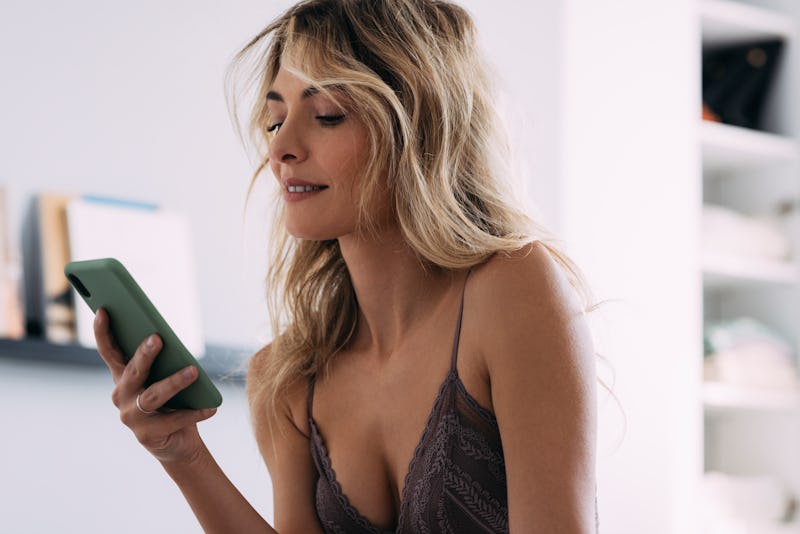 FreshSplash/E+/Getty Images
It's important to keep the sexual connection with your partner strong, sure, but it's not always easy — especially if you're in a long-term or long-distance relationship. When you want to spice things up, you could turn to the classic solutions like sending nudes or starting up a freaky sexting conversation, but their impact might lessen if they're the only items in your sexual toolbox. In these situations, it helps to put the nudes on the back burner and try some... extra creative sexting ideas.
When you think outside the box, it becomes easier (not to mention fun) to renew the chemistry you and your S.O. have, says Dr. Tara Suwinyattichaiporn, a researcher and sex and relationship expert at Luvbites.co. "It's good to switch things up because sexting can become monotonous and lose its passionate effects on the receiver," she tells Bustle. "Sexual chemistry needs to be maintained with excitement, so these practices allow you to introduce more fun and playful energy into your sexual relationship." These non-traditional practices can include anything from sending hot voice notes to sharing links to lingerie.
Brainstorming creative sexts to send your partner that aren't nudes can really turn up the heat in your relationship and benefit your connection in the long run. "Sending sexy messages can be very beneficial for couples because it keeps the passionate and playful energy evolving in the relationship," says Suwinyattichaiporn, who notes that a lot of long-term couples can begin to experience a lack of passion. "This is one way to prevent such a challenge." To help get your juices flowing, here are 10 creative sext ideas that'll bring the heat.
Expert:
Dr. Tara Suwinyattichaiporn, award-winning researcher and sex/relationship expert at Luvbites.co