21 Deep Questions To Ask Your Friends
"Close friendship is not something that is maintained all on its own, so these questions can make the work of doing that a little easier."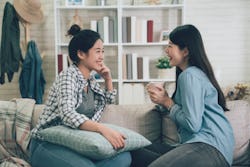 PR Image Factory/Shutterstock
Whether you're on a road trip together, or just tired of sitting in the same room and scrolling through TikTok, playing games like "20 questions" can lighten the mood and bring about some fun conversations. You may come up with some hilarious questions or answers, and entertain each other through even the dullest moments. If you feel like you've had your fair share of silly questions, you may want to consider deep questions to ask your friends.
While having fun and goofing off together is a great way to enhance a friendship, asking your friends meaningful questions can take your bond even further. "Asking deeper questions can bring you closer with your friends by building trust, especially if you end up sharing your thoughts first," licensed mental health counselor Marc Campbell tells Bustle. When you're vulnerable and show a genuine interest in your friends' thoughts and feelings, they are much more inclined to do the same.
Asking deep questions can also help bridge a gap after conflict or distance. "Close friendship is not something that is established and maintained all on its own, so these questions can make the work of doing that a little easier," licensed marriage and family therapist Chelsea Davis says.
Looking for examples of deep questions to ask your friends? Here are some ideas from Campbell and Davis (who are real-life best friends themselves!) to try.
Experts:
Marc Campbell, licensed mental health counselor
Chelsea Davis, licensed marriage and family therapist
This article was originally published on