23 Signs Your Partner Isn't Fully Over Their Ex
There's a difference between a romantic history and lingering feelings.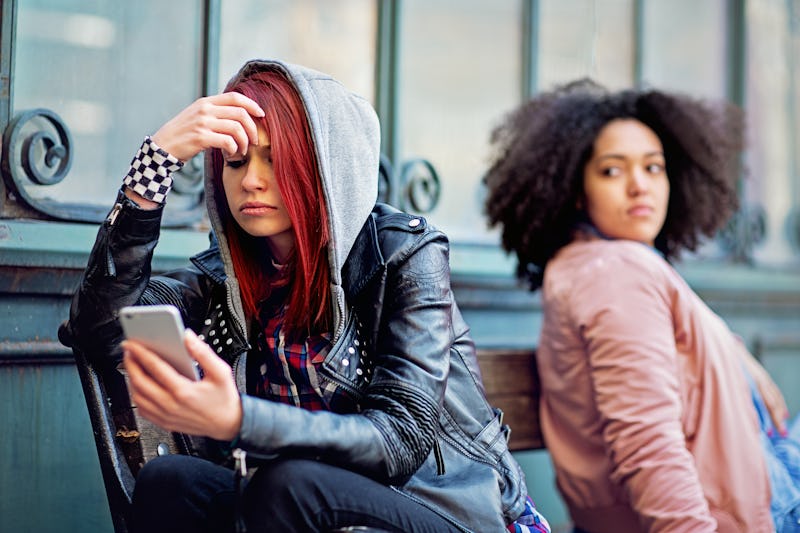 praetorianphoto/E+/Getty Images
As great as it would be to start a relationship with someone who's a total clean slate, you're likely going to date someone who already has some kind of romantic history. Although the healthiest option is to let the past stay in the past, sometimes people will enter into a new relationships without being completely over an ex. So, how do you know if your partner still isn't over their ex? According to experts, there are some behaviors you may want to pay attention to.
As a relationship coach, Jenna Ponaman, CPC, ELI-MP, tells Bustle that being with someone who's still hung up on their ex is never really a good sign. "Sure, we all have our moments where we may reminisce or think of our past partners from time to time," she says, "but if you are still at the point where your partner can't let go of what was then, that is a sign that it's time to take care of you."
When someone jumps into a new relationship before they're truly ready, it only sets both partners up for heartache. "You end up depriving your new partner of really getting to experience the real you," Ponaman says. Meanwhile, the current partner will end up feeling a bit duped. Because of this, it's worth figuring out where your partner stands with their ex.
So, how can you tell if your partner still isn't over their ex? Here are some signs that you should look out for, according to experts.
If you think your partner is still holding on to feelings they have for their ex, it can cause problems in your relationship even without you realizing it. That's why communicating your thoughts and fears, no matter how awkward of a conversation it will be, is important. If your partner is still talking to their ex and it bothers you, tell them. Don't downplay your feelings or write it off as jealousy. You deserve to be in a relationship with someone who's completely present and ready for all the great new things that come with being with you.
Studies:
Rodriguez, Lindsey & Overup, Camilla & Wickham, Robert & Knee, C. & Amspoker, Amber. (2016). Communication with former romantic partners and current relationship outcomes among college students: Communication with former partners. Personal Relationships. 23. 10.1111/pere.12133.
Experts:
Raffi Bilek, LCSW-C, director at the Baltimore Therapy Center
Dr. Alisha Powell, Ph.D., LCSW, relationship therapist
David Bennett, certified counselor and relationship expert
Dr. Sabrina Romanoff, PsyD, clinical psychologist
Cat Blake, LICSW, psychotherapist and divorce coach
Tess Brigham, psychotherapist
Ashera DeRosa, LMFT, relationship therapist
Sources:
Jenna Ponaman, CPC, ELI-MP, dating and relationship coach
Jeannie Assimos, Chief of Advice at eharmony
Stef Safran, matchmaker and dating coach
Carla Romo, relationship coach, author of Contagious Love
Lee Wilson, breakup coach
Rosalind Sedacca, CLC, dating and relationship coach
Julia McCurley, certified relationship coach
Mark Shoemaker, licensed professional counselor
Andrea Hipps, LBSW, certified divorce coach
Susan Trombetti, relationship expert and CEO of Exclusive Matchmaking
This article was originally published on