Here's Why You Might Be Hot 24/7
It's time to get to the bottom of that excessive sweating.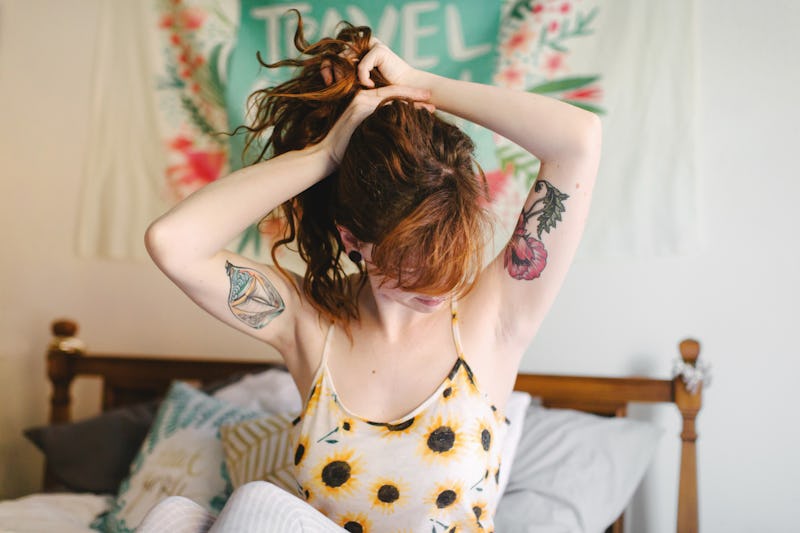 Lena Mirisola/Image Source/Getty Images
Do you always feel overheated when everyone else feels fine? Are you constantly throwing open windows or demanding A/C? Has it gotten to the point where you often think, Wow, why do I get hot so easily?" If so, it might be a sign that you're dealing with an underlying health condition that features sweating as a side effect.
Symptoms like hot flashes and excessive perspiration may point to an infection, a change in hormones, or even a systemic disease, says Dr. Marisa Garshick, M.D., FAAD, a board-certified dermatologist and chief medical correspondent at Certain Dri, a clinical strength antiperspirant brand. That's why it's worth it to get checked out, especially if you don't feel well in other ways. If you start to feel hot all the time, or it interferes with your daily life, Dr. Garshick recommends letting your doctor know.
That said, feeling hot isn't always a big deal. Once you know a medical condition isn't to blame, you can make a point to regulate your body temperature by following a few quick tips to ensure you're more comfortable. For starters, Dr. Garshick recommends sleeping in a cool environment. You can also avoid wearing clothes that tend to trap heat, like polyester, and opt for linen or cotton instead.
Drinking enough water is also key, especially since dehydration will only make you feel worse. "The rule of thumb is to drink at least half your body weight in ounces per day, plus more during exercise, elevated summer temperatures, and in times of illness," says naturopathic physician Tricia Pingel, NMD. With these tips in mind, read on below for a list of health conditions that may explain why you feel hot all the time.
Studies referenced:
Bansal, R., & Aggarwal, N. (2019). Menopausal hot flashes: A concise review. Journal of Mid-Life Health, 10(1), 6. https://doi.org/10.4103/jmh.jmh_7_19
Dunmire, S. K., Hogquist, K. A., & Balfour, H. H. (2015). Infectious Mononucleosis. Current topics in microbiology and immunology, 390(Pt 1), 211–240. https://doi.org/10.1007/978-3-319-22822-8_9
Sources:
Marisa Garshick, M.D., FAAD, board-certified dermatologist
Dr. Tricia Pingel, NMD, naturopathic physician
Dr. Annie Gonzalez, M.D.,board-certified dermatologist
Dr. Josh Klapow, clinical psychologist
Sherry Ross, M.D., OB/GYN
David Greuner, M.D., FACS, double board-certified surgeon
Dr. Sapna Shah, M.D., board-certified endocrinologist
Leann Poston, M.D., MBA, MEd, licensed physician
Dr. Nwegbo-Banks, M.D., board-certified OB/GYN
Kristine Arthur, M.D., internist
This article was originally published on