13 Gentle Morning Stretches That'll Wake Your Body Right Up
To quote Kylie Jenner: "Rise and shine."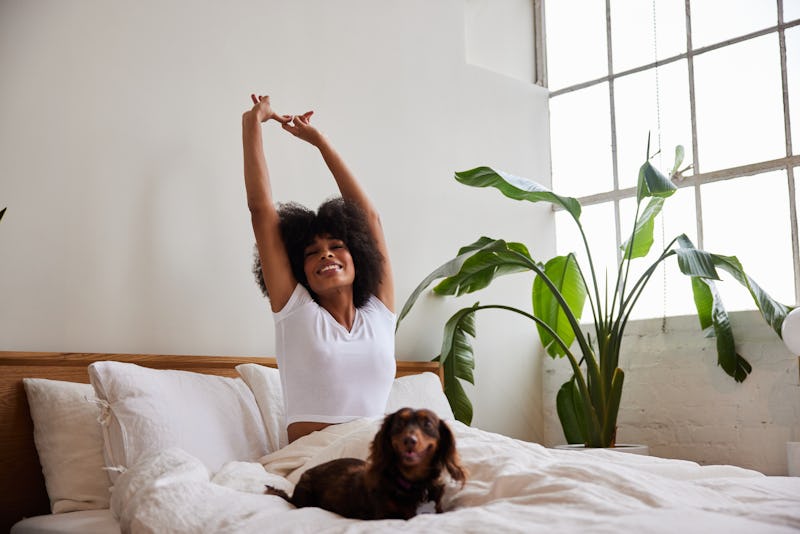 Getty Images/Goodboy Picture Company
While a morning stretch routine might not seem super appealing when you're comfy under the covers, it can make all the difference in how you feel throughout the day. By adding a few bendy stretches and yoga poses to your a.m. routine, you can effectively reduce any stiffness or soreness that you might wake up with. And what's even better is that amazing post-yoga glow can stick with you the rest of the day.
"Yoga feels so good first thing in the morning because you've been inactive while you sleep, so your bones and joints are a little stiff and achy," says yoga instructor Rachel Cohen. "Most people wake up a little inflamed, which is related to lack of lubrication in the joints while we sleep." To loosen up all the tightest spots, Cohen recommends focusing on areas like the hamstrings, hip flexors, neck, and spine.
Of course, the best morning stretches are the ones you can easily incorporate into your existing routine, says Lindsay McClelland, an ERYT-200 certified yoga instructor. "Don't think about it being a full hour-long yoga class," McClelland tells Bustle. "Instead, carve out five to 10 minutes that you can do on a regular basis." That way you won't have to think too much when you're still groggy, while still getting all the benefits of a morning stretch.
Read on below for a few stretchy poses you can do first thing in the a.m. to start your day off right. FWIW: Some of these you can even do in bed.
Studies referenced:
Cary, D. (2021). Examining relationships between sleep posture, waking spinal symptoms and quality of sleep: A cross sectional study. PLoS One. doi: 10.1371/journal.pone.0260582.
Djalilova, DM. (2019). Impact of Yoga on Inflammatory Biomarkers: A Systematic Review. Biol Res Nurs. doi: 10.1177/1099800418820162.
Opplert, J. (2018). Acute Effects of Dynamic Stretching on Muscle Flexibility and Performance: An Analysis of the Current Literature. doi: 10.1007/s40279-017-0797-9.
Sources:
Rachel Cohen, yoga instructor
Lindsay McClelland, ERYT-200 certified yoga instructor
Heather Carroll, yoga instructor
Samantha Deutchman, yoga pro
Trin Perkins, M.S.Ed, RYT 200, yoga instructor
Dr. Chad Walding, DPT, a physical therapist and co-founder of NativePath
This article was originally published on