8 Stretches To Start Your Morning Routine Off Right
You can even do some in bed.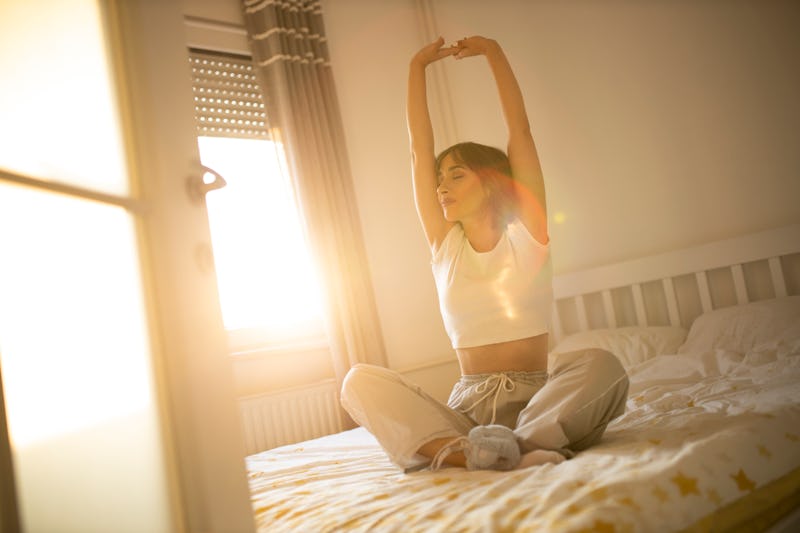 DjordjeDjurdjevic/E+/Getty Images
While a lot of people would be happy to continue that work from home life indefinitely, others might struggle with maintaining a sense of routine or calm before getting the day started. (Yes, even 10 months into the pandemic.) If you're going into work, too, there's no better time than the present to refresh what works to get you going in the morning. A simple morning stretching routine can help to combat the aches and pains of a 9-5 (or 10-6, or 5 to midnight) as well as getting your day started on the right foot.
"A great morning stretching routine is one that you can maintain consistency with, and there are many that you can do from the comfort of your own bed," says Lindsay McClelland, an ERYT-200 certified yoga instructor in Charlotte, North Carolina. A stretching routine doesn't have to be a whole to-do, either. "Don't think about it being a full hour-long yoga class; instead carve out five to 10 minutes that you can do on a regular basis," McClelland adds.
Read on for a few ideas for morning stretch routines that you can do before starting the coffee, getting a workout in, and getting your day started.
Sources:
Lindsay McClelland, an ERYT-200 certified yoga instructor
Dr. Chad Walding, DPT, a physical therapist and co-founder of NativePath