10 Primal Movement Exercises That'll Improve Your Mobility
Get ready to squat and crawl.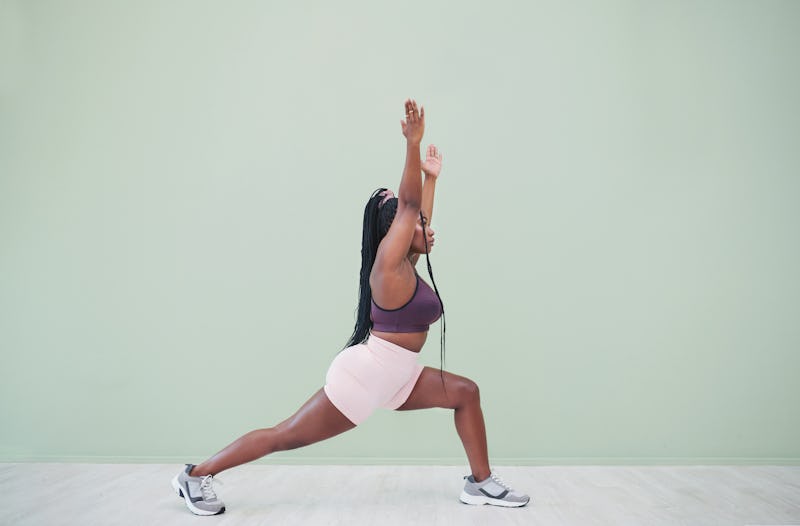 Getty Images/LaylaBird
The healthiest things you can do for yourself are often the most basic: drinking water, eating your greens, and moving your body are just three examples. It's the latter that's at the core of the primal movement trend, a fitness modality that's gone viral on TikTok and is influencing what workouts are going to look like in 2023. And primal fitness is really simple — rather than a workout that requires a Megaformer or kettlebells or advanced skills to do, it's all about functional exercises. Think squats, lunges, and twists.
These count as primal movement exercises because they mimic the natural movements your body performs throughout the day, says Andrew Lenau, an ISSA-certified personal trainer. The seven primal movements include squats, hinges, and lunges, as well walking/running, pulling, pushing, and rotating. They cover all your bases, which is why they're considered the foundation of functional fitness, Lenau tells Bustle.
Primal movements not only get you up and moving in all different planes, but they also help improve your overall well-being. "They can be used to train the body as a whole, not just isolated muscle groups, and they can improve balance, stability, coordination, flexibility, and strength," he says. So you'll have better mobility and a stronger mind-body connection, which aids in every movement that you do.
Another benefit? Primal movements don't require any equipment, Lenau adds, so they're easy to do wherever you are. Here, trainers share 10 examples of primal movement exercises that'll help get you started.
Studies referenced:
Hefzy, MS. (1997). Co-activation of the hamstrings and quadriceps during the lunge exercise. Biomed Sci Instrum. PMID: 9731386.
Sources:
Sandra Gail Frayna, PT, physical therapist, founder of Hudson Premier Physical Therapy & Sports
Andrew Slane, a sports conditioning specialist, instructor at Fiture
Andrew Lenau, ISSA-certified personal trainer
Dr. Dave Candy, PT, DPT, doctor physical therapy, owner of More 4 Life
Julia Stern, CFSC, certified functional strength coach with Fiture
Lany Herman, strength and conditioning coach, trainer at TITLE Boxing Club