Made A New Friend? Here's What To Text Them
Plus, how to strategically use the group chat.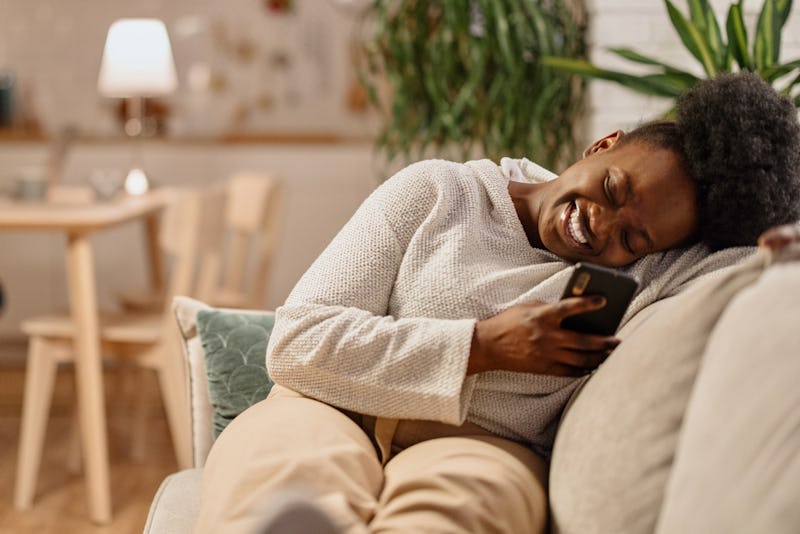 Anchiy/E+/Getty Images
You've bonded with somebody in line for Pink Drinks or in the Deuxmoi comments section and exchanged numbers — and now the iMessage window lies empty, waiting for you to say, well, anything. Without all the inside jokes and favorite .gifs of a long-term friendship, how do you start to text a new friend?
"Rest assured that you are not the only one having these thoughts, and that alone will alleviate some of your anxiety," Rachel Hoffman Ph.D., head therapist at Real, tells Bustle. People having conversations with new friends in-person commonly stress about whether they'll have anything to talk about, how to fill awkward silences, and even how to make eye contact in a not-weird way, she says. These worries can crop up whether you're an introvert or extrovert. While you may feel that WhatsApping back and forth is a bit less socially taxing than an in-person brunch, thinking of things to text a new friend is an exercise in creativity.
Read more: 50 Example Sexting Ideas You Can Use Right Now
"Go at your own pace," Charmain Jackman, Ph.D., a psychologist, tells Bustle. If sending more than two messages at a time, or responding within five minutes, feels too intense for you, take the conversation slowly. Running dry on things to say? Here are 11 ideas to take the conversation to the next level.
Experts:
Rachel Hoffman Ph.D.
Charmain Jackman Ph.D.
Jon Levy