7 Stress-Relieving Sex Positions To Try This Holiday Season
Take time for some much-needed relaxation.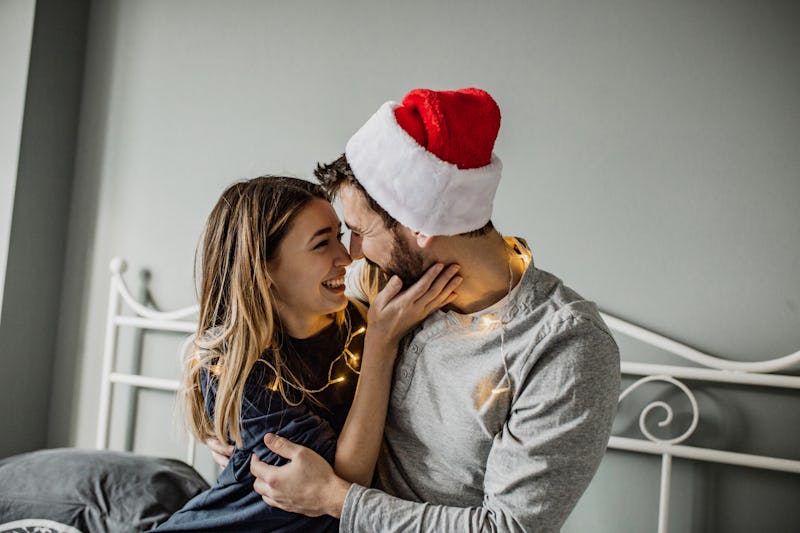 blackCAT/E+/Getty Images
While the holidays are all about comfort and joy, they also have a tendency to bring on stress, stress — and more stress. And that's when you might want to get a little release by trying the best sex positions for relieving stress with your partner.
The holiday season can definitely be a trying time. But if you hop into bed, it will all melt away — at least for a little while. Sex during the holidays is a perfect way to get comfy and cozy, Dr. Megan Stubbs, sexologist and relationship expert, tells Bustle, and feel closer to your partner. And it's also a way to break a sweat and work out a little (healthy, consensual) frustration, too.
If you're visiting family and desperately need a break from the conversation, all you need to do is slip away to a spare bedroom, turn on the shower or a fan to drown out any errant bed creaks, and get to it. You could also sneak away and have sex in your car, if that seems safer. (Or, if you're spending the holidays at home, just go for it as you usually would.)
So, if you're looking for a way to combat stress this holiday season, here are seven sex positions to try — because an orgasm a day might just keep a meltdown at bay.
If you feel holiday stress creeping in, give these sex positions a try. Whether you choose one requires extra effort and focus, provides a great view, or lets you bliss out, they're sure to keep your mind off things.
Expert:
Dr. Megan Stubbs, sexologist and relationship expert
This article was originally published on