14 Tips For Coping With Grief, Especially Around The Holidays
#4: Don't be afraid to say no.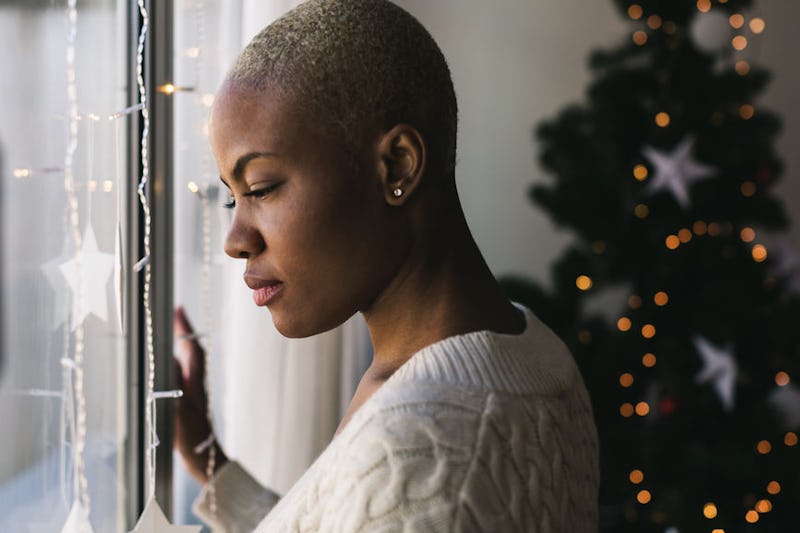 BONNINSTUDIO/Stocksy
Holiday cheer is in the air these days, but it's not a happy time of year for everyone, especially if certain loved ones are no longer in your life. Grief can be a response to a death in the family, but also to a breakup or another change in life circumstances. When it comes to coping with grief during the holidays, the way you do so may differ from how somebody else does.
Mary Potter Kenyon, a grief counselor, experienced several losses in a row. "I lost my mother on my 51st birthday in November 2010, my husband in 2012, and an eight-year-old grandson in 2013," she tells Bustle. "The last thing I wanted to think about was the ho-ho-ho joyful holidays." She recommends doing whatever it takes to get through the holidays, especially the first ones without your loved one.
"If it means doing everything the same, or everything differently, find what works for you," she says. "I know a widower who hired someone to do everything his wife had done that first year, yet I had to do things differently."
Below, Kenyon and other grief experts weigh in on how to cope with grief, especially around the holidays.
There are many varied ways to do grief, particularly around the holidays. Learning what grief coping mechanisms work best for you is the best gift you can give yourself, holidays or not.
Experts:
Robynne Boyd
Emily Cosgrove M.A.
Justine Haemmerli
Kim Libertini
Mary Potter Kenyon
Heidi McBain LMHC
Rosalind Sedacca C.D.C.
Heather Stang C-IAYT
Susan Youngsteadt, LCSW
This article was originally published on