10 YA Authors That Ruled 2015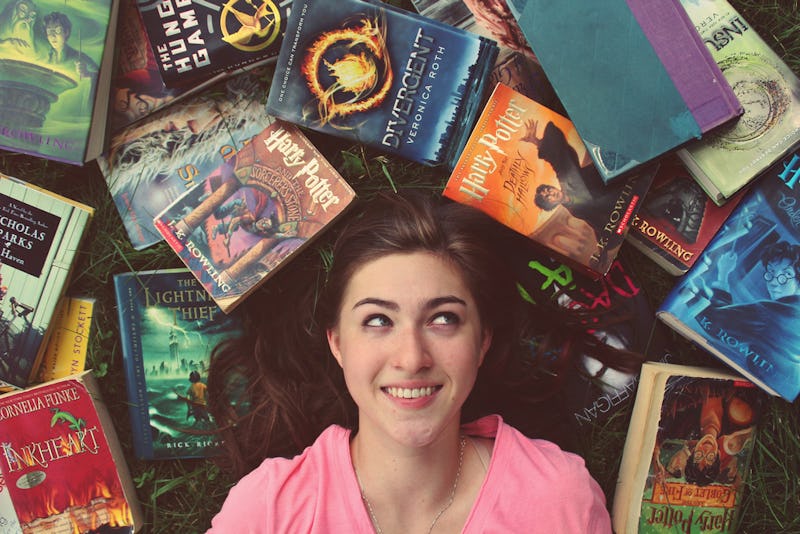 There's something about young adult authors in particular that brings an excitement and a fever to readers that makes us want to chat incessantly about that one book we read or that new author that everyone should pick up. In 2015, there was a buzz in the air even more than usual, IMHO, because a lot of these thrilling author names were new. Debut YA books made a massive impact, and some incredible new writers sprung into our lives and now we never, ever want to let them go. (But, you know, not in a creepy way.)
And then, we had our favorites who were there for us. Many popular authors added to their series (or even, *tear* completed them) or released new books, and we couldn't stop talking about them. And these authors range in topics and categories, from dystopia, to fantasy, to contemporary fiction, to magical realism, to comic books and graphic novels. And, hello, so many of the names on people's breath were LADIES. YA lit, as we grown-up fans know, is (generally speaking) a hub of insanely talented female authors who are given the respect and acknowledgement they so deserve.
Though of course we can't leave out the guys. And so many great male authors came to play this year, writing and publishing books that spoke to crucial topics like mental illness, the pain that comes with coming out as gay in an intolerant community, and the beauty of cultural heritage and art.
I could talk about these authors all day, but let's get down to it. Here are 10 YA fiction authors who ruled 2015.
1. Marissa Meyer
Marissa Meyer needs no introduction. Her female-driven The Lunar Chronicles was (deservedly) a smash hit, and basically I'm still shedding tears that with the incredible finale Winter, she's capping off the series. Meyer released two insanely anticipated entries into the series this year, Fairest and Winter, and she announced a new fairy-tale spinoff series with Heartless coming in 2016. Plus, not everything is lost, Lunar Chronicles fans: Stars Above, a collection of short stories set in the universe is also coming in 2016.
2. Daniel José Older
Not only did Daniel José Older publish the exceptional, game-changing fantasy YA novel Shadowshaper , he spearheaded the movement to remove the noted racist H.P. Lovecraft as the icon for the World Fantasy Award statue. Oh, and he managed to have the time to also publish the first book of a new adult fantasy series, Half-Resurrection Blues of the Bone Street Rumba series. Naturally, Older's name was buzzing around the reading world this year, and it's sure to continue into 2016, because he's on the docket to contribute to Kelly Jensen's YA anthology, Feminism for the Real World, which sounds epic.
3. Victoria Aveyard
Victoria Aveyard went quickly from a debut author to one of the most talked about YA authors in the game. Her debut Red Queen absolutely exploded onto the scene prompting fantasy and YA readers to practically beg for the sequels STAT (I'm raising my hand). Aveyard is an exciting new voice, and everyone is watching to see what she does next. (No pressure!)
4. Noelle Stevenson
So the whole stereotype of women not being fans of comics or graphic novels was tossed out the window this year (finally), and a large part of that was the rising popularity of Noelle Stevenson and her works. Stevenson nod only got a National Book Award nod for her incredible Nimona, but she's part of the team behind the female-centered, game-changing Lumberjanes. If you're a fan of comics and haven't devoured Stevenson's works yet, get them in your hands now.
5. Neal Shusterman
Neal Shusterman has been a big name in the YA circle for years now, but he's finally getting the big attention he deserves this year, after the publication of his monumentally powerful novel Challenger Deep, inspired by his son Brendan who has schizophrenia. Challenger Deep took home the prestigious National Book Award for Young People's Literature, and there wasn't a dry eye in the house (myself included from my streaming at home) when Shusterman brought Brendan on stage to share it with him.
6. Sarah J. Maas
OK, serious question: What year ISN'T a year where Sarah J. Maas is just killing it? But I'd argue she even outdid herself in 2015, because not only did she give us greedy readers more installments of her Throne of Glass series, but she opened a brand new series — based on Beauty and the Beast, no less — called A Court of Thorns and Roses. Needless to say ACOTAR is primed at No. 1 for what is going to be the biggest YA series everyone is taking about over the next few years.
7. Sabaa Tahir
Like Aveyard, Sabaa Tahir started 2015 as a relatively unknown debut writer. But after publishing her insanely popular An Ember in the Ashes, she's now one of the hottest names in the biz. I, as a true Emberling, named An Ember in the Ashes as the best YA book of 2015, and I wasn't alone. Bonus: Fans willed a sequel into existence mostly because we begged and pleaded so hard that we didn't give Tahir or her publishing house a choice.
8. Louise O'Neill
This year, U.S. readers fell head over heels for Irish writer Louise O'Neill and her Atwood-esque brand of dystopian feminist lit. Only Ever Yours was a knock-your-socks-off kind of book that put O'Neill firmly into the Writers You Must Watch camp. And while U.K. readers had the benefit of reading her follow-up, Asking For It, we'll get our chance in April 2016, and we can hardly wait. (OK, fine most of us already stole a copy from our pals across the pond.)
9. Marie Lu
Marie Lu is here to remind us all why we love villains so much. Her Young Elites series — starring our favorite villainess Adelina — got its highly anticipated sequel, The Rose Society, and she laid out plans for the trilogy's finale to come in 2016. Plus, Lu started releasing graphic novel versions of her Legends series, the one that made us fall in love with her in the first place, and contributed to the best Halloween collection of the year, Slasher Girls and Monster Boys. I don't think Lu ever takes a break.
10. Adam Silvera
This year was a huge one for debut authors, and you can't talk about that without talking about Adam Silvera — who, through his incredible novel More Happy Than Not and speaking out about his own personal life, has given all us readers important things to think about and discuss. Silvera raised the topics of poverty, coming out, mental illness, and suicide, and he did so with grace and an honesty that we don't often see. Thankfully, with a book on the calendar for 2017, we'll be seeing lots more of him.
Images: martinak15/flickr; Marissa Meyer, Daniel Jose Older, Victoria Aveyard, Noelle Stevenson/Goodreads; Wikimedia Commons; Sarah J. Maas, Sabaa Tahir, Louise O'Neill/Goodreads; Courtesy of Penguin Random House; Adam Silvera/Goodreads